Stendhal had been overcome by the beauty of the art that engulfed him. The hospitals of this most engaging of cities have become accustomed since to dealing with cases of dizziness and disorientation from those exposed to its wonders.
We may never have created anywhere to work that has been dramatic enough in its aesthetic to induce hallucinations, but there is still time. A corporate art programme may have to stretch its budget (or luck) to reach this point. It would make for an interesting risk assessment.
The struggle between form and function has rumbled on at a low level for millennia. It was first documented in the last few years BCE by the Roman architect Marcus Vitruvius Pollio in his work De architectura in which he stated that all structures must be, in this order, firmitas (solid – by which we also infer safe), utilitas (useful) and venustas (beautiful). The American architect Louis Sullivan, known as the 'father of skyscrapers', much later coined the phrase 'form ever follows function' and even decreed it to be a law, somewhat in hope rather than fact.
There are plenty of modern examples of where form wins tactical battles – the filament lightbulb being the near-useless symbol of the present decade of workplace design, distributing a harsh and uncomfortable light from within a fragile and entirely impractical shell. Frustratingly, where there is one, there are often many.
Against this, The Elemental Workplace is in many respects a reaffirmation of Vitruvian principles, arguing for a workplace that is first and foremost inclusive, safe and comfortable, that supports us in everything we need to accomplish during our stay with ease, simplicity and control. In this it makes the case that even low levels of investment can produce a workplace that genuinely works, and can be deemed elemental, and that the approach also transcends location, sector and intended workstyle. It is counter to much of what is found online amidst envy-inducing, crisp, shiny spaces bedecked with toys, gadgets, novelties and neon slogans, sparsely inhabited by youthful ghosts.
Why do we need a fantastic workplace?
There has been far too much pinned on the back of productivity, very much a goal from the early 1900s. Organisations of all forms invariably have a richer set of aims than simply this, typified by the emergence of B-Corporations, and so a broader set of reasons for focussing on what the workplace can contribute to organisations is necessary. This can be captured in the form of 6 'e's, taking three from Frank Duffy's components of workplace strategy and adding three from more recent decades.
They give us:
efficiency in the form of responsible cost and spatial metrics, respecting the commercial considerations;
the effectiveness to ensure that everything needed is provided and works, and people can be at their best every day;
the expression of the organisation's DNA through its workplace creating advocacy and commitment;
a focus on the environment such that we leave as light a footprint on the planet as possible;
the digital representation of the organisation and its workplace in the ether, where in an age of instant accountability demonstrably living its values becomes essential;
and an energy for our people, a deeper and more comprehensive idea of wellbeing, of which wellbeing is a component.
The six e's create the compelling vision, the 'why', encompassing both data and conviction. They are also capable of flexing to reflect the relative importance of each in the organisation to which they are applied, and that may change over time as the organisation grows and matures. They do not all point to beauty, they are driven by a functional contribution to an organisation and its people.
How do we create a fantastic workplace?
As a law equal to that of Vitruvius, we do not create a fantastic workplace by simply copying another organisation's space in the belief that it will be right for ours. The compelling nature of the aesthetic can sometimes lead us to think that the solution already exists, that we can just apply it. The slide became the unwitting symbol of such lazy mimicry. What it did was free us from decades of drudgery, it told us that we could do things differently because we were free to do so, that we did not need to conform to the misery of beige. The mistake was to think that the slide was the solution – it was, instead, the process that arrived at the slide. We create a fantastic workplace by following design principles that support expansive, possibility-oriented thinking, and through an understanding that every workplace transformation is a change project with some downstream project activity, and not the reverse. We are not workplace managers, we are leaders of change.
What is a fantastic workplace?
It can be created by focussing design and specification on the 12 key elements that form this simple, universal and attainable framework – daylight, connectivity, space, choice, influence, control, refresh, sense, comfort, inclusion, wash and storage. Some elements are broad, some focus on smaller considerations, but they are all vital. The periodic table in which the 12 elements are framed recognises that all organisations will attach importance in degrees to different areas, and so it is free of hierarchy or order – just as long as each is considered and responded to.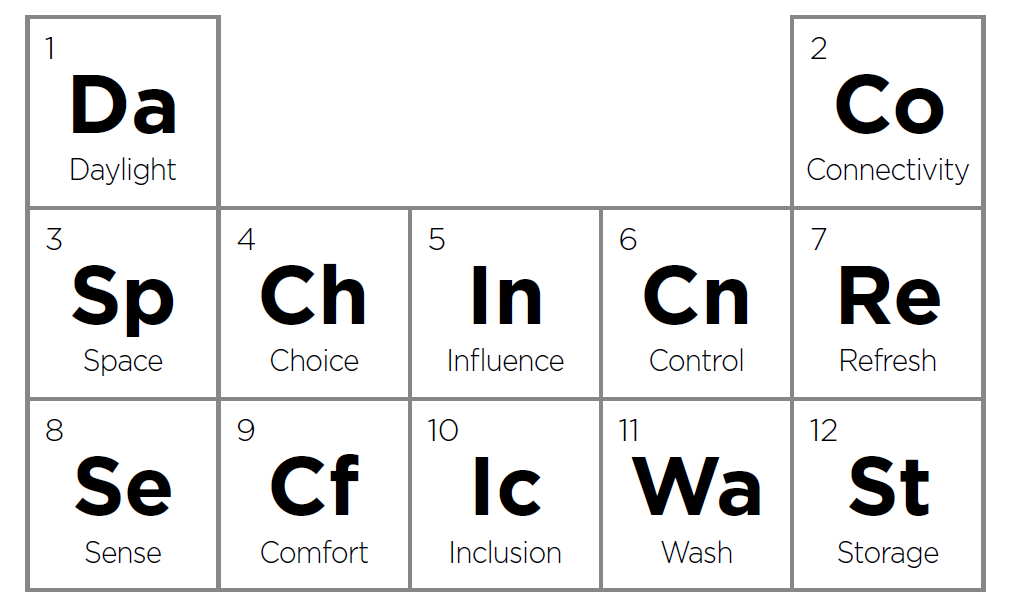 The approach does not prescribe an aesthetic, or indeed a preferred workstyle – its universality ensures there is still a vital role for design and specification. It actually increases the importance of design, as it challenges us to create workspace that functions all of the time, for everyone, to think through every layer, to consider every implication. Everyone deserves a fantastic workplace – that always comes first. If it's beautiful, too, even better.
© © This article article is a guest commentary by Neil Usher, the author of "The Elemental Workplace".
To learn more about the book, click here.