Office and workshop in one place.
SGA, an innovative architecture firm with offices in Boston and New York, designed a new 67,000 SF facility for Autodesk, the leading 3D design, engineering, and entertainment software company. Autodesk's BUILD (Building, Innovation, Learning, and Design) Space and new East Coast office are located in Boston's Innovation and Design Building at 23 Drydock Avenue, a former waterside storehouse for the South Boston Army Base, now operated by Jamestown, a real estate developer and operator widely regarded for its expertise in adaptive reuse projects. SGA is a leader in Virtual Design and Construction (VDC), the tech-based project delivery method featuring complex and comprehensive 3D building models created in Autodesk's Revit software. VDC is transforming the building industry by bridging the communication gap between design, development and construction. A 'co-location' office was created at the site in the Innovation and Design Building where architects, consultants, construction managers and major subcontractors worked together in close proximity to solve the project's design challenges in advance of construction.
SGA consulted with Autodesk to understand its unique programming and equipment needs and supported them structurally with a clean, open design solution. The Autodesk BUILD Space, located on the first and second floors, includes Autodesk's cutting-edge digital fabrication technologies. The BUILD Space is a collaborative R&D workshop focused on the future of the building industry. It accommodates a research residency program for industry innovators and startup companies, who have access to 60 pieces of equipment, including 3D printing, laser cutting, six industrial robots and 11 workshops for woodworking, metal fabrication, and more. The ceilings are reinforced with two layers of carbon fiber composite with epoxy resin and fireproof coating to safely support the heavy machinery. Additionally, a five-ton bridge crane located centrally in a wide, sharp angled corridor for maximum clearance allows the movement of large fabricated pieces and equipment between the first and second floors.
The glass divisions throughout promote collaboration through visibility. The BUILD Space's main stairwell landing offers a bird's eye view of the BUILD space, which allows visitors to safely see projects from a distance.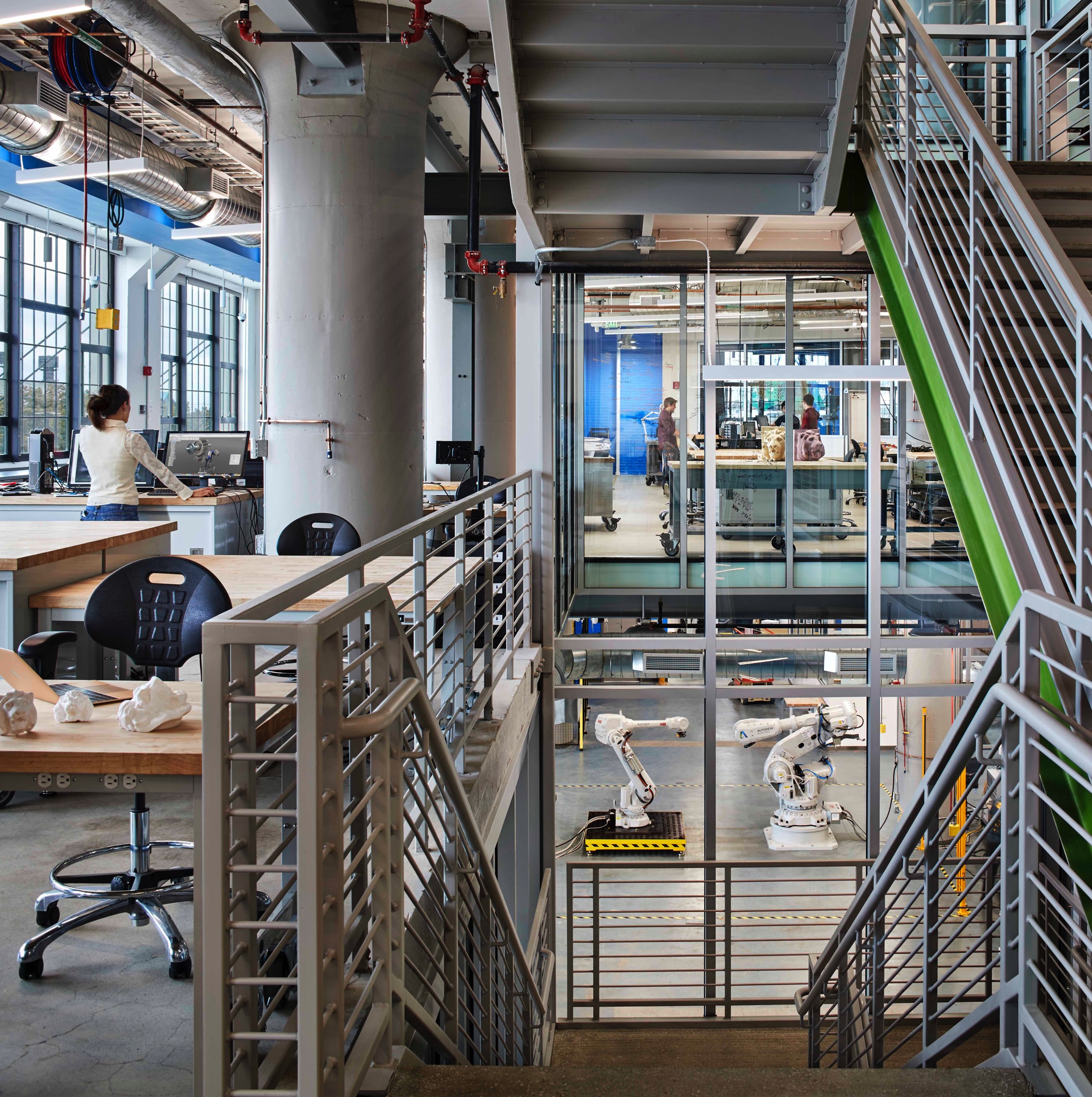 Despite the transparency of the space, the glass is high quality so that the mechanic noise of the BUILD space does not bleed into the reconfigurable office space. With different project teams in residence at Autodesk on a rotational basis, the first and second floor spaces may be rearranged to suit different working needs.