Due to its continuous growth, Babbel decided to relocate from Berlin-Mitte to Ostbahnhof in Berlin-Friedrichshain, where they set up their new headquarters. They realized their old office was limiting their ability to build upon their agile working methods and work processes which had been developed over the course of the company's history. Our goal was to create a suitable working environment in which Babbel could continue to develop.
In close cooperation with the Babbel project team, we designed the holistic Berlin headquarters starting in the spring of 2020. Extensive employee surveys, workshops and interviews served as the basis for the development of our workplace concept.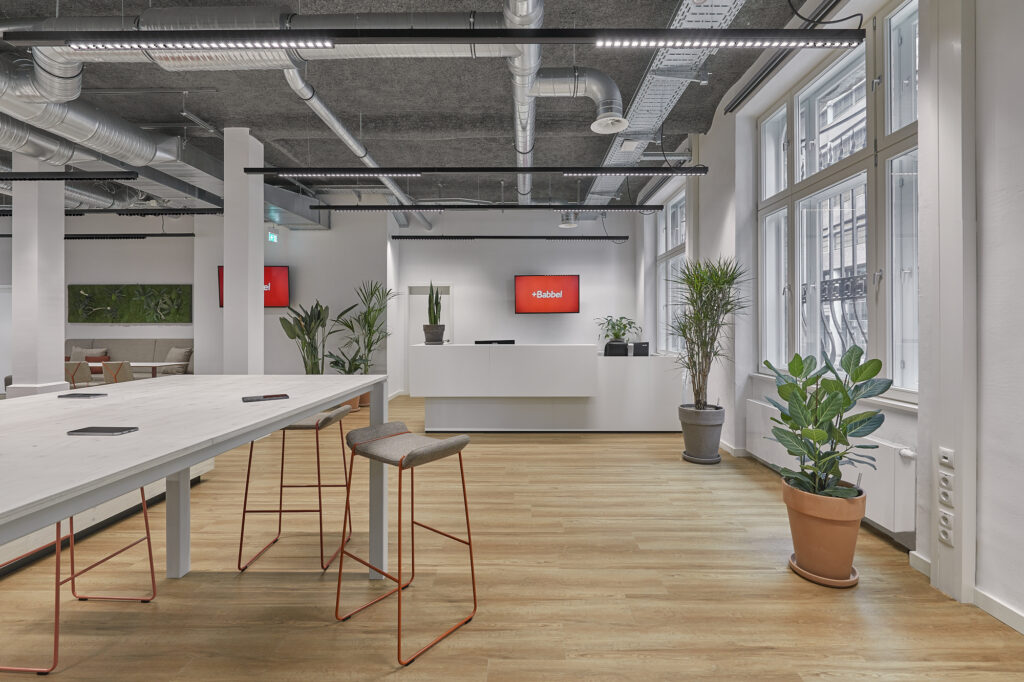 The Welcome Area is a central hub for employees and guests and can be used for a variety of occasions.
Understated, subtle materials, shapes and colors were deliberately chosen, some of which were developed inspired by the building itself. With its neutral-natural color palette, the space provides an ideal framework for creative development.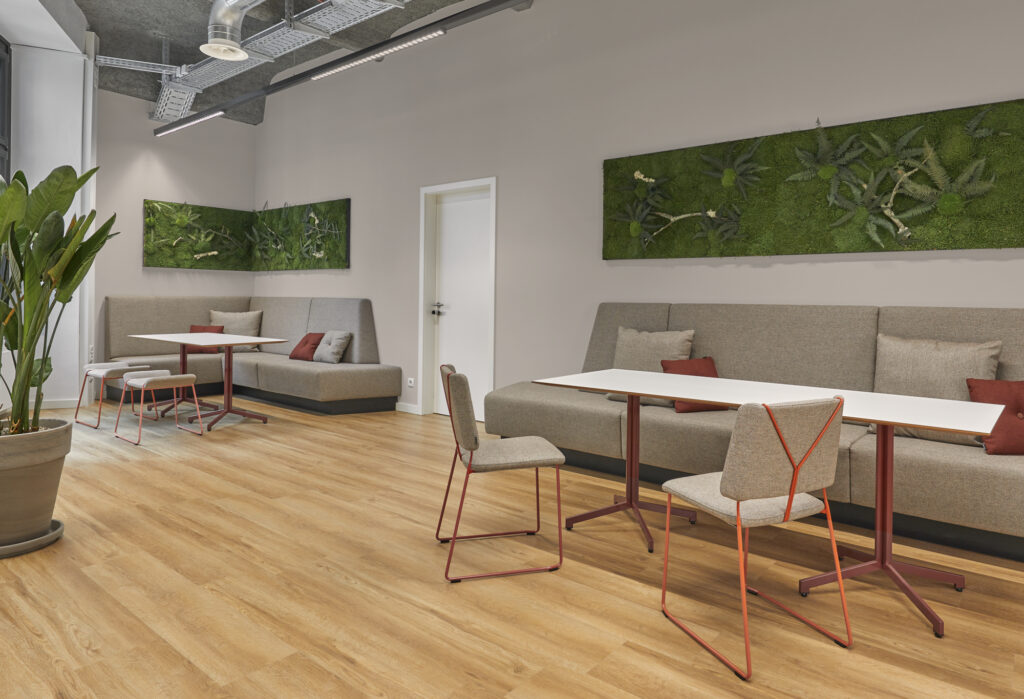 The Welcome Coffee is the first meeting place for employees and guests.
The key feature of the Workplace concept is that the design follows the workflow of the users. Workers can choose from a variety of worksettings that offer a high degree of flexibility, depending on their specific requirements. Open workspaces offer opportunities for both concentrated and collaborative work. It's important to be connected – there need to be places for exchanging ideas and meeting people. The concept stimulates social interaction.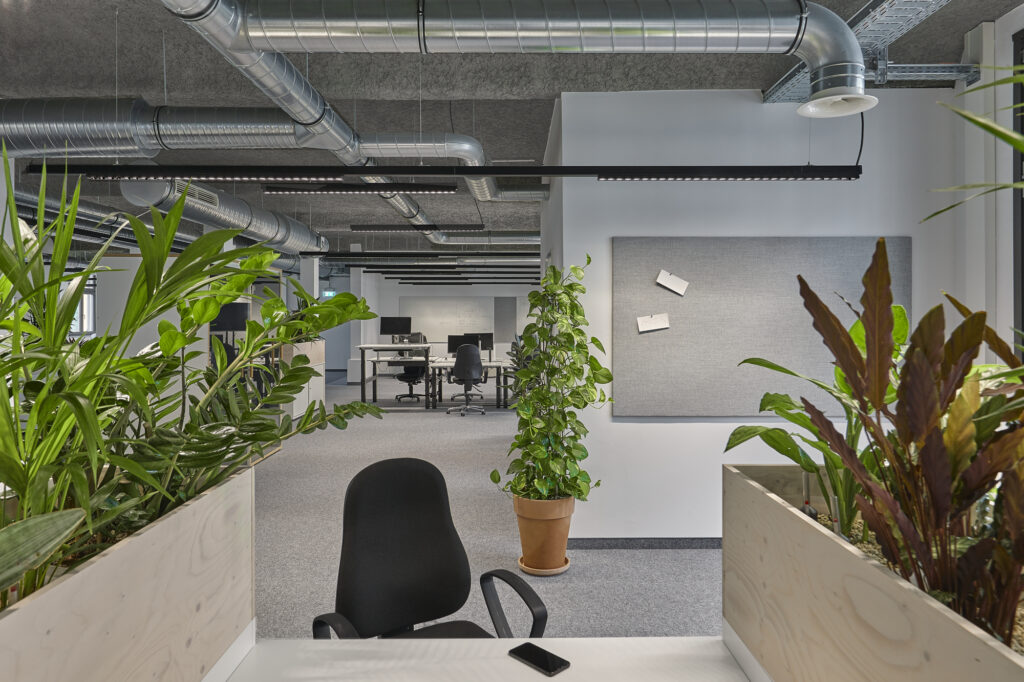 For focused work, there are partially visually screened off areas.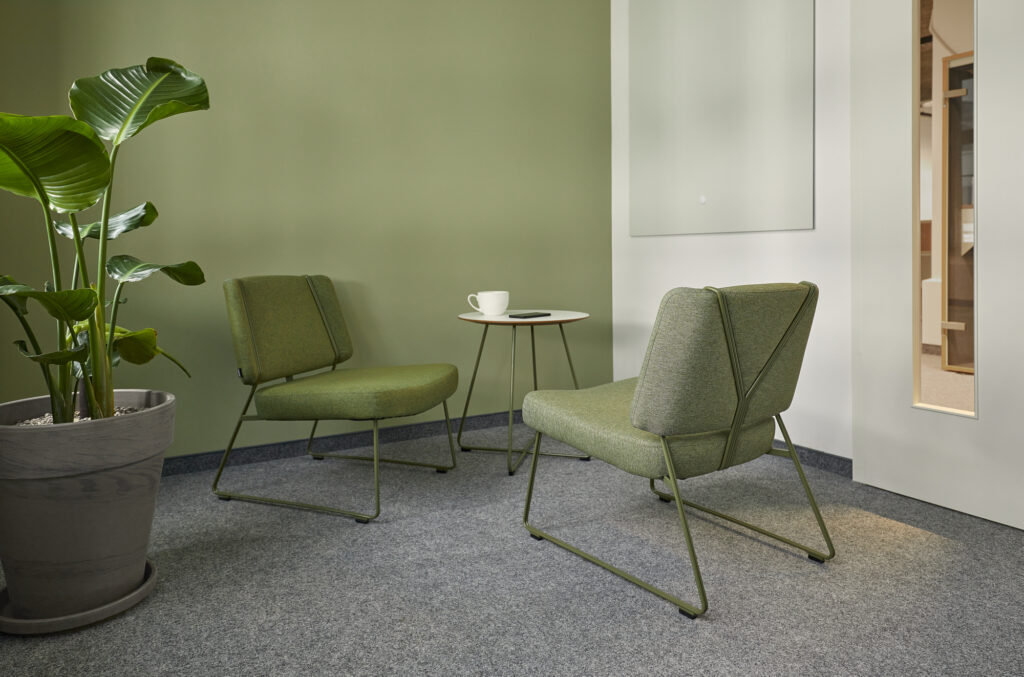 Separate rooms are available as a retreat for focused work or for spontaneous meetings.
We created team camps on multiple floors. These team camps act as strategic arrangements of different work settings for flexible, individual, collaborative and focused work. This way, we ensure that there's a suitable setting within the team camp for every kind of functional requirement and way of working.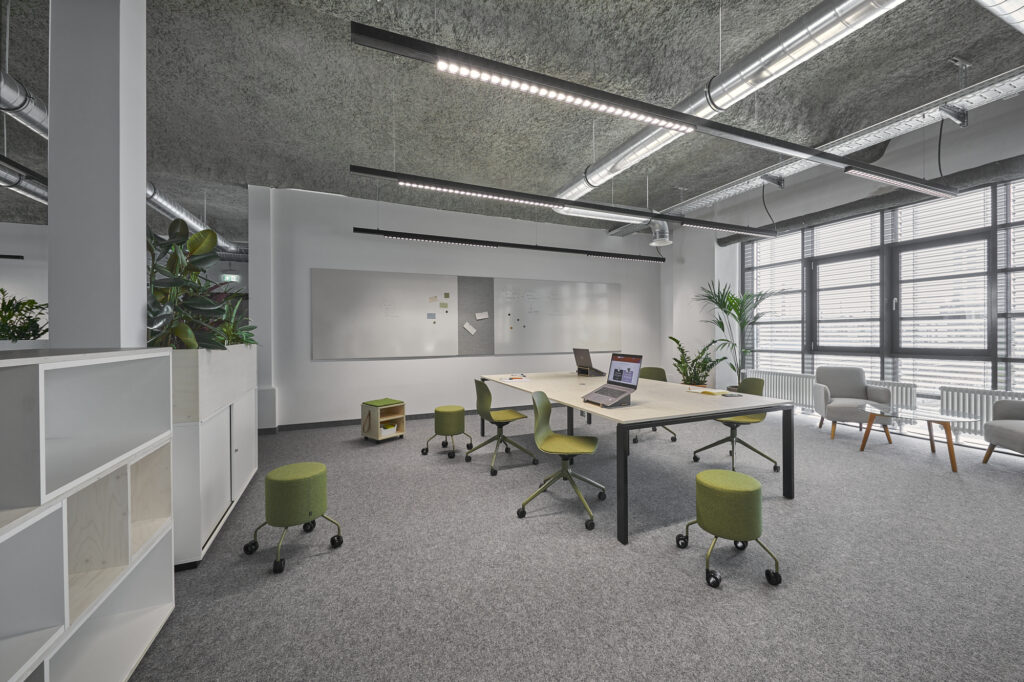 At the heart of every team camp is the campfire: work, exchange & agility.
The space offers freedom to develop and the possibility to grow. The design leaves plenty of room for creative development. Employees are invited to fill the spacious area with their cultures and languages to create a space for exchange and communication, a place where learning is alive.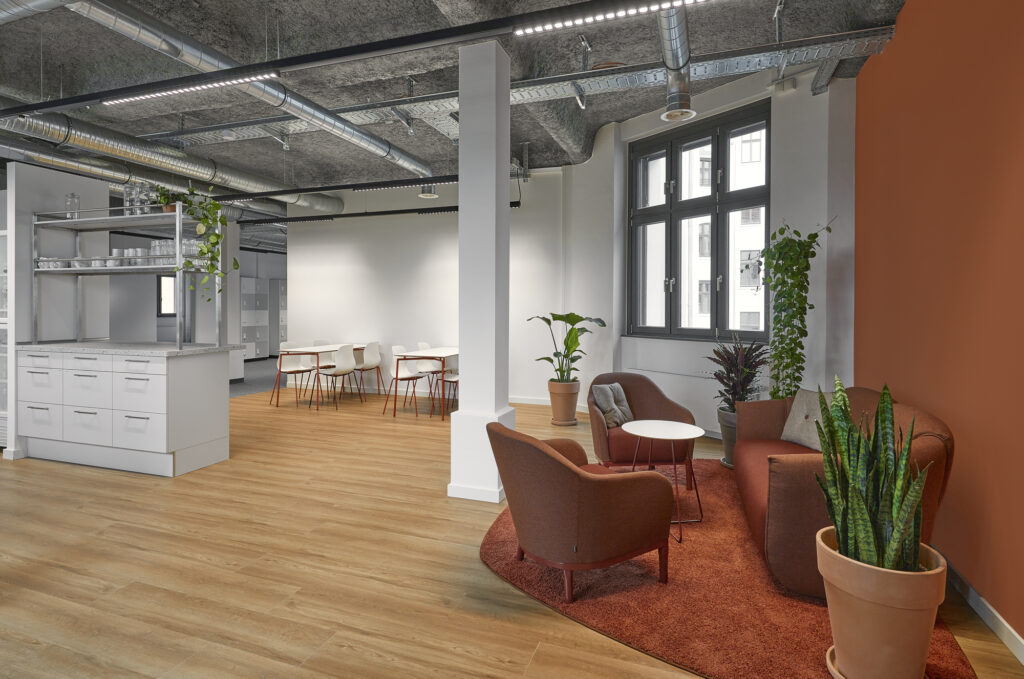 Gentle yet impactful, monochromatically designed lounges are spread across the floors.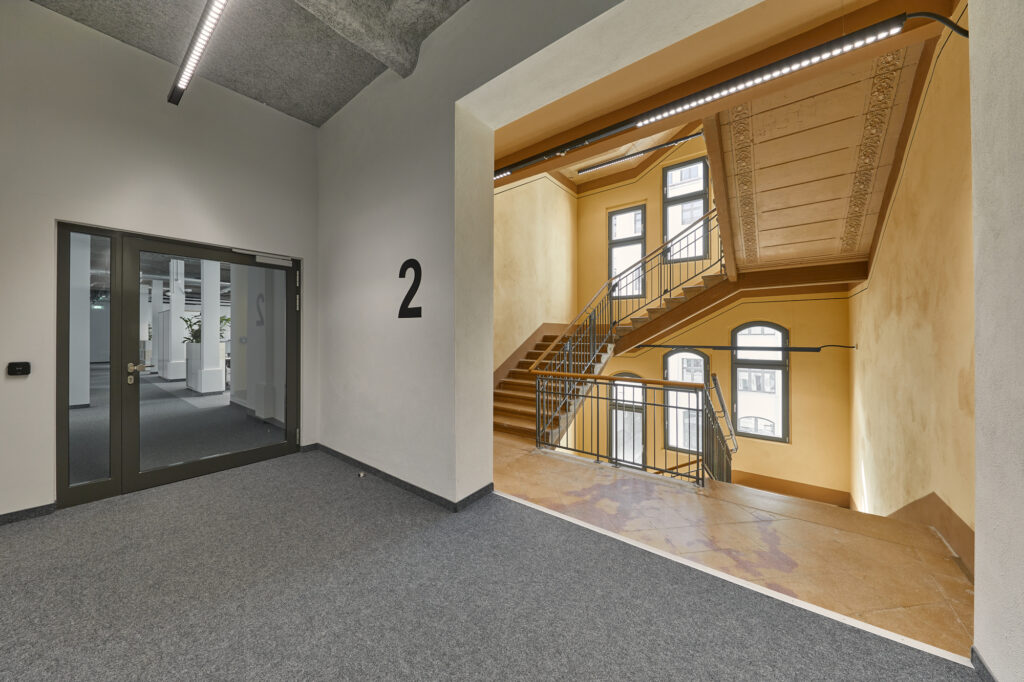 Color accents were inspired by the building.
In addition to the lounges on the office floors, a large canteen was created as a social gathering place. With an understated design and a huge, fully equipped kitchen with several cooking islands, its a place inviting people to get together.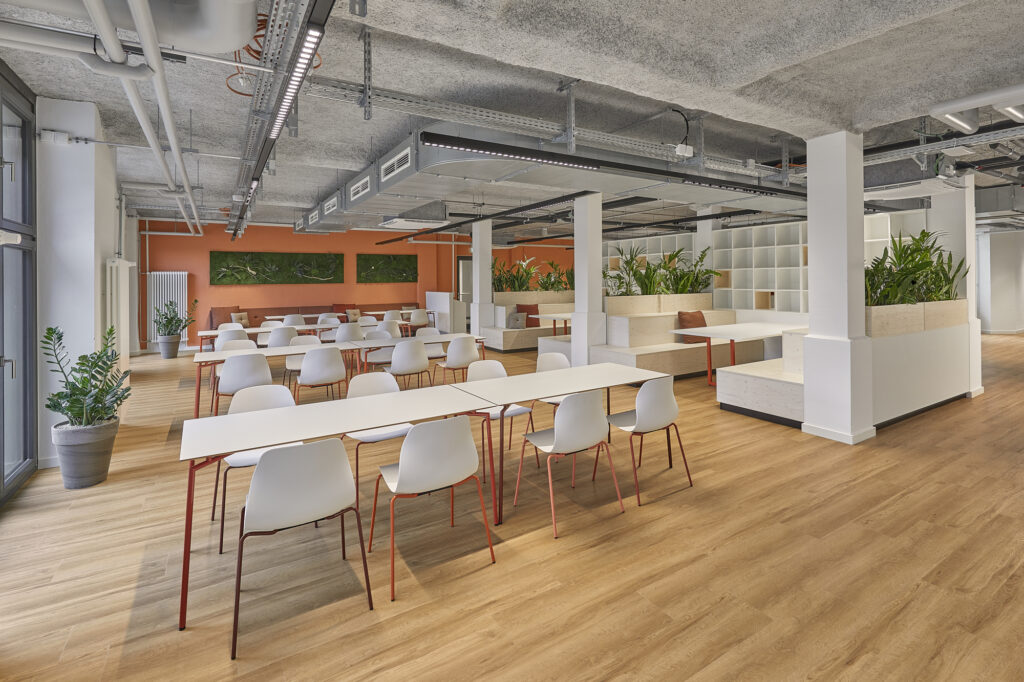 Employees can also discover many other spaces for relaxing and working over five floors. Along with the event space, there are various rooms including the faith room, family room, nap room, library, recording suite and mutiple experience suites. A large bike storage room and showers are also available to employees.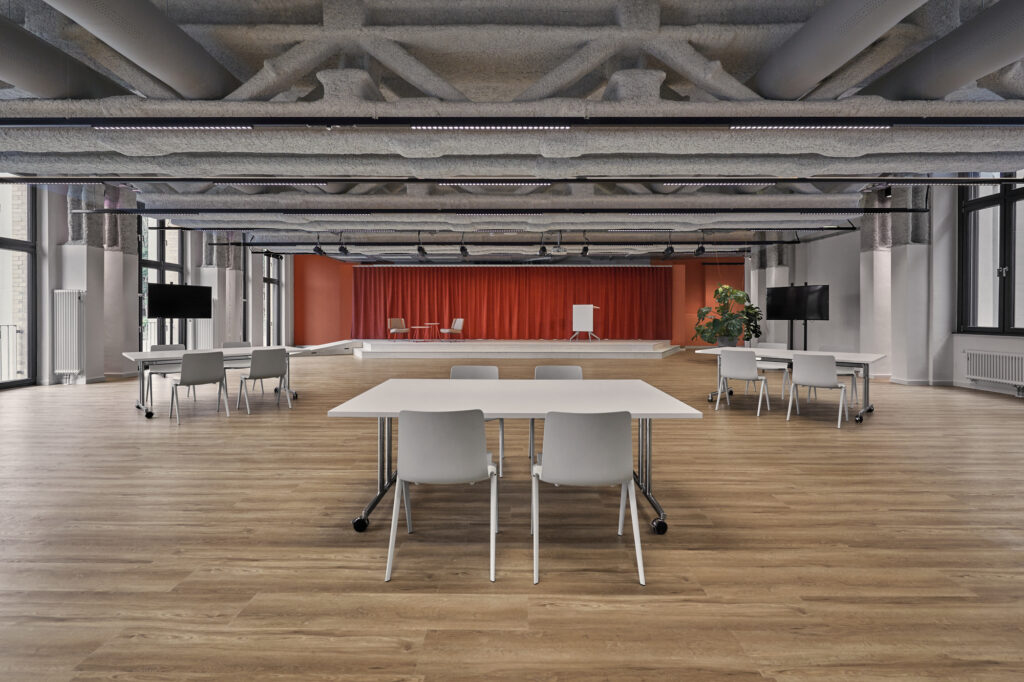 Functions can be held in the spacious event space.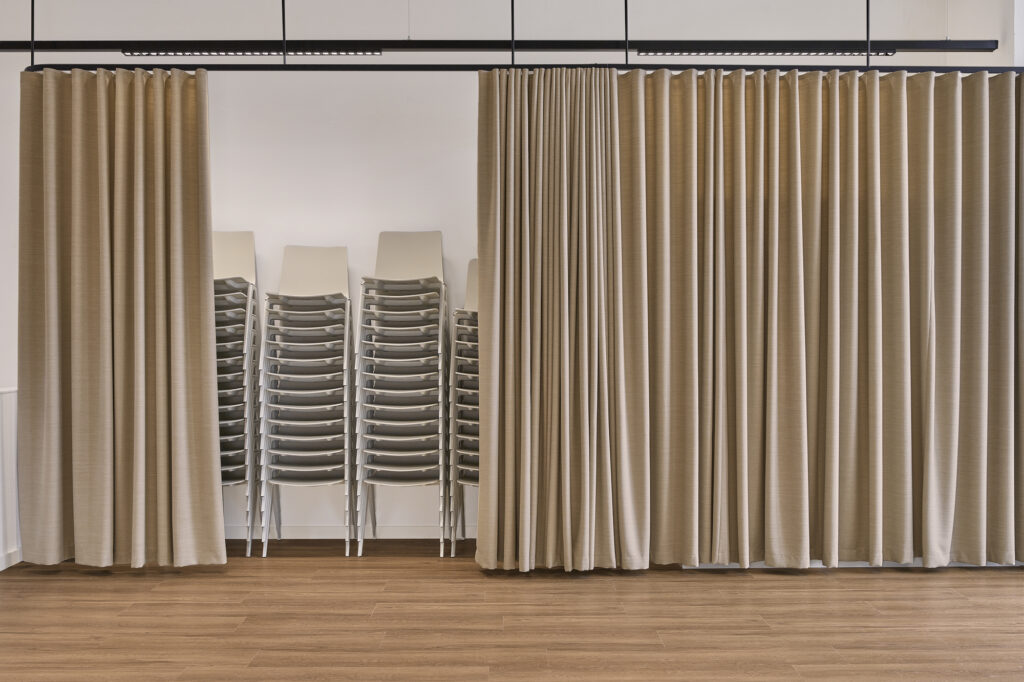 Neatly tucked away – when more room is required.
We were able to create a workplace concept that reflects the needs and requirements of end-users: A combination of workstations with a multitude of spaces for social interaction and collaboration. The environment will take shape more and more in a continuously iterative process. We will develop a wayfinding system for the whole building as well as signage for team camps from design to prototype to implementation.
This will make the new office even more babbelesque.