A modern, hundred year old company
Designing the new interiors of the Coca-Cola HQ represented a big challenge, due to the long history and the strong personality of the brand.
In Coca-Cola every moment has to be a celebration. Each meeting, each committee and each conversation have a special character, that doesn't exist in other companies. Happiness is, with no doubt, the strongest value of the brand, and the one that inspired Stone Designs' team to approach the project.
The new HQ welcomes visitors with a big dining table, instead of a desk. It's a reception where everyone feels like a guest. There are no barriers, protocols or formalities, just two people that will happily attend to everyone. In the same space, there is a small office where to enjoy a soft-drink, while waiting. Everything is very "Coca-Cola", very authentic.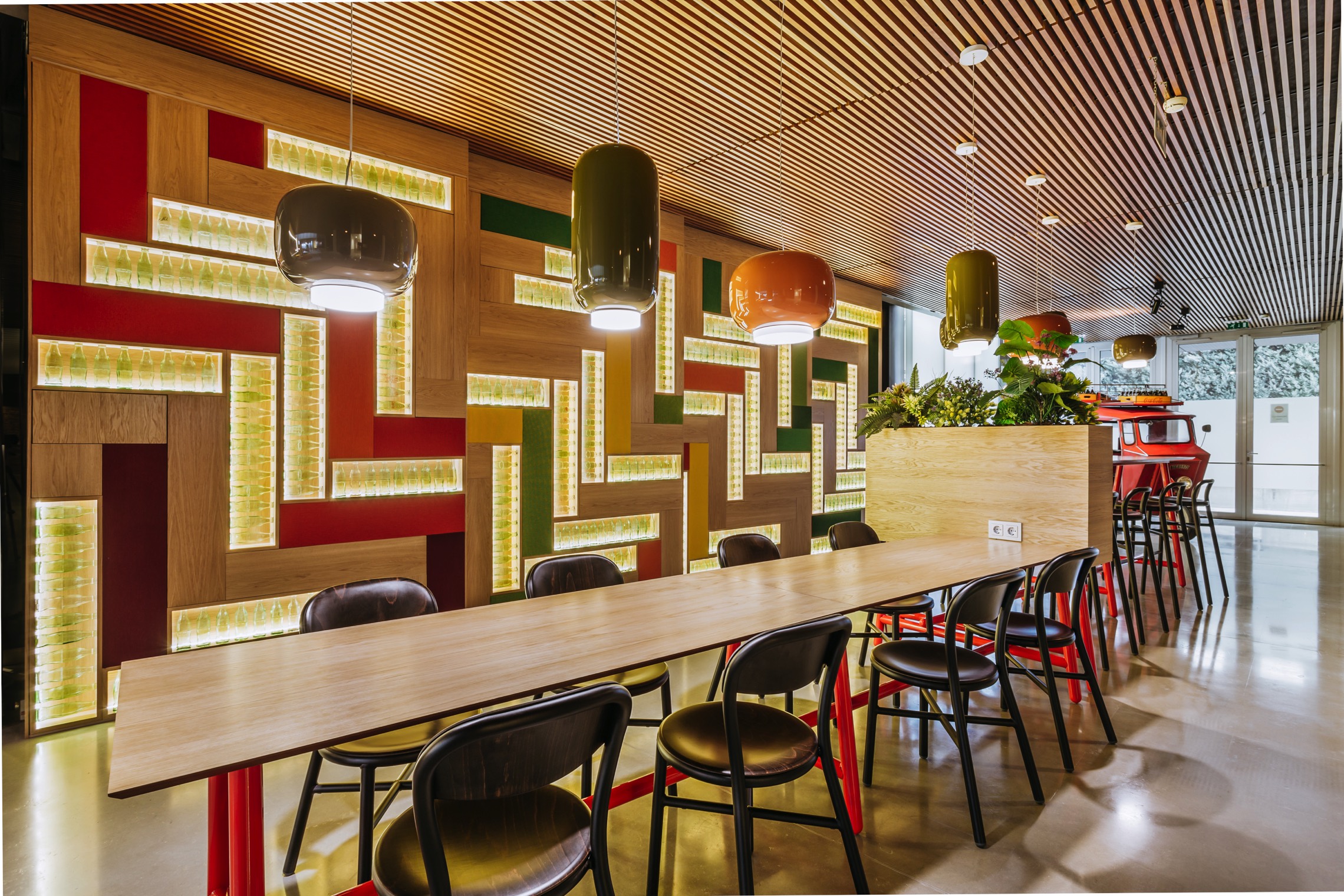 In the spaces that follow the reception, there are lots of details that make this intervention into a delight for the senses. There are different typologies of spaces, like the big frames that become meeting points or the bleacher which in a very original way, keeps some books, visitors can take home.
Materials and lighting of the spaces were selected with a lot of care. The use of natural oak wood, mixed with the colors of the upholstery and the red details over all the metallic elements contribute to capture in a subtle way all the values of the company. Everyone notice them, but as global view, escaping from the easy solution of applying red gratuitously.
The space is full of taylor-made elements for the company. Like the lamps made of bottles at the entrance or the metallic tables at the meeting areas, inspired by a can cap, after being opened.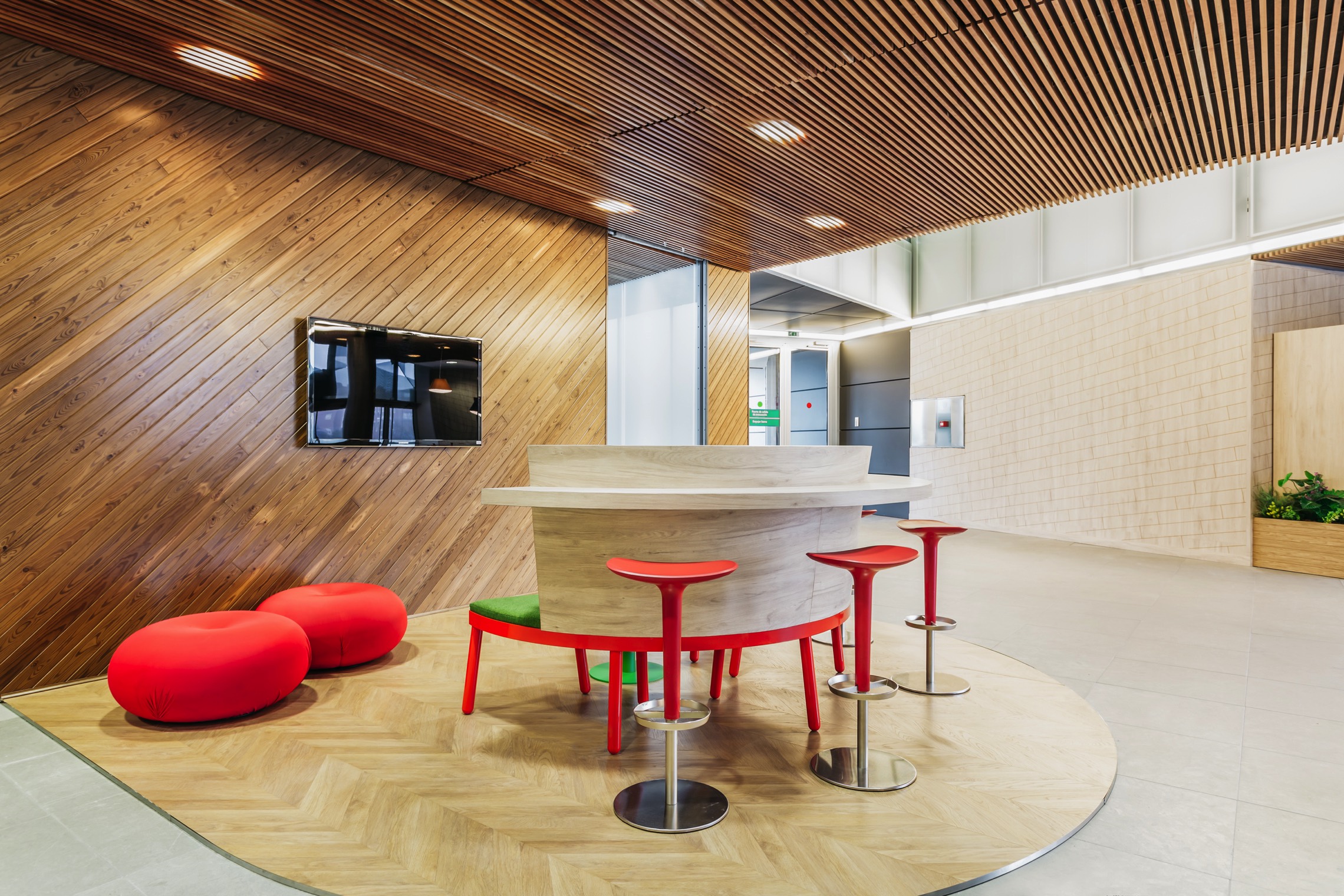 The stage lighting that lights up the reception area helps with no doubt to add the necessary dramatism to make the visitor and the workers feel in a different kind of offices building; a place where they are going to discover and endless number of experiences and corners, through which they will feel the real value of a hundred-year history company.
Details like the painted logo over old doors, the big ceiling at the cafeteria with the logo, the wall composed of hundreds of bottles signed by the employees, are some samples of how to integrate the brand in a different way.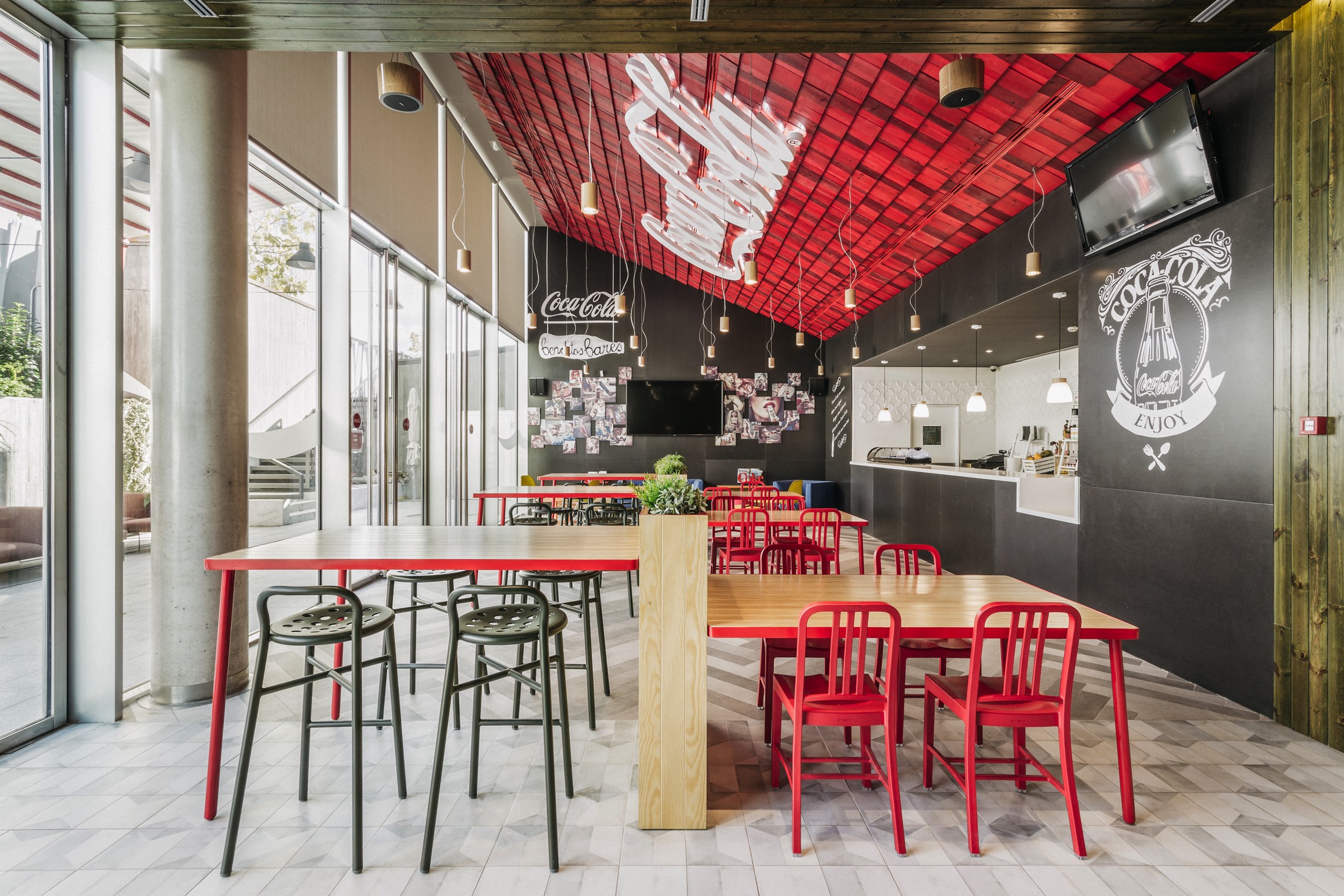 To sum up, the new interiors of the Coca-Cola building are a new concept, transgressing our understanding of a working place that become now celebrating spaces. Places where to enjoy every single moment, places that get close to people and that shelter the employees of a brand, with which we grew up and that is still alive thanks to the fidelity and trust of all of us.