The Place of Transformation
The design of LinkedIns Office in Milan embodies sociability, transparency and transformation.
Italy has the capacity of adapting to transforming situations while simultaneously keeping traditions alive. Milan is the most international of the Italian cities, connected to European capitals and business, symbol of local excellences in the world.
The LinkedIn Milan office is designed on the metaphor of "The Places of Transformation", i.e. the environments that represent the key settings where raw materials made of pure talent are translated into value, both from a business perspective and the country's productive excellence ambition.
With the aid of the local team, five places have been selected as representative of Italy and Milan, which by their nature, atmosphere and use better adapt to major work settings: "Il Teatro'', "Il Ristorante'', "La Sartoria'', "La Cantina'' and "Il Giardino Segreto''.
These places are reinterpreted in an environment characterized by the brands' global values: connection, transformation, digital technology and dynamism.
Being proud of the own culture means welcoming guests directly inside someone's workspace.
The arrival experience reflects the dynamism of the city subtly paired to a full brand experience, leading to "Il Teatro'', where the archetype of the performing Italian venue par excellence becomes a modern "All Hands and breakout area" for socialization, relax and events. "Il Ristorante'' applies a conceptual celebration of Italian talent in catering to an office breakout and lounge.
"La Sartoria'' transforms and creates just as a tailor's shop does, with fine raw materials draped on the furniture of two meeting rooms. "La Cantina'' celebrates the of time in order to create a unique excellence, with a drop-in designed as a wine cellar. Finally, a lounge and relax area designed with Italian landscapes and agricultural excellence in mind: "Il Giardino Segreto".
ARRIVAL
Entering the LinkedIn Milan office is a unique experience. An all blue lobby welcomes guests with an IN bug, two touch screens for digital signage and a set of LinkedIn branded bicycles available to employees for daily use.
The unicity of this arrival experience is that people are introduced directly to the workspace without any filter and this was a specific request of the local team, reflecting the openness and transparency that are part of the brand guidelines.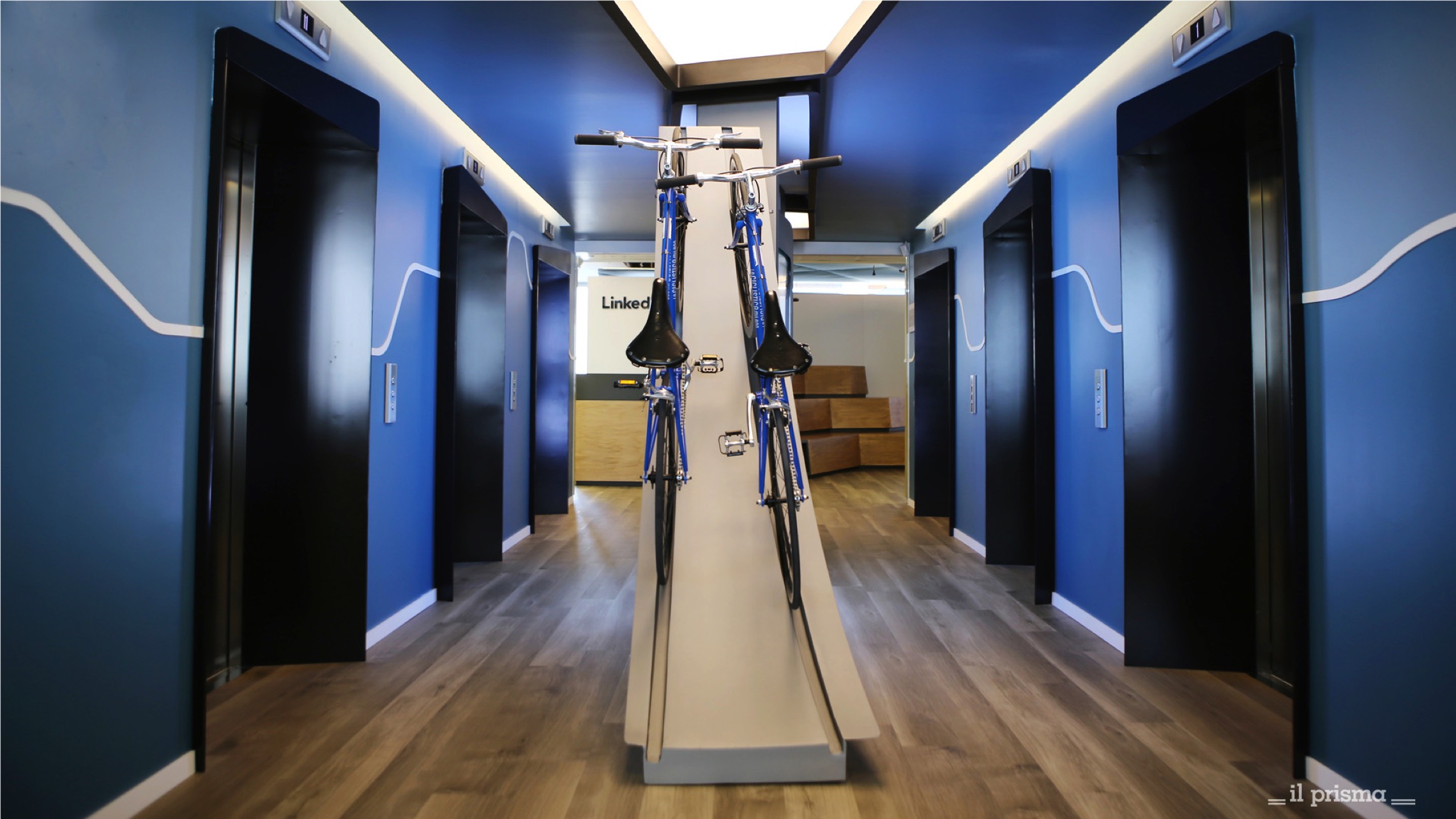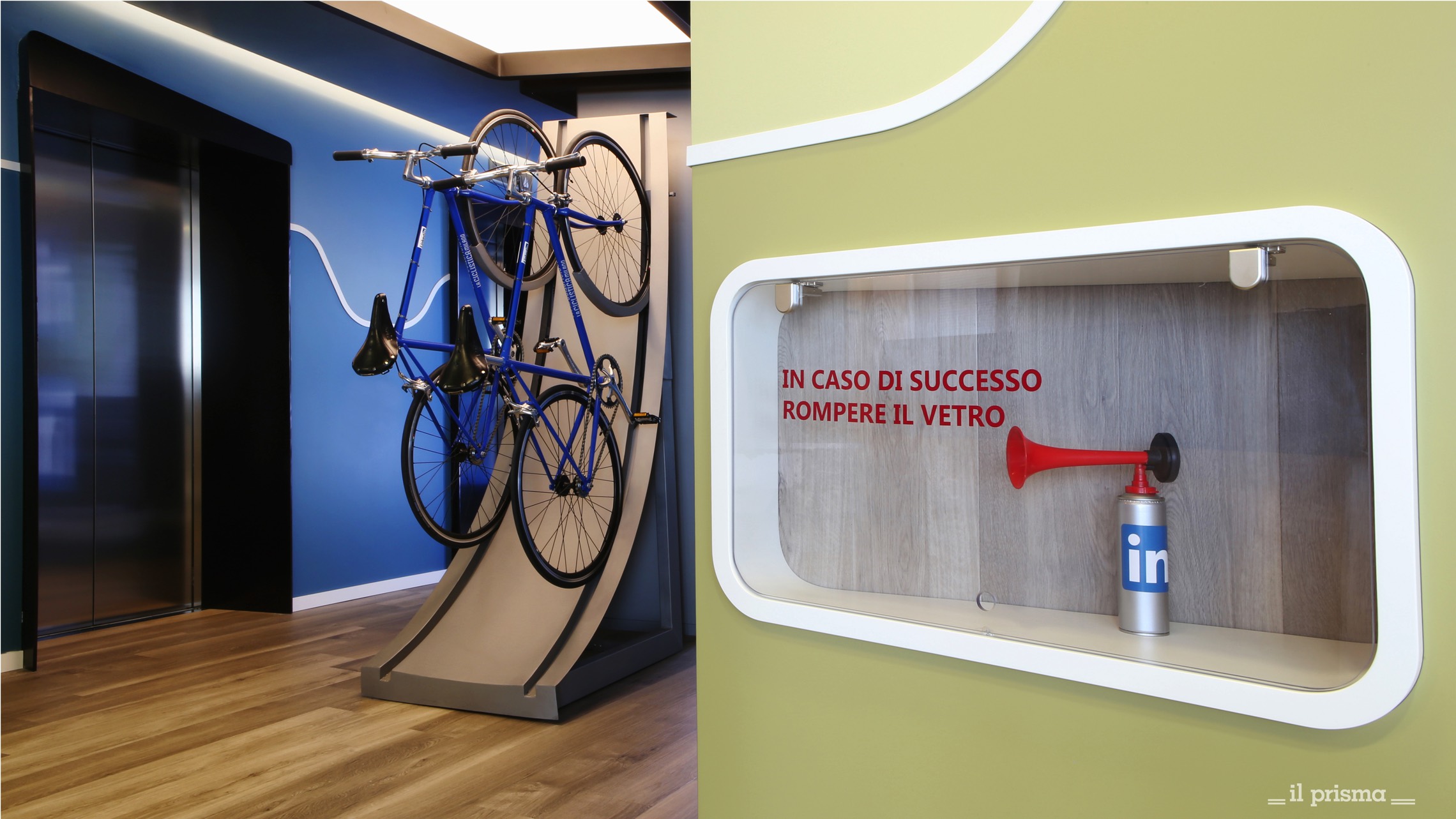 ALL HANDS - TEATRO
Entertainment and culture, fun and learning are represented in this space dedicated to celebrations, sharing and training.
A multipurpose space that adapts to the needs of its audience thanks to its flexibility.
This space gives a concrete answer to the propensity of LinkedIn to celebrate and share every single result and success in complete harmony with the rest of the team.
In front of imposing wood bleachers, business success comes on stage along with playful games, passion and experiences. In an integrated way, the reception of guests, presentations and training courses with a widened customer and partner groups can be held here as well.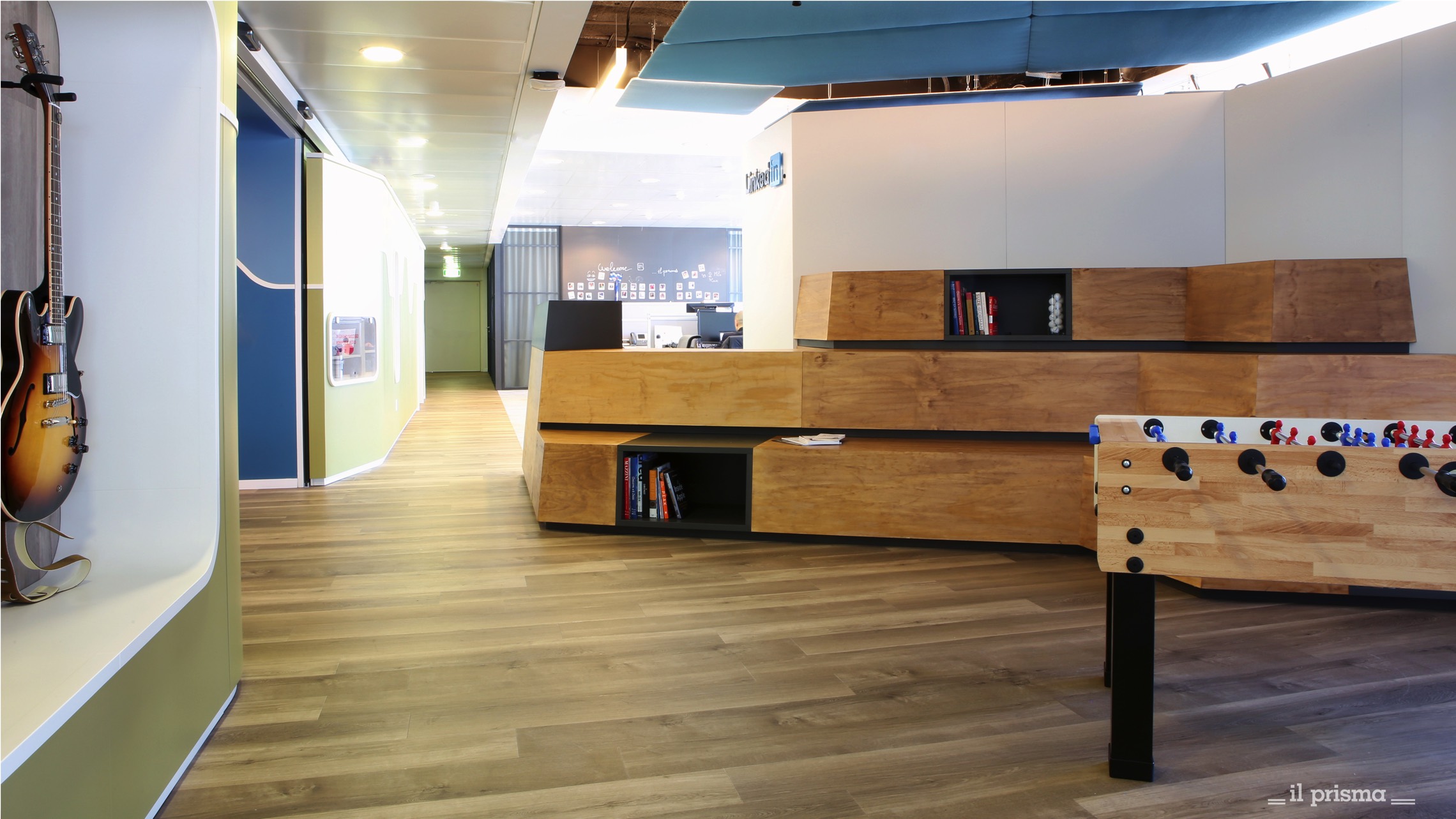 BREAKOUT - RISTORANTE
The place of conviviality par excellence, where people can share important moments and tastes with guests and colleagues. The lunch table is the traditional place where the Italian spirit can be expressed as an absolute value as a synonym of quality and fruitful relationship. In the convivial and informal spirit of the Italian team, the working day begins with breakfast, every lunch becomes a moment of sharing and each break is an opportunity to recharge batteries and share ideas and projects. It is a space used for informal and spontaneous meetings as well. Several work settings (kitchen, lounge and alcove) give flexibility to this space, to host different moments and activities.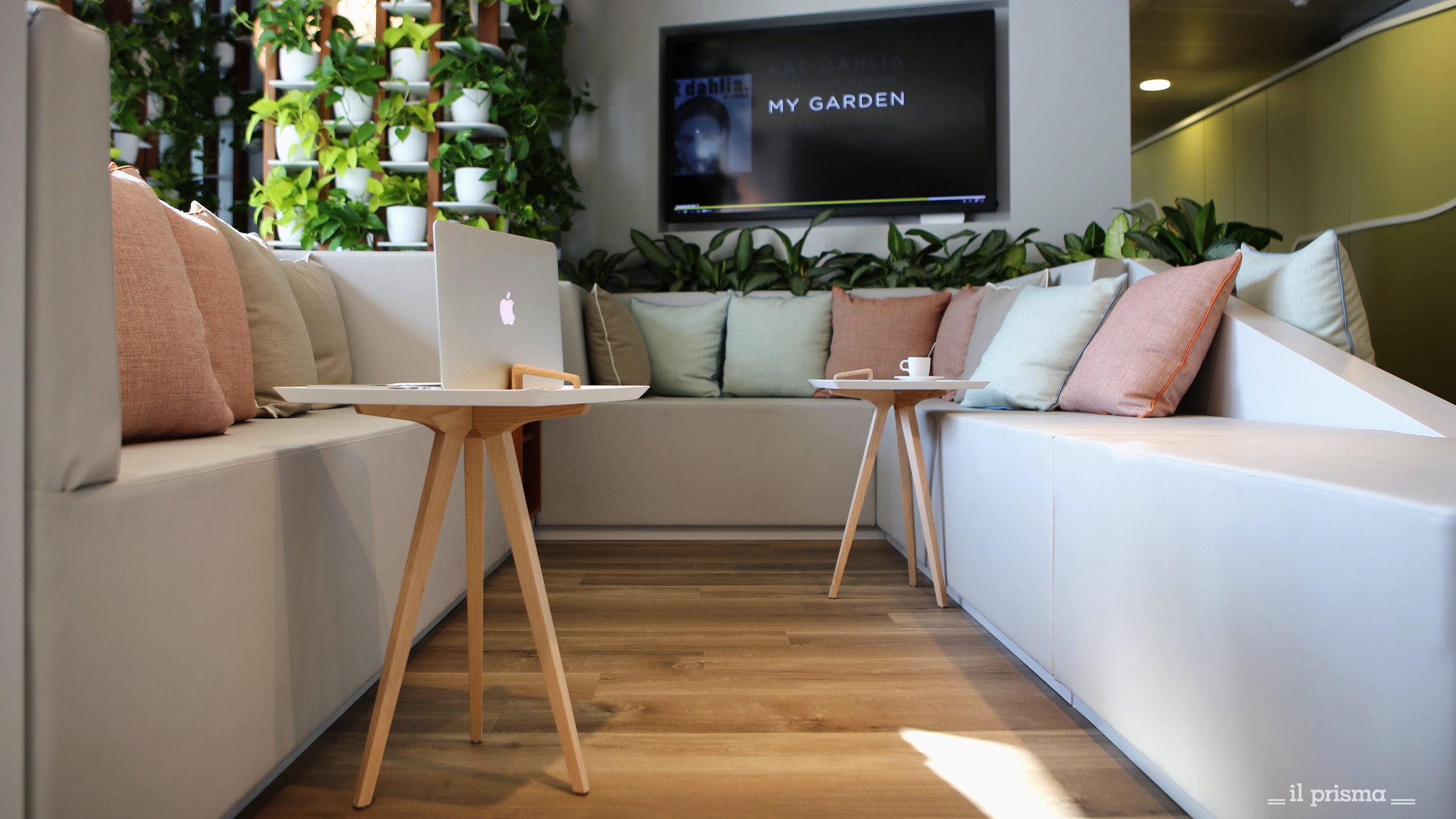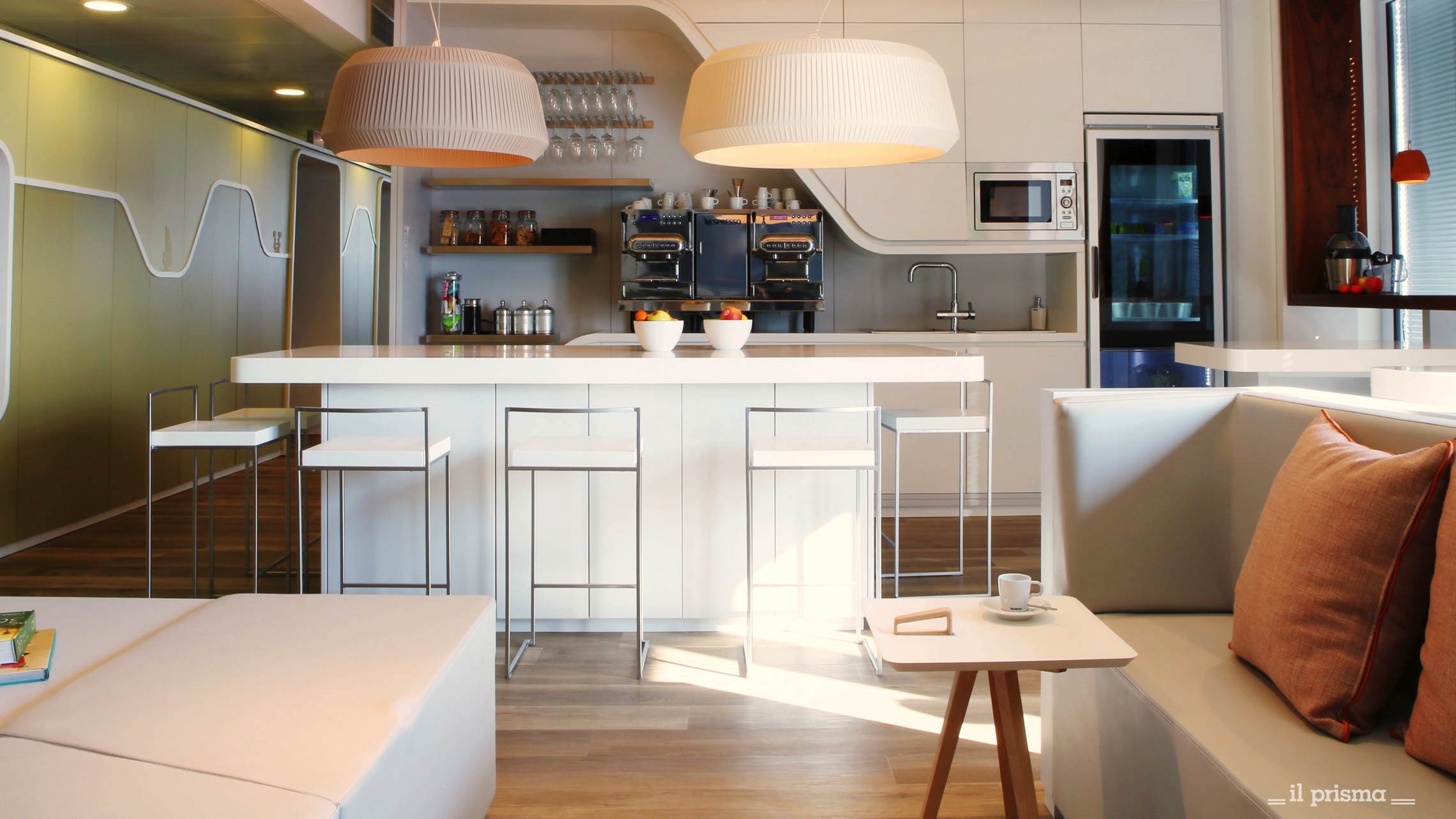 MEETING - SARTORIA
"La Sartoria'' is the representation of the modern workshop, where tradition meets innovation in order to create an environment of contrasts through the use of precious materials combined with the technologies. An industrial work environment but at the same time elegant, flexible, efficient: the perfect framework for formal meetings. Flexibility is provided by the fact that the two meeting rooms are of a different size and are divided by a packable wall that can be removed when necessary, thus generating a larger unique environment, suitable for meetings or other activities. The richness and quality of the seats' fabric, the partition wall and the acoustic curtains live in a constant dialogue but at the same time in contrast with the crudeness of certain finishes, such as the raw metal, bricks, and natural wood typical of a real workshop.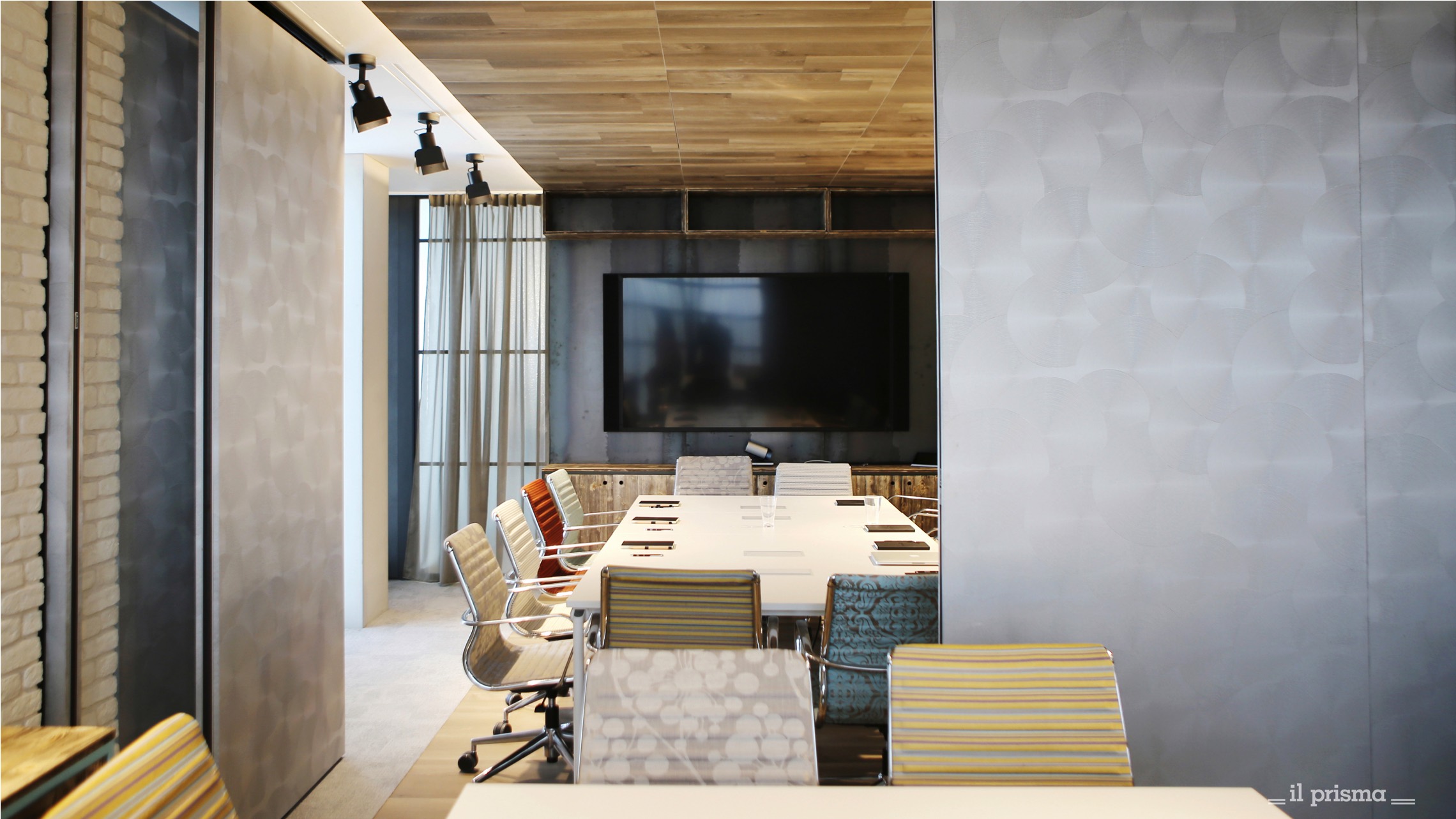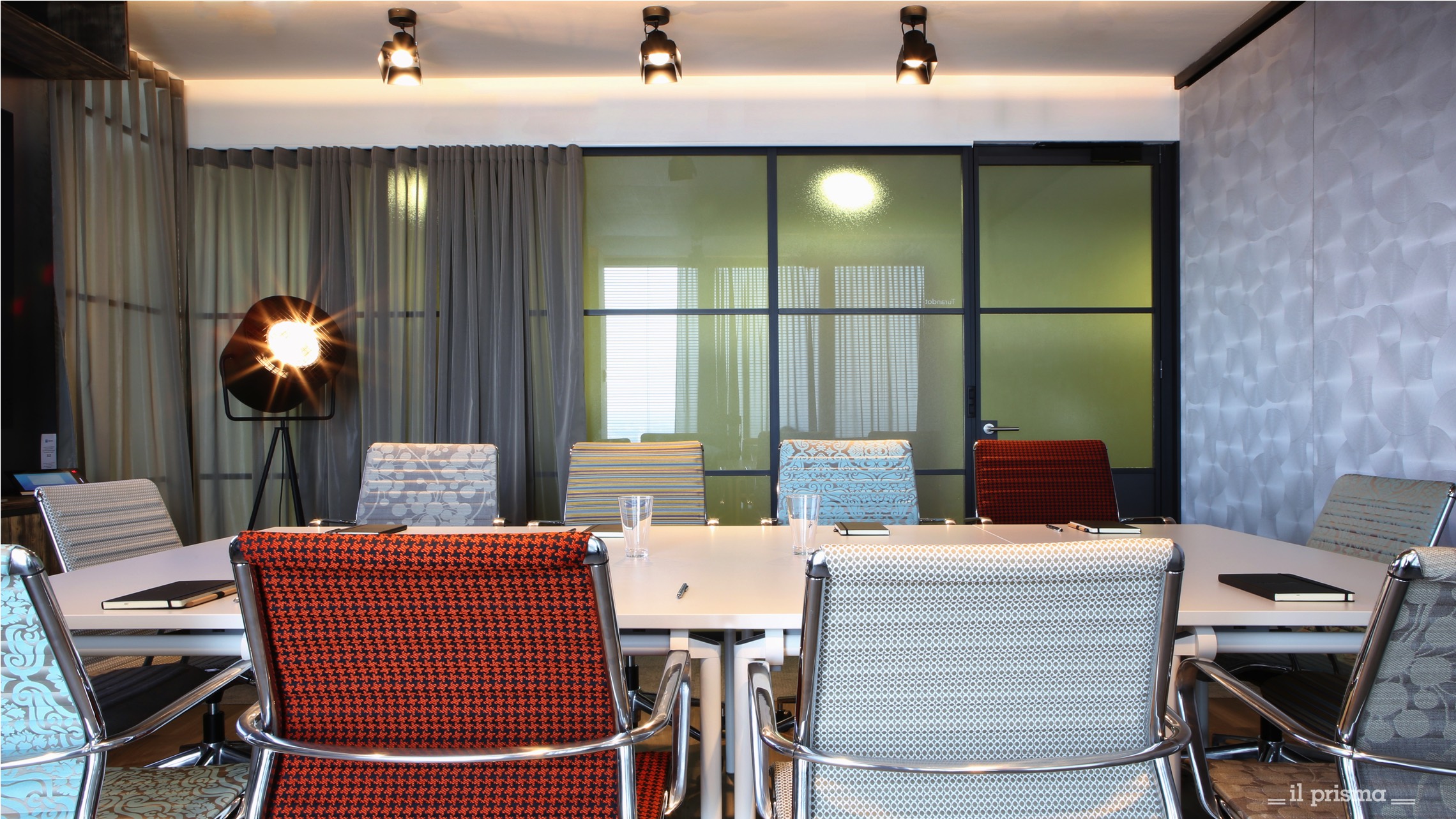 LOUNGE - IL GIARDINO SEGRETO
"Il Giardino Segreto'' The symbolic place of Mother Earth's gifts represents another excellence for the country. Soft curves and intense aromas characterize this peaceful place where the team can relax admiring the urban landscape or organize business meetings in an alternative frame. Informal meetings, brainstorming and relax: this space is a full sensory experience that responds to the LinkedIn's desire of offering atmospheres and sensations close to the experience when someone is in contact with nature. Here biophilia and sensation merge, creating a unique harmonic environment.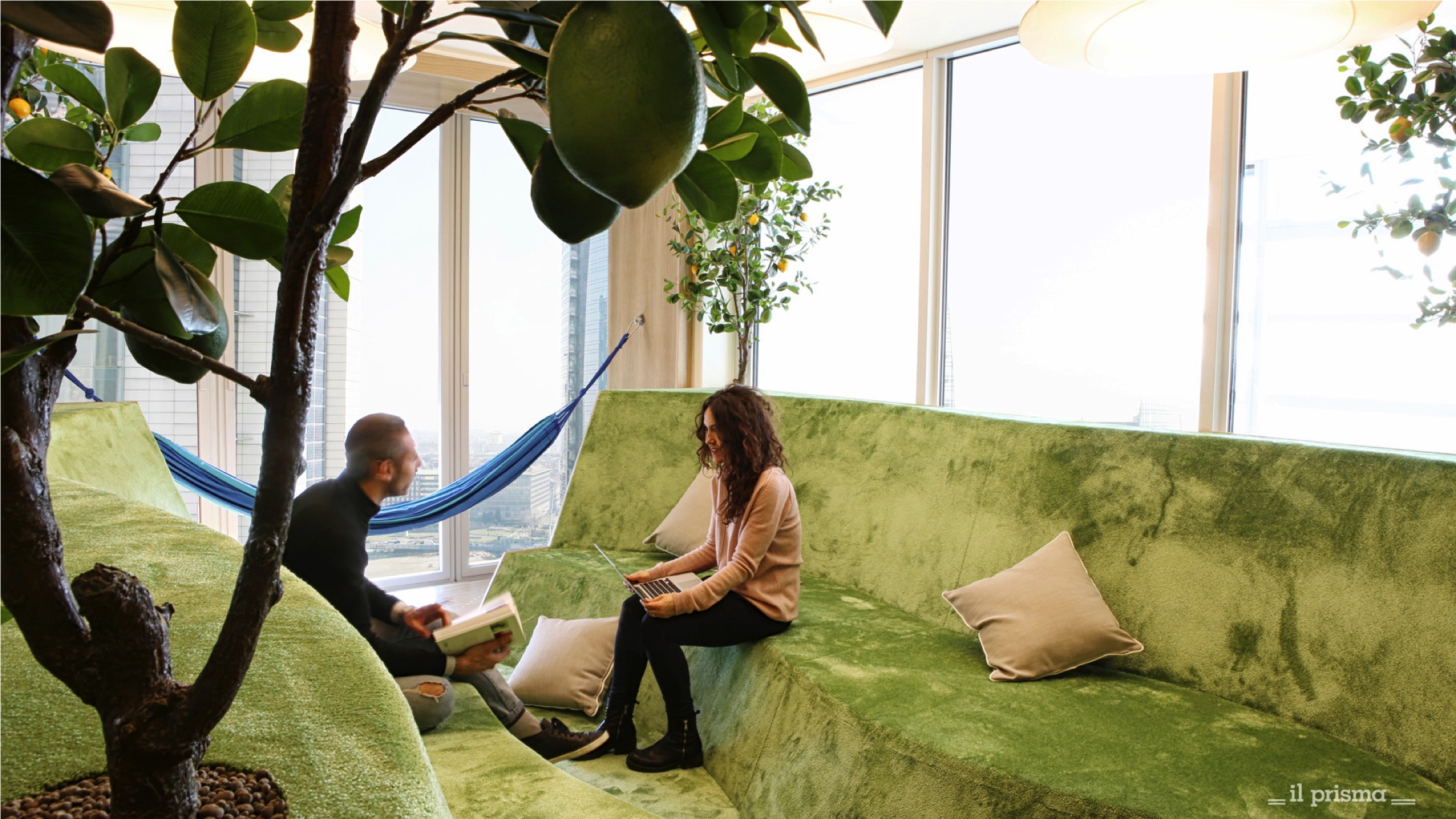 DROP IN - CANTINA
"La Cantina'' is a place of rest, of silence, where ancient essences find the right environment to lie and turn into excellences. A highly demanded space in the analysis phase, suitable for moments of concentration or for meetings that require a high level of privacy. This is also the right space for important meetings but also for listening to good music while enjoying a glass of wine in complete isolation from the bustle of the open space, then using tactile and fragrant materials to give the user a complete sensory experience. An "offline" place in the most connected company.