This article is dedicated to those silent pillars that look down on us every day from their wall and provide us with a continuous source of renewed inspiration. Motivational and decorative posters give us deeper insights into the messages of numerous artists, thinkers and pioneers in a simple, stylish or entertaining way. Like Sammy the cat hanging on to a bamboo shoot and trying desperately not to fall. It may not be the best example, but this motif by photographer Victor Baldwin made the motivational poster into something socially acceptable. It has since been copied a thousand times and printed a million times.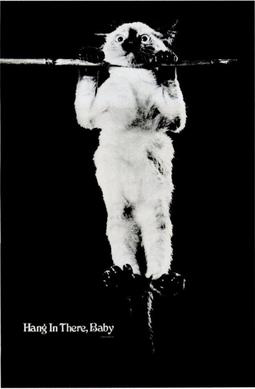 Let's be honest, at some stage we all reach the point where we are so frustrated that we just want to give up on everything. This is where motivational posters reveal their true magic and can have a calming, creative and inspiring effect on us.
Scientists suspect that motivational posters have a priming effect on people; a kind of subconscious preparation that results in certain associations and reactions. Psychologist Gary P. Latham proved this in an interesting series of experiments in which he randomly distributed 54 call centre workers into three rooms. The first room had absolutely no decoration, the second had a motivational poster showing a victorious sprinter and in the third hung the poster of a beaming call centre worker. The workers in the room with the sprinter made much more money than those in the empty room. They were only surpassed by those in the third room with the work-related poster.
Of course, there are also fascinating images that have since become part of pop culture. In 1985, Mac Anderson, a staunch lover of aphorisms and quotations, founded the company Successories, whose winning formula even helped them make it on to the Nasdaq in 1990. They always produced the same format that adorned several offices in the 90s, namely a black background framing a generic stock image. Below it is a single word, prominently positioned in capital letters and neatly combined with a platitude.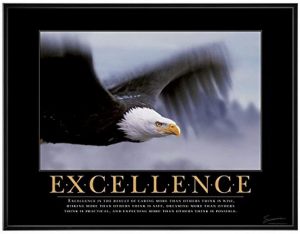 The posters were faintly reminiscent of Soviet propaganda posters and radiated a similar amount of charm and motivation. At the same time, their brilliance lay in being totally apolitical. What does excellence have to do with a bald eagle? Everything and nothing! That's why the posters could be safely hung up anywhere without risking offence.
Fortunately, there are innovative, creative or just simply beautiful alternatives nowadays, a selection of which we present to you below. And that's why the final motivational message we want to give you is this; It's your workplace – go wild!
Get Shit Done - e.g. with wooden or aluminum frame, on canvas, Alu-Dibond or as acrylic glass painting. You can also choose from a wide range of sizes, e.g. from 13x18 cm to 80x120 cm.
Discover more inspiring pictures and order them within Europe directly by visiting our partner JUNIQE.
Note: Office Inspiration is a participant in affiliate partner programmes designed to provide a medium for websites to earn fees by placing partner links.