Design Offices's second site in Hamburg is located in its bustling city center. Around the corner is an iconic Hamburg building that's featured on the city's official emblem: the Michel, a uniquely impressive Baroque church. City center nodes such as Jungfernstieg, Hamburg's main train station and HafenCity are easily reachable on foot. This unique building is a spectacular ensemble uniting modern styles with Hamburg's centuries-old tradition in trade and commerce, comprising an older heritage-protected building and a futuristic new glass facade.
Its 5 stories comprise 1,200 m² that offer everything you need for success in today's business environment: modern office spaces, flexible coworking areas, inspiring conference rooms and an attractive event space featuring a roof terrace with wonderful views of the Tanzende Türme buildings, the Michel and Hamburg's new landmark, the Elbphilharmonie concert hall.

Office Spaces - inspiring and stylish
This is the office you always wanted. Every tiny detail has been crafted or selected with great care: next-generation lighting and acoustics let you focus on your work without distraction. Whether you're working alone or in a team, everyone has the space they require to push their projects forward. If you need anything, just ask the friendly and helpful service team. And if you need some inspiration from other professionals, our meeting points, coffee niches, coworking spaces and Design Office Eatery let you connect with people from a range of industries and markets.
Design Offices offer
Inspiring workspaces to spark new ideas
Ideal for professionals working alone or in a team
Countless networking opportunities
Services that cover any requirement or eventuality
Co-Working Spaces: The Perfect Connection
Coworking is revolutionizing the world of work, offering the flexibility needed to succeed in today's fast moving business environments. Our coworking areas let people work flexibly while providing all the advantages of a dedicated business environment, including excellent services. Full Plug & Play means you can hit the ground running. Plug into this professional business community to network with the best professionals from diverse markets and industries – find new business partners and discover new potential and opportunities for your business.
Both big and mid-sized businesses are discovering the advantages of coworking, implementing flexible, inspiring workspaces for their project teams. Design Offices is the only provider in the country that can fully serve those needs; it's why we're Nr.1 in Germany for corporate-level coworking.
Design Offices: Nr.1 in Germany for Corporate Coworking
Coworking is the best driver behind successful networking strategies
Supports connection-building and maximizes efficiency
An inspirational nursery for new ideas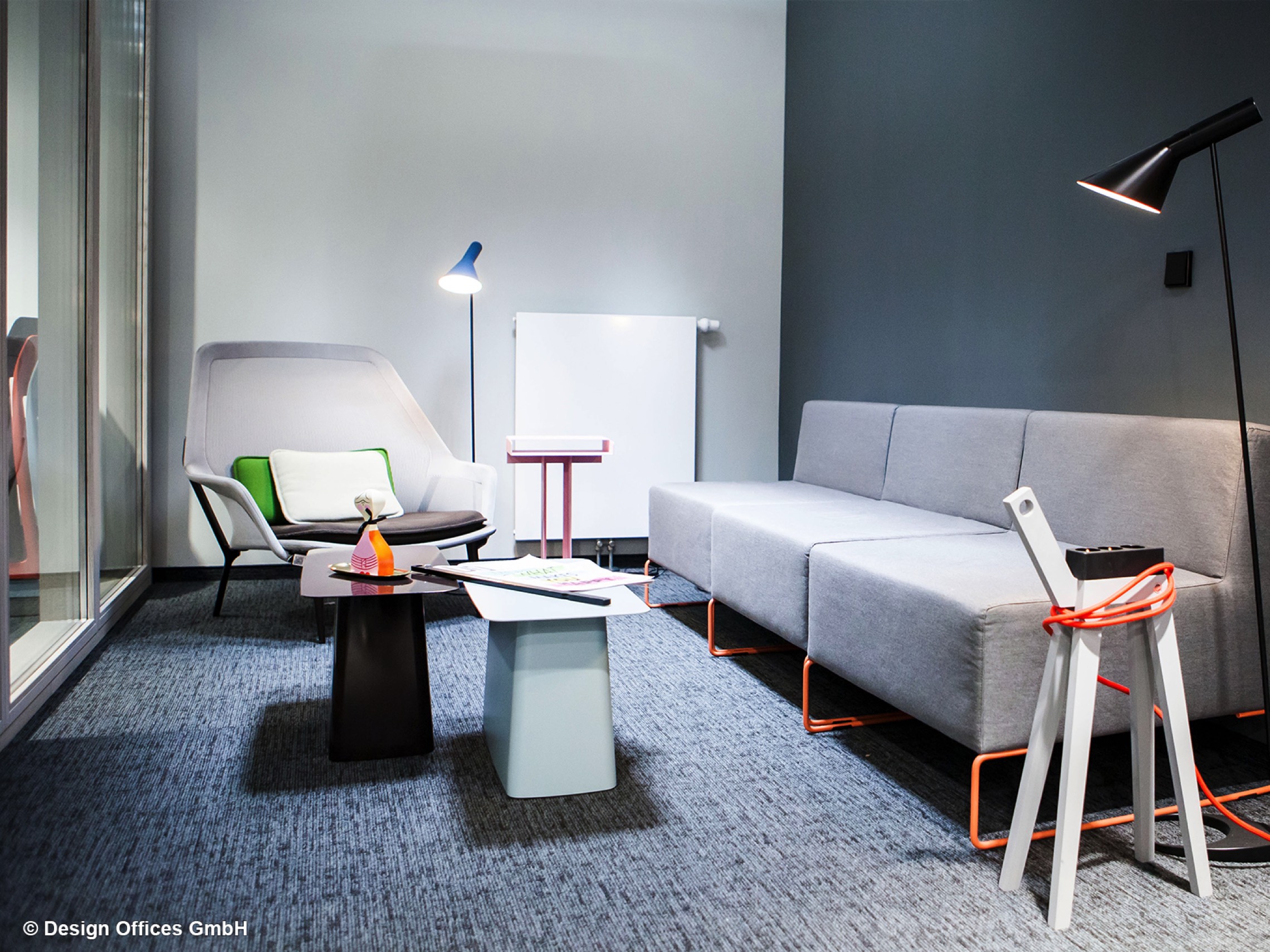 Conference Spaces - Where Knowledge Is Made
Meetings are the groundwork for your future success. You need meeting spaces that are exceedingly flexible – and that's exactly what we offer. Our spaces are bookable by the half day or day (some also by the hour). We offer the ideal space for your meeting, be it a face-to-face interview or a conference with up to 200 people. You can even specify exactly the seating you need. All the latest technologies are available, such as
high-res flat screens, powerful beamers, a tech trolley with moderator sets, writable walls and flipcharts, WiFi, adapters for Apple computers and PCs... We've got it all covered. Need catering? We provide excellent food services on demand.
Seminars, training sessions, workshops, coaching events and face-to-face meetings
Full IT support and outstanding services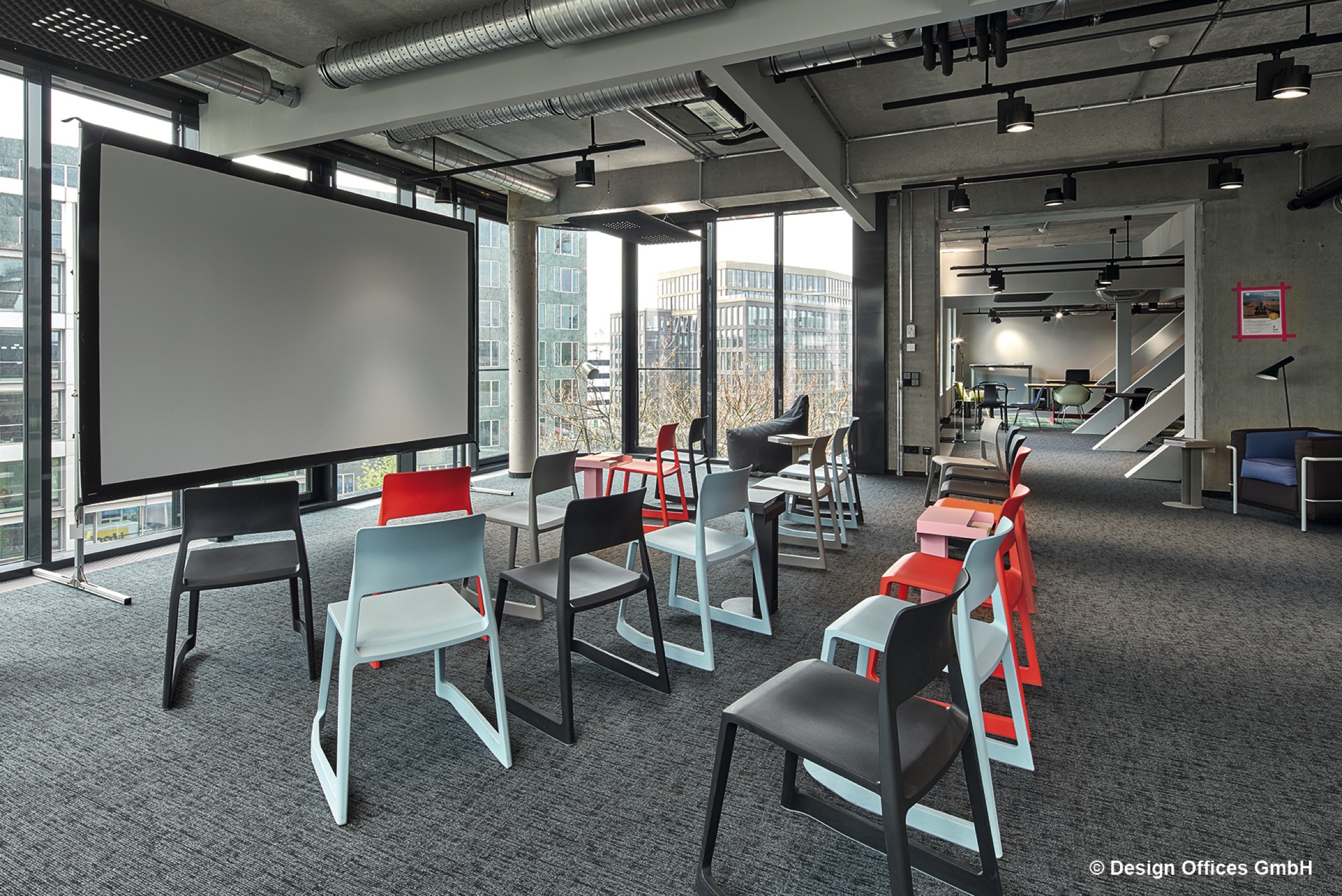 OEvent Spaces - Celebrate Your Success
Our Event Spaces: Celebrate Your Success
The 7th floor houses the stylish Design Offices Eatery; its roof terrace is one of Hamburg's most sought-after event locations. From here you can enjoy spectacular views of the inner city and Hamburg's famous harbor. Your guests will remember your event for a long, long time. Be it a standing reception, an exclusive business dinner, a networking event or just an opportunity to kick back with a few colleagues and toast a successful day, we can make it happen.
Catering designed by you
Plenty of room for your guests
Our full-spectrum service includes lounge furnishings, DJ, photographer, decoration and much more.
Arrange a viewing and start receiving offers tailored to your needs
Use the contact form, send us an email to office@officeinspiration.com or phone us on: +49 (0) 40 696 323 220. Tell us how much space you need, when and for how long you'll need the space and any other needs you might have. We'll get back to you as quickly as humanly possible.
We'll find you the perfect workspace!
Your benefits:
Free brokerage | Welcome git
Personalized advice | Fast service | Huge range of spaces
Immediate availability & maximum flexibility