Where to next?
The client brief was to make a vastu compliant office with a design strategy which would take care of critical site conditions and provide optimum space utilization. The 1125 sqft space sits in the south-west corner of a modern office building with ample natural light coming at the rear end.
A distinctive vastu requirement was to have the L-shaped space divided into two clean rectangles. The design response was creating two zones: the 'arrival zone' housing the reception and an enquiry room, and the 'terminal zone' with two directors' cabins, an executive lounge, a multiuse work area, a conference room and all utilities. Conceived/Fancied as an aerobridge, these two zones are connected with an archway that opens out into a peripherally organized series of cabins. These cabins are strategically placed in order to conceal three structural columns, utilizing dead zones as filing cabinets, utility cabinets, seating booths and a printing station.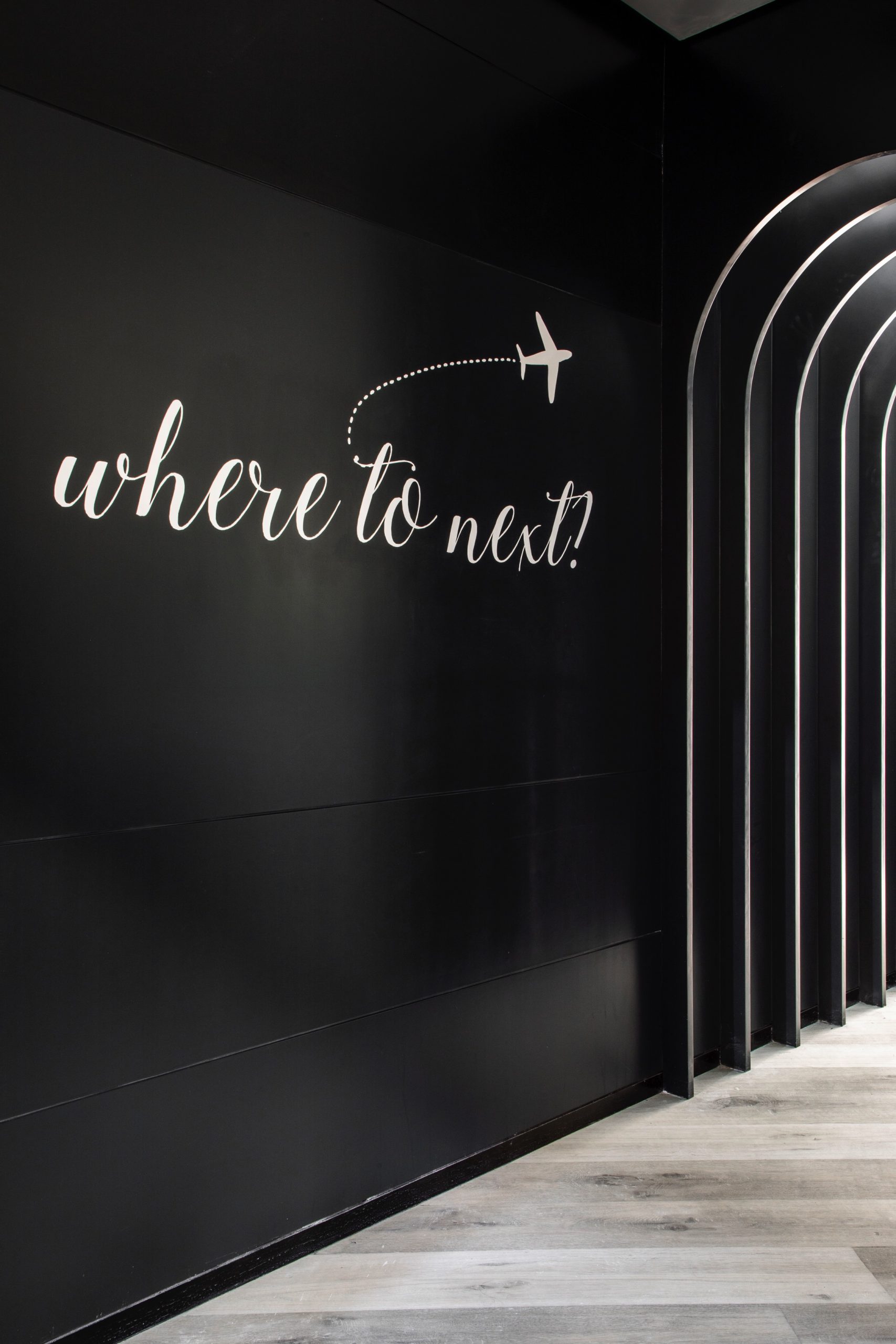 To highlight the different natural light scenarios in the two zones, a dramatic contrast between materials and colours is used across the project. Door panels from around the world form a pristine white backdrop for the red oak reception desk. At night, this big white element works as a lantern reflecting its own light. The flooring pattern and material also work in coordination with the changing color palette in the two zones.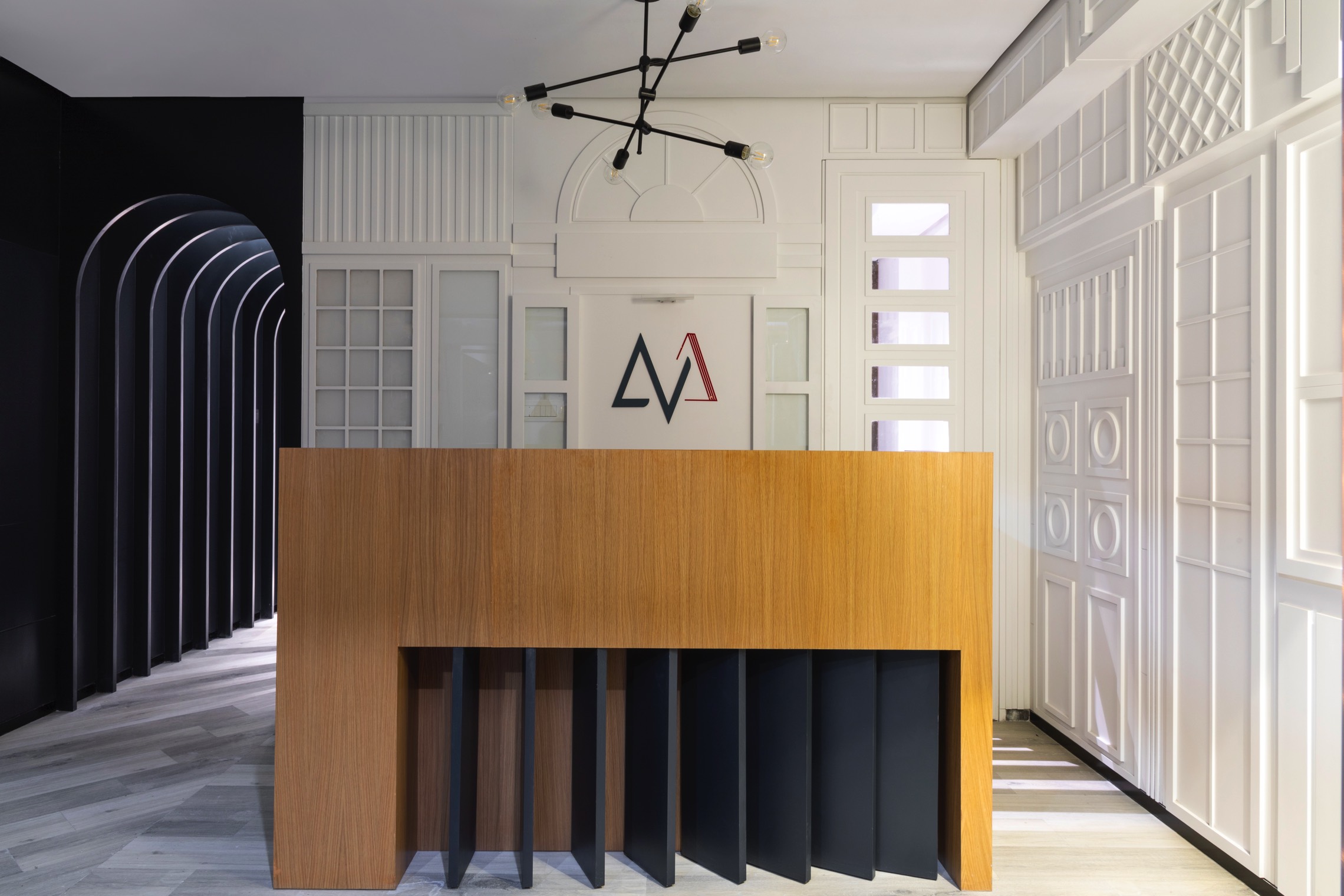 The design effectively brings the aesthetic into harmony with the modern operating need of an office to have all working areas connected. The workstations are in direct view of the directors for visual communication and surveillance purpose. A white figure-ground map on glass prevents direct visibility into the dark conference room while allowing a clear view of the workstations from the inside. The executive lounge is organized as an informal cabin which reflects the executive's femininity within a multifunctional workspace, where she can create and also welcome clients and friends privately.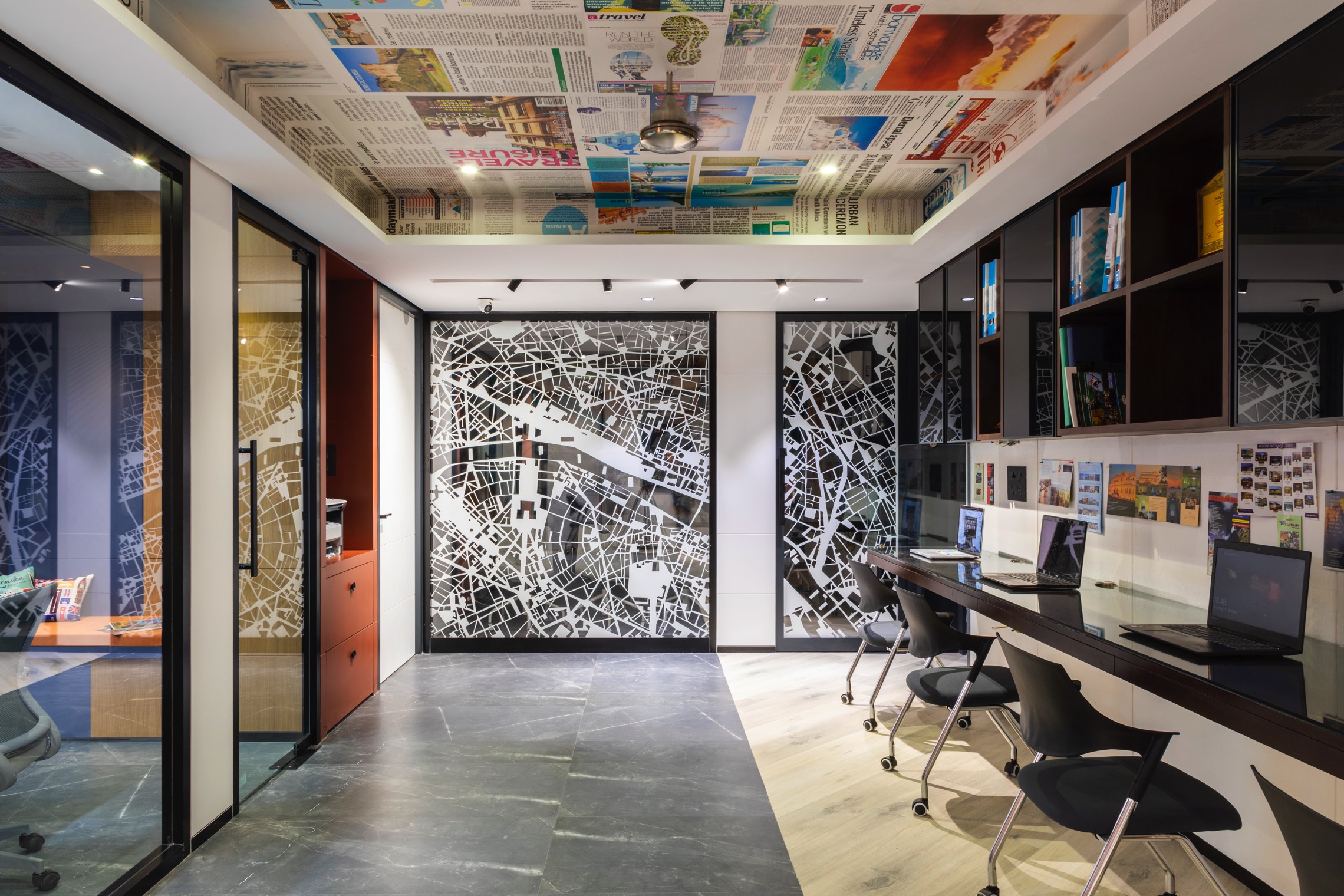 While an office is typically designed as a workspace for the directors and the employees, this office for 'Mehul Tours and Travels' provides a spatial experience for the clients allowing them to perceive the design elements in their own ways relating to memories from their past travel stories and having them look forward to making new ones. The window safety grills play with the sunlight creating shadows and projections of city skylines on muted blinds. A bespoke currency map sits strongly in one of the director's cabins. Various travel articles and magazine columns lay zoomed in on the ceiling in the multiuse work area. These elements create a sense of travel nostalgia and make a beautiful 'office travelogue'.