The Digital Flipchart That Lets Your Ideas Flow
Draw. Write. Inspire.
Enjoy the smooth, familiar feel of traditional writing on a versatile digital display. Up to four people can all get creative at the same time, using any object as a writing tool to create content and designs in a variety of different colours and styles.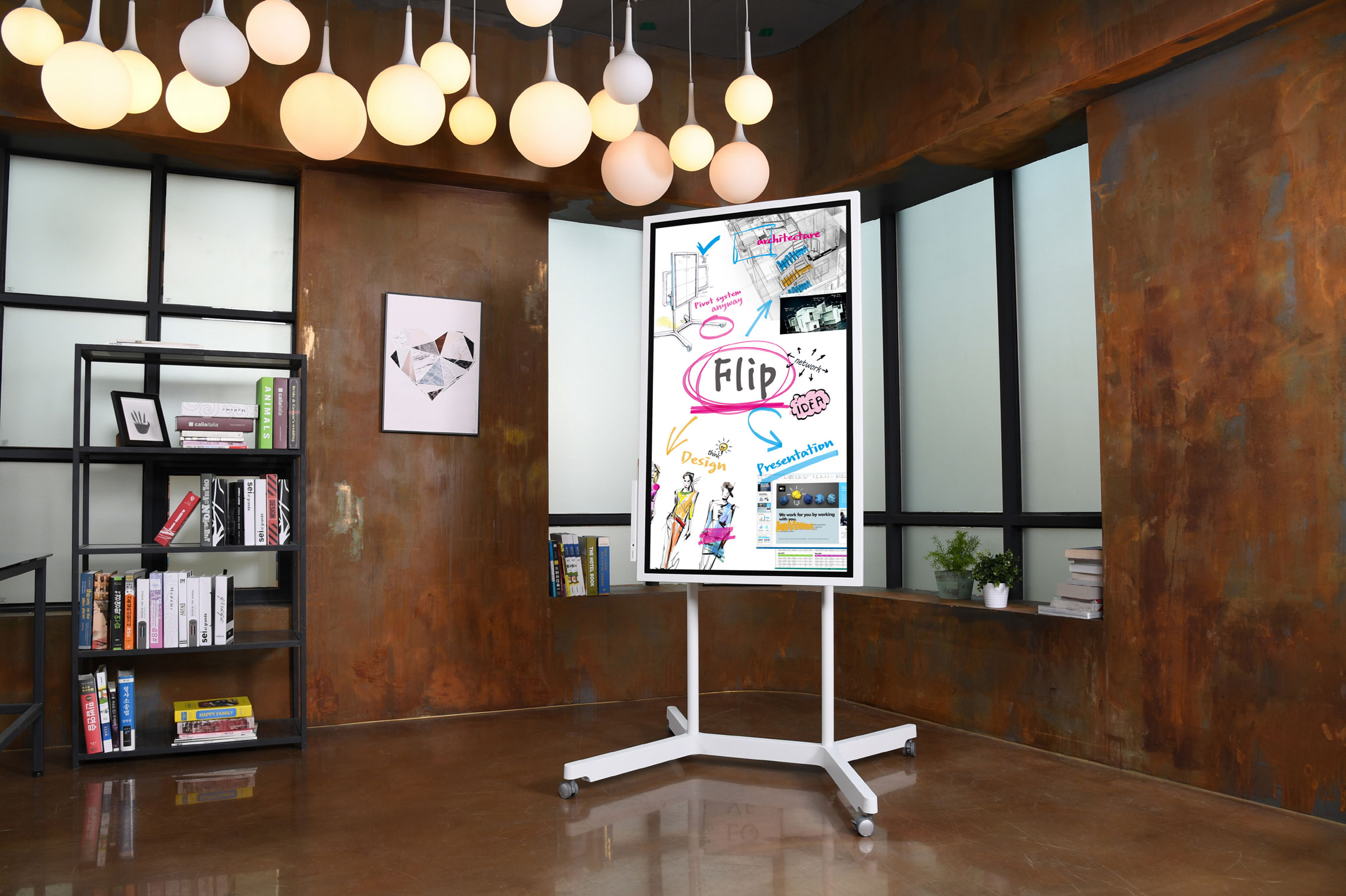 Welcome to the future of collaboration
Samsung Flip connects with mobile devices, laptops, USB sticks, external screens via HDMI and the internet so that your team can share and edit content in real time.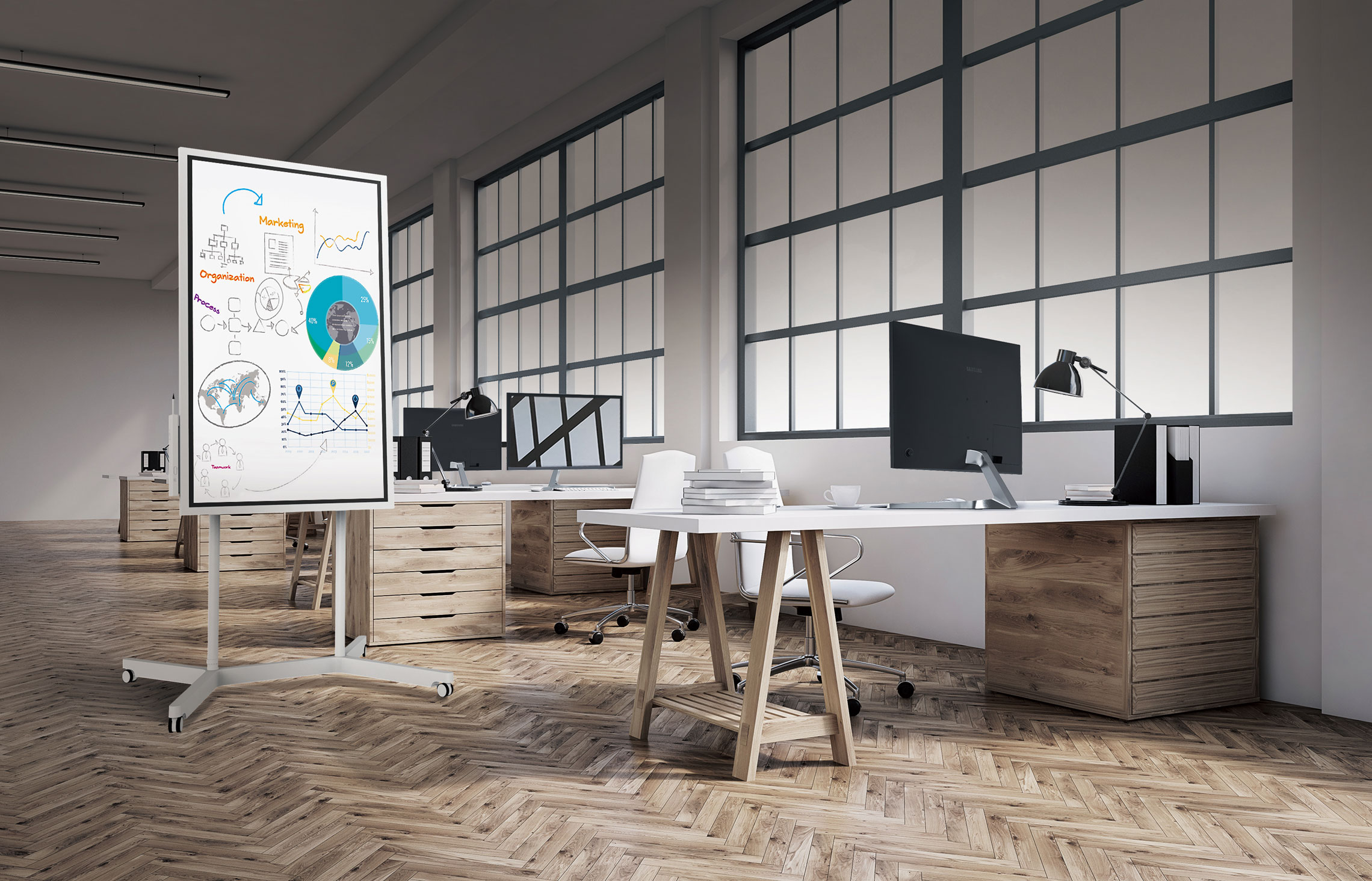 Smooth and simple navigation
Samsung Flip's intuitive, user-friendly menu simplifies navigation and reduces the time required to access controls or view content. You can also preview individual pages and make changes instantly on screen.
Scroll with ease
You and your colleagues no longer need to sort through endless stacks of paper to find a specific discussion point. Now you can seamlessly scroll through and search within up to 20 clearly divided digital Flip pages.
Protect your ideas
Samsung Flip's pin code protection ensures that your game-changing ideas are safe and secure from prying eyes. Each in-office team can set a unique pin code to lock the display and remove critical content from view after use, so confidential information stays confidential.
Enjoy convenient connectivity
Samsung Flip enables teams to create comprehensive, collaborative and engaging presentations – simply syncing and connecting to a wide range of external devices to share content, make presentations more interactive and provide useful notation capabilities.
Showcase your work professionally
Create a collaborative space wherever you are. No need to battle to book meeting rooms, or try to be creative in unimaginative spaces. Organise team huddles and brainstorming sessions wherever suits, thanks to Samsung Flip's moveable stand. Plus, you can present in portrait or orientation mode – you're in complete control.
Effortlessly share post-meeting recaps
Jotting down meeting notes can be frustrating – you can lose track of what's being said or miss important points. And sending out handwritten or typed up notes afterwards can be confusing and time-consuming. With Samsung Flip, you can easily save and share notes to your colleagues' digital devices directly from the display's central storage.
Stylish and convenient
Samsung Flip's stylish grey design ensures it looks great in any professional environment, without taking up too much space or creating a clutter. With an ergonomic design, convenient 4.5° tilt, spacious front tray, and handy pen holder you and your team can stay organised, collaborate and work on new ideas at the drop of a hat.
Transform any space into a meeting room
Samsung Flip turns any space into a meeting room – so whether you're brainstorming new ideas, presenting important business updates or collaborating on projects, there's no need to find a dedicated meeting room.
For more information go to:
www.samsung.com/uk/flip
For more information contact us: office@officeinspiration.com