"The developments we're seeing today are not fundamentally different from those ten years ago. But we interpret them in a much deeper, more far-reaching way. Digitalization and mobility are permeating the workplace in a way that opens up new dimensions, changing and accelerating processes as we look forward into the future. That's why we need offices designed to ensure sustainability. Interestingly, larger businesses are currently learning from smaller firms how it's done," says Sven Bietau, CEO at CSMM. Based in Germany and Austria, CSMM has been advising both German and international firms for 14 years in the selection and redesign of business property. CSMM has noticed that smaller, less experienced companies are currently the driving force behind change, encouraging experimentation and accepting that some ideas will fail. Here, Sven Bietau explains his vision for the workplace of the future based on seven current trends in office space design.
The Über-Trend: Individualization at Work
Digitalization and innovative technologies have paved the way for lifestyles that are increasingly tailored to the individual. Cars, for example, can be adjusted to personal tastes and needs, while shoppers are no longer tied to towns and cities—or even bricks-and-mortar outlets. Though older generations might find it more difficult to adjust, people born after 1980—the so-called Generations Y and Z—are digital natives. They take certain freedoms for granted, in turn affecting their expectations of the workplace. "In the past, workspaces came first, then they would be filled up with people. Today, offices are focused on people and new ways of working. These include Scrum frameworks and agile work practices, just two of the trends being currently adopted by many businesses," says Sven Bietau. He maintains that there is not one "correct" template for designing an office. Rather, each design needs to address certain fundamentals, such as offering defined places for carrying out general tasks or creating zones that can be adapted and used flexibly. The era of fixed rules and permanent place assignments for office workers is history.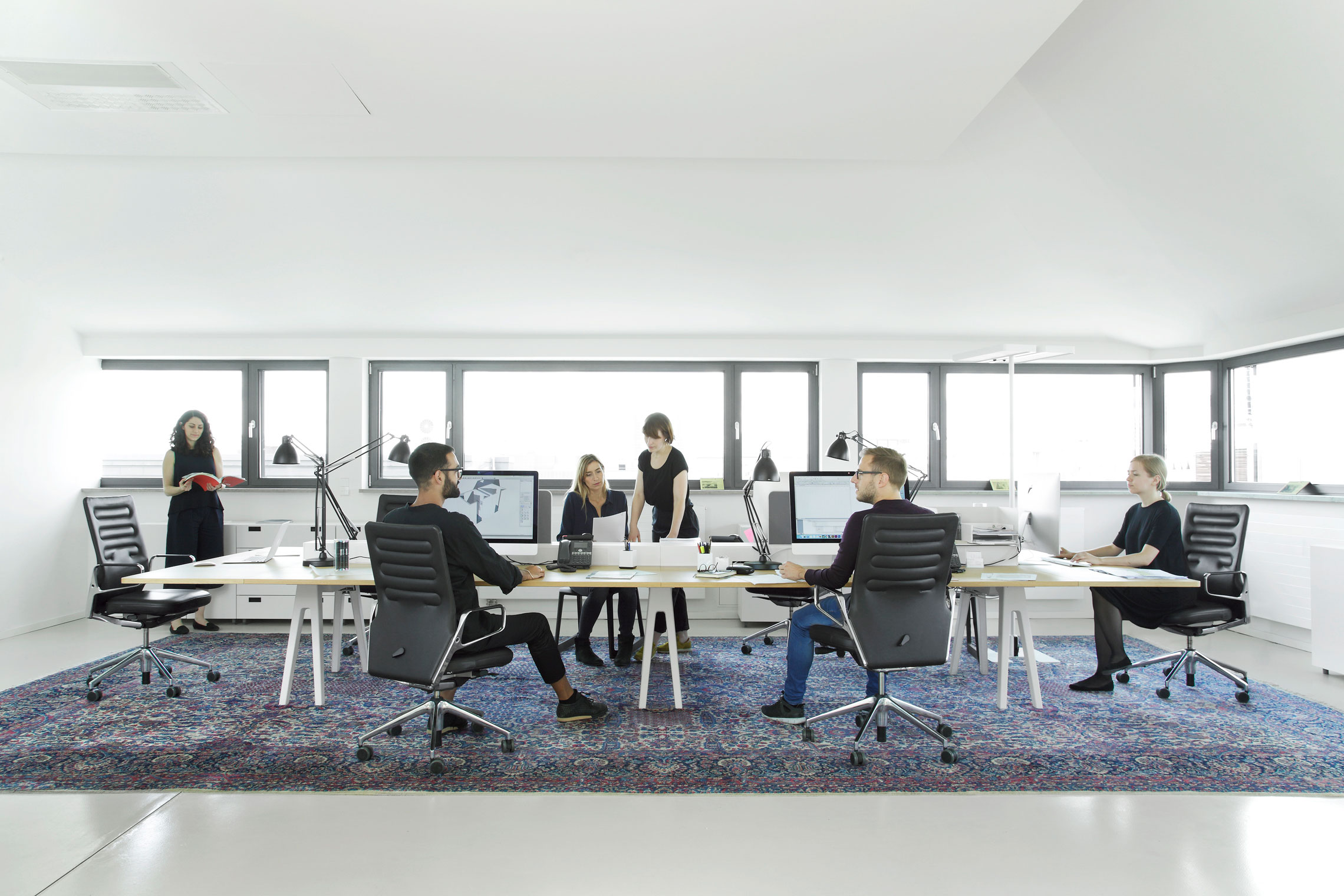 Forging an Emotional Bond to Employers
In the past, employees often didn't care where they worked. If they has a sense of pride in their work, it was often attached to the company brand. Today, the location, design and inventory of office spaces are the focal point of perceptions of value. "Many experts maintain that in today's employment market, location is more important than salary. I'm convinced that both now have such a high priority for young professionals that the much-vaunted 'war of talents' can't be won by offering either an attractive location or a decent salary," Bietau explains.
Offices as a Space of Personal Wellbeing
The priorities people set for their living spaces are increasingly being transposed into the workplace. People want to enjoy being at work, to feel a sense of ease and wellbeing. Forward-thinking business leaders know that offices that are fun to work in are fundamental to improving motivation and increasing performance. The basic principles are the same as they are at home; designs that are multi-functional and flexible allow entire rooms to be reconfigured as needed for a range of situations.
The Office as a Social Hub
Teamwork is becoming increasingly important in office environments. In the so-called Scrum framework, colleagues work together for, say, two weeks on a subject or issue. Work begins within the group by pooling relevant knowledge. Then the required individual tasks are completed, accompanied by discussions in small teams. These teams then present their results to the whole group. The goal is to develop ideas quickly and creatively within a short time frame. The various work areas are turned into 'hubs' that can quickly be enlarged to allow brainstorming sessions involving a bigger group. Quiet areas allow team members to escape the hubbub and work in a focused way. Lounges provide a comfortable venue for relaxed conversations, while exercise areas let team members blow away the cobwebs from time to time.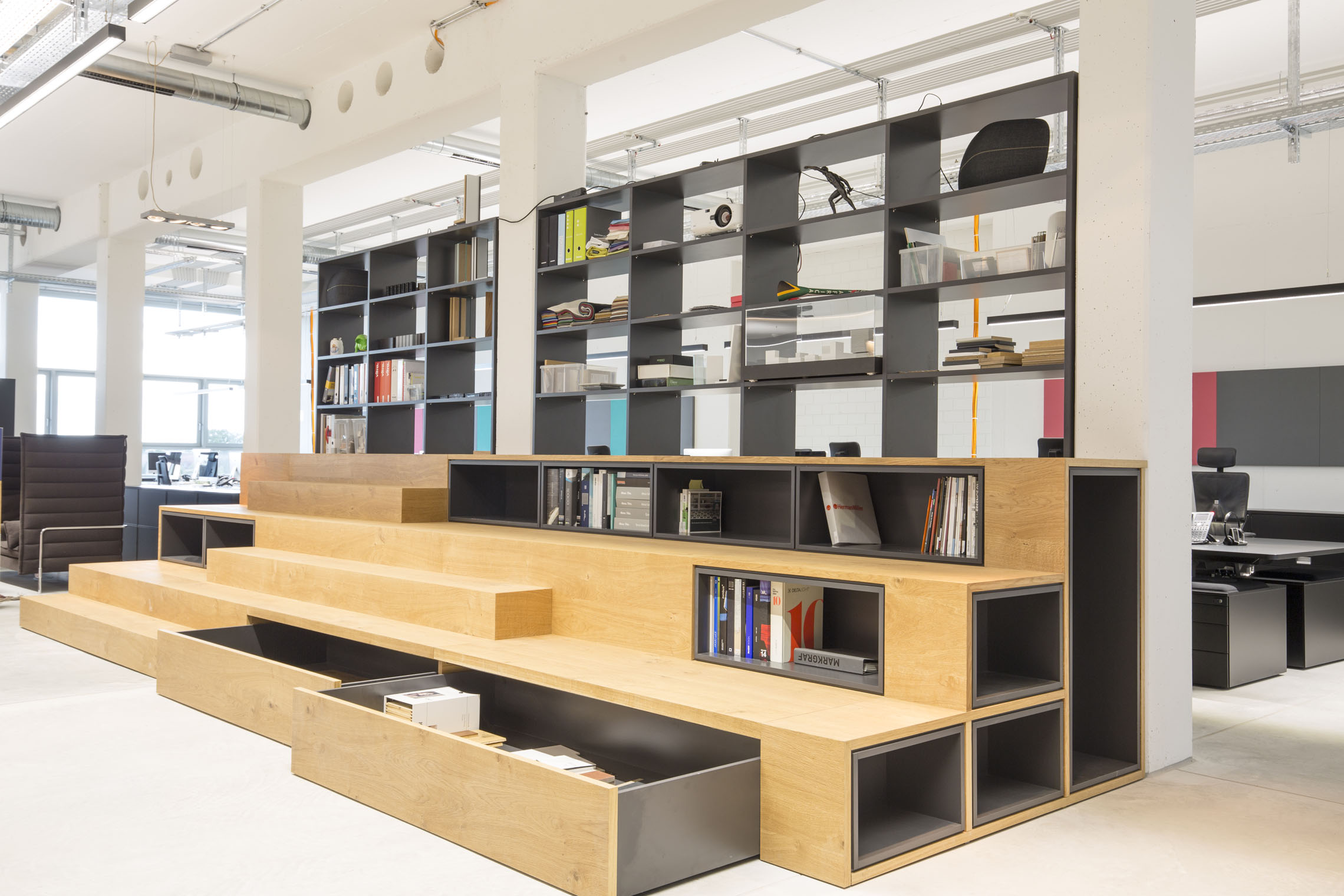 The Office as a Place of Learning
As employees enjoy a more individualized work experience, their expectations that employers will offer further training also grow over time. Sven Bietau explains: "These days, workers want to widen their fields of expertise, or make up for shortcomings in their skill set. At the same time, the quickening pace of advances in technology compels them to seek training and education. Employers need to create rooms for these activities and provide the appropriate technology.
Offices: The New Tech Labs
Once a privilege enjoyed by department heads or top management, cordless phones are now standard in offices everywhere. They allow workers to be reached at their desk, in meeting rooms or while spending time in one of the lounge areas. Software and other technology, however, are becoming ever more important. Programs are coded in-house and shared with colleagues, while infinite whiteboards can be used by staff working anywhere in the company to collate information. Today, screens are multifaceted and dynamic. Computer-aided drawing programs can be opened next to a browser displaying a website and windows showing a video or a hand-drawn sketch. These solutions are becoming increasingly important not only for communication with customers and colleagues who aren't working from the same location. They are also becoming more fundamental to product development and tackling challenging tasks that are becoming ever more complex," says Bietau.
Trust v. Monitoring
"Should I work from the sofa, in the park round the corner, at the lake or at my desk at home?" Another trend driving change in the office environment is that today's office workers want to be able to decide where they open their laptop or make phone calls. "The basis for successfully implementing these new workflows and the office spaces that support them is trust. These days, it's your your results that prove that you're performing as required, not the amount of time you spend at the office," comments Bietau.
Main image: Sony Music, Munich (Design: CSMM, Photo: Eva Jünger)
© This article is a guest commentary by CSMM ARCHITECTURE MATTERS