The world of work is undergoing enormous change. New work and hybrid working are just two of the most important keywords. "Die Techniker", Germany's largest health insurance company, has not only accepted this challenge, but is also proactively helping to shape the change in the world of work within its own company. As an accompanying measure for the internal communication of this change within the company, "Die Techniker" brought Big Pictury on board and had a comprehensive Big Picture developed.
The Techniker Krankenkasse (TK) is a federal corporation under public law with self-administration. With 11.8 million customers, it is the largest health insurance company in Germany. It operates throughout Germany with around 190 locations of various sizes and employs about 14,000 people.
Challenge: Communicating change and motivating people to embrace it
For Germany's largest health insurer, Die Techniker (formerly: Techniker Krankenkasse), the transformation of the working world is also accompanied by a major upheaval and brings with it fundamental changes in terms of the way the company works. But Die Techniker has accepted the challenge and set itself the goal of being a pioneer of technological transformation in the healthcare market. Under the project name "Modern Workplace", the health insurance company has therefore drawn up (and to a large extent already implemented) a comprehensive catalog of measures to enable all employees to work in a location-flexible manner – starting with the expansion of new workspaces for collaboration for work and learning and extending to new tools and apps for interdisciplinary collaboration.
This change requires all employees to be particularly open to the changes, as well as willing to be more proactive and constantly learn. In order to communicate the change in the company in all its facets to all employees and to motivate them for it, Die Techniker decided to cooperate with Big Pictury as an additional flanking measure for the internal communication of the "Modern Workplace" project.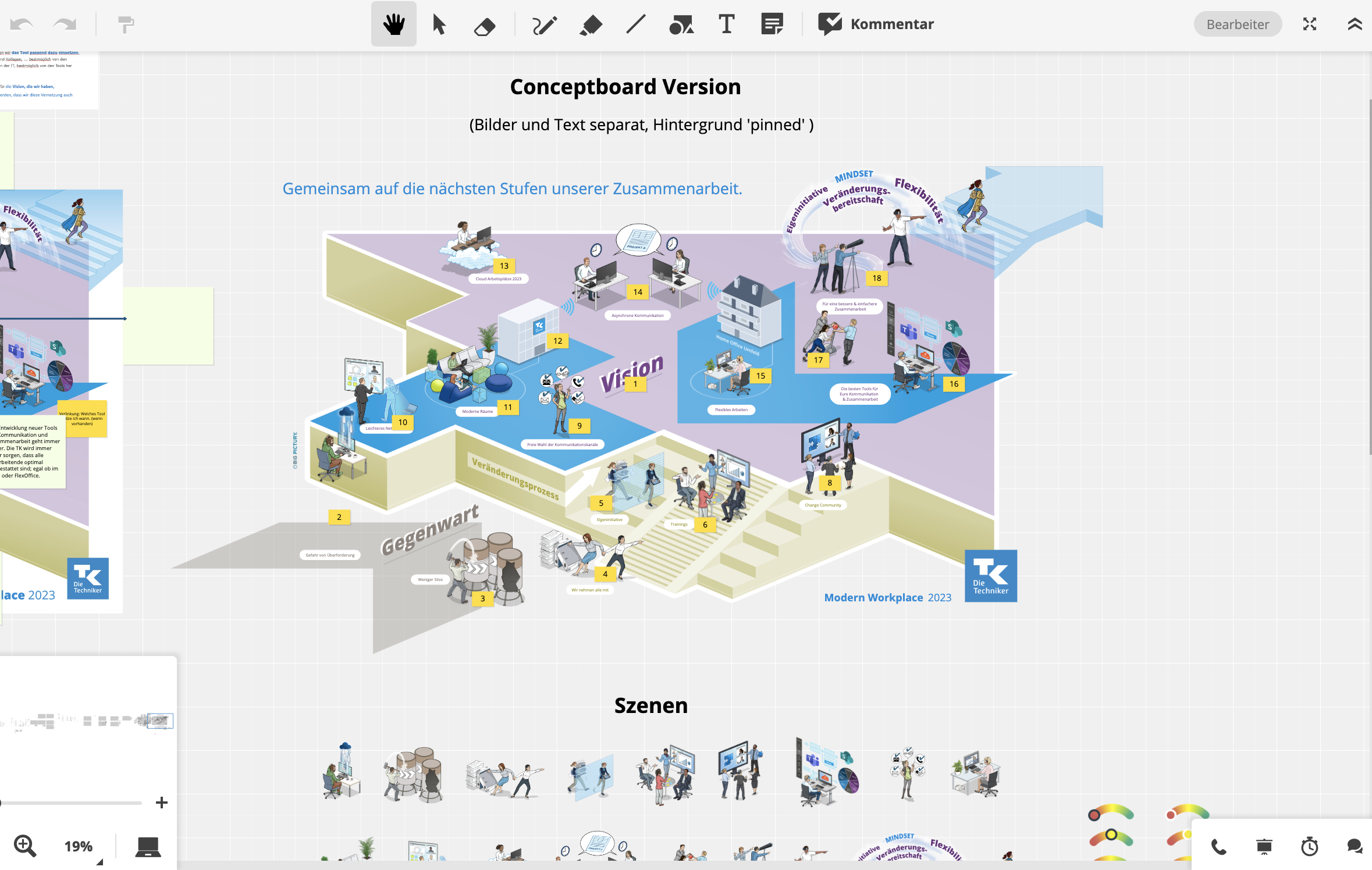 The solution: Big Pictury communication package for better understanding and participation.
The collaboration between Die Techniker and Big Pictury was a multi-stage process. After a short but intensive briefing phase, the Big Pictury team captured the tasks and goals of the Modern Workplace project. A team from Big Pictury then conducted workshops with managers and other stakeholders relevant to change communication. In these workshops, the visual design of the cultural change in the company was elaborated and concretized with the help of a modular Big Picture Whiteboard version via Concepboard. Subsequently, a comprehensive and highly informative Big Picture as well as a digital Click-Picture (click version of the Big Picture for self-exploration) were generated for the employees. Die Techniker is currently integrating both elements into its internal communications in order to give employees an understanding of the changes taking place within the company and to generate enthusiasm among them. The Big Picture was received with great enthusiasm and quickly attracted the attention and interest of the workforce.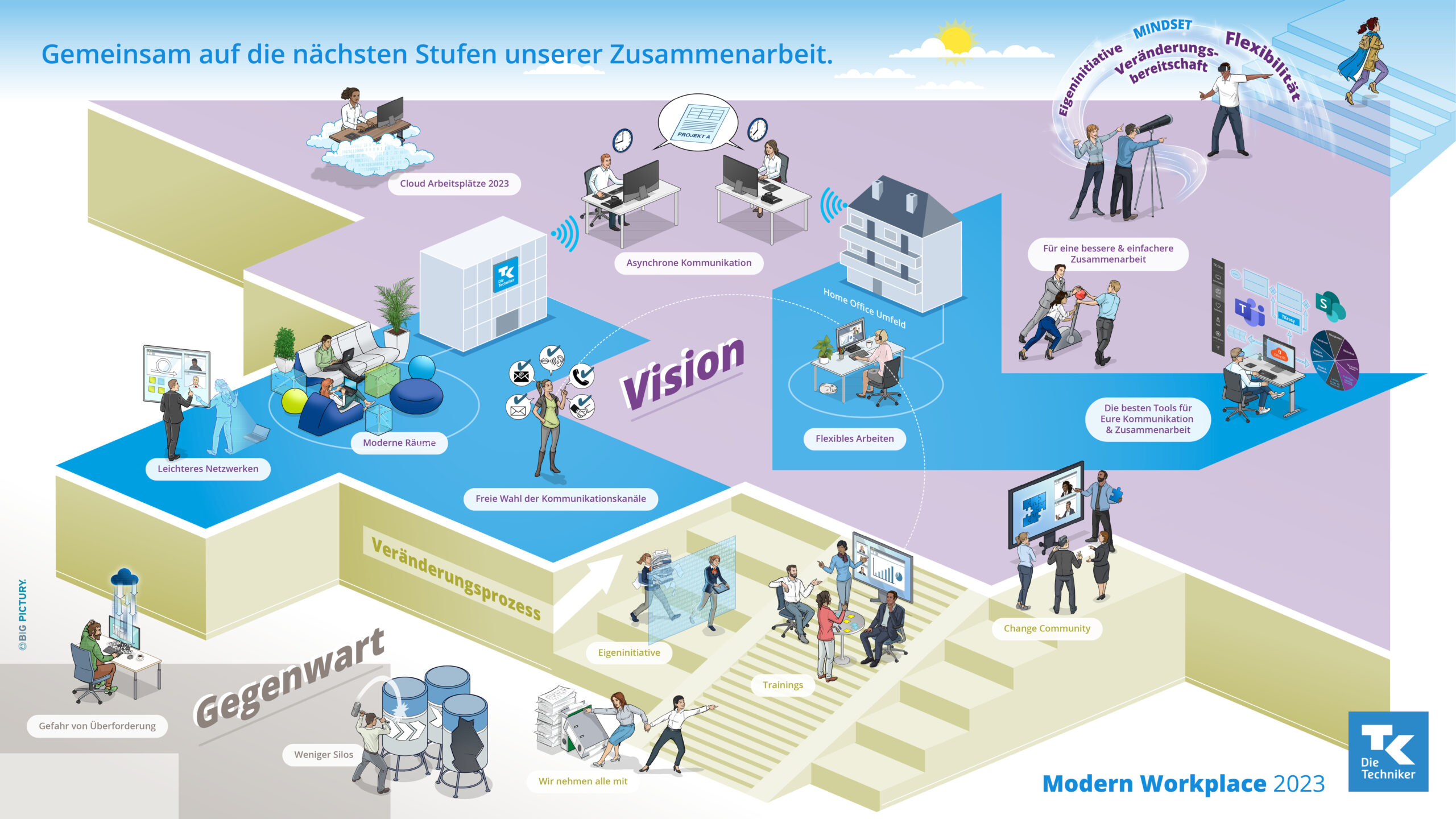 About Big Pictury GmbH, Hamburg
Big Pictury develops visual explanatory media in which "the big picture" becomes apparent at a glance and connections become clearer. The custom-made images and visual tools can be used analogously and digitally to communicate complex topics easily and to work on them together.
Would you also like a big picture to convey your transformation in the workplace in a striking and impressive way? Here you can get advice without obligation.