This summer, many of us have found the blistering heat very challenging, ensconcing ourselves in our homes behind heavy curtains to drink a cool beverage and waiting in vain for Apple to invent a watch with a built-in ice maker, or for Elon Musk to invent a unisex business overall with integrated air conditioning.
Or you begin exploring the world and watch the other while working. A journey to the most beautiful, innovative, bizarre workplaces in the world.
Chambers of Commerce, Hamburg
Our world tour starts in Hamburg, a modern city with a long history in world trade whose motto is "The Gateway To The World."
Take a leisurely stroll through the stucco-adorned arcades and let your gaze wonder upwards to the ship models hanging from the ceilings. In the age of sail, Hamburg's maritime trade convoys employed military vessels to deter pirates. The Chambers of Commerce's own classically inspired canteen offers breakfast and lunch; its name, Pfeffersack, or "pepper sack", is a tongue-in-cheek reference to an old epithet for Hamburg's class of wealthy, male and often portly merchants. Looking at the pricing on food available, however, there's can be no accusations here of daylight robbery, with all lunch dishes costing €10 or less.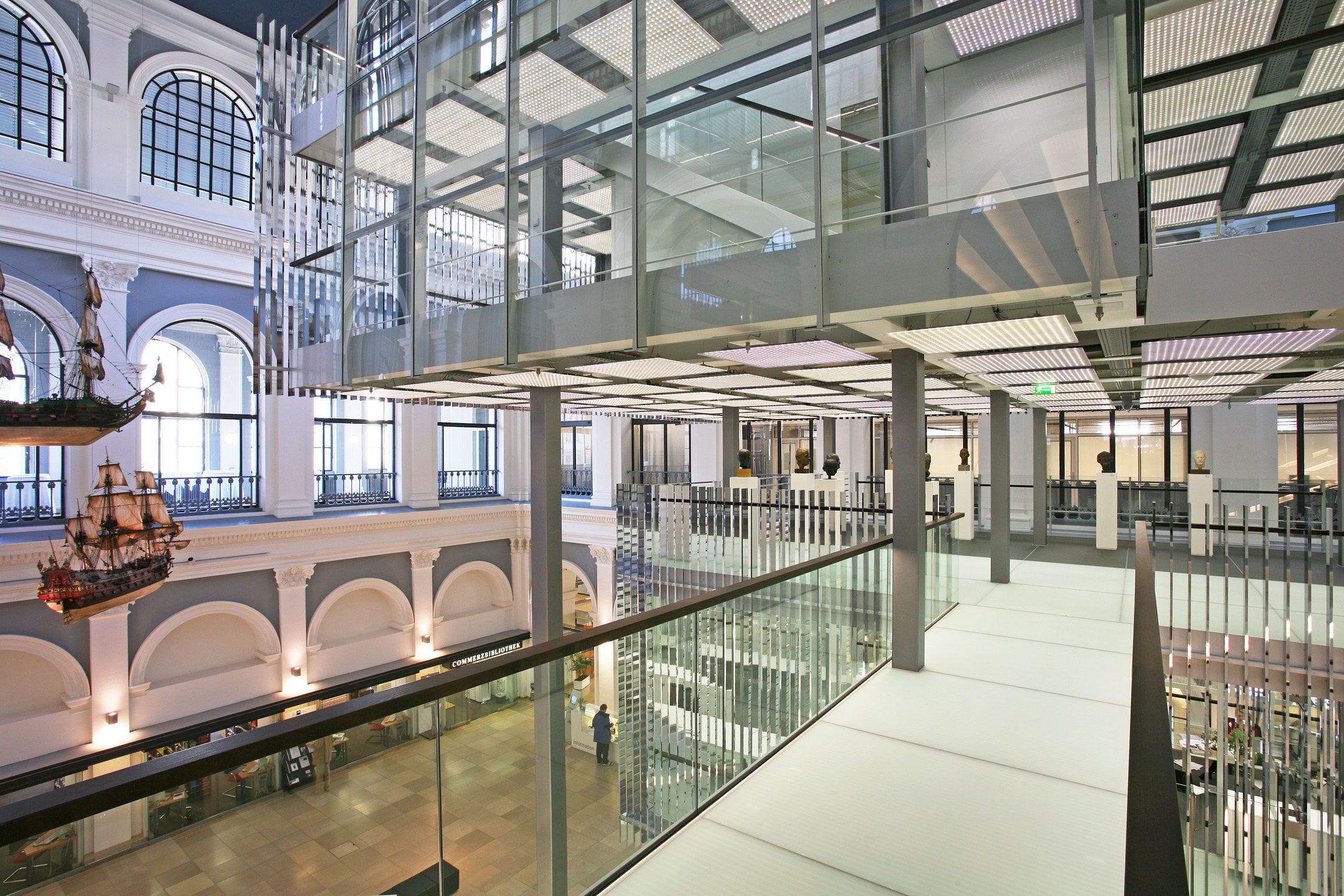 Chambers of Commerce Hamburg by Behnisch Architekten. Photo: Hans-Jürgen Landes. Find more out and click here.
Adidas, Herzogenaurach
Based in the Franconian town of Herzogenaurach, Adidas offers its employees an open space for creative work bathed in the light from bright yellow curtains.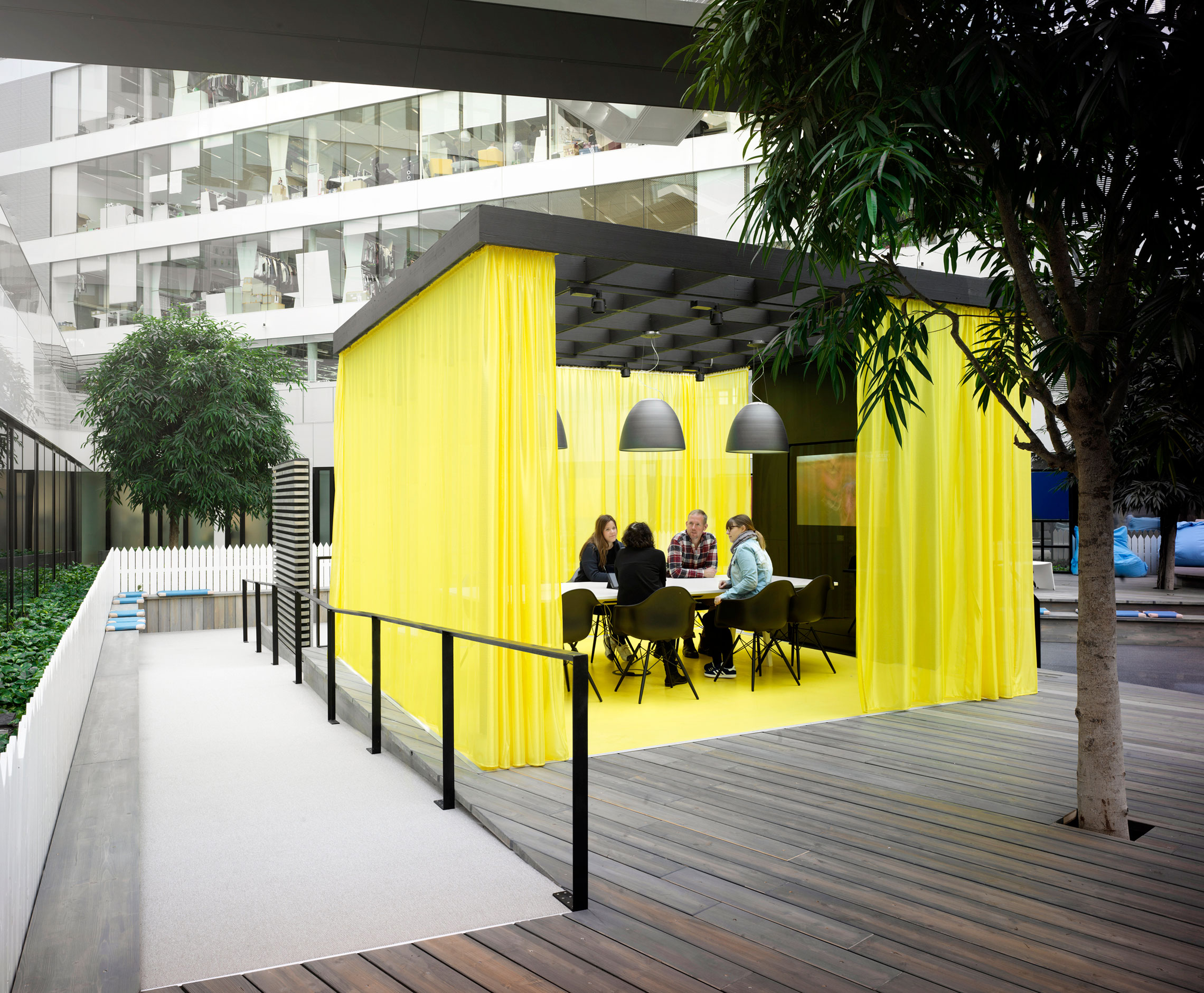 Adidas Valley by Actincommon. Find more out and click here.
Honest Company, Los Angeles
While it may not be a stone's throw from Germany to L.A., the offices of Honest Company are definitely worth a visit. Each floor has one central communicative focal point: the kitchen. It's a place designed to make people feel at ease, comfortable even. And it's a shining example of an increasingly popular philosophy: show your employees that you value them and they'll reward you in turn.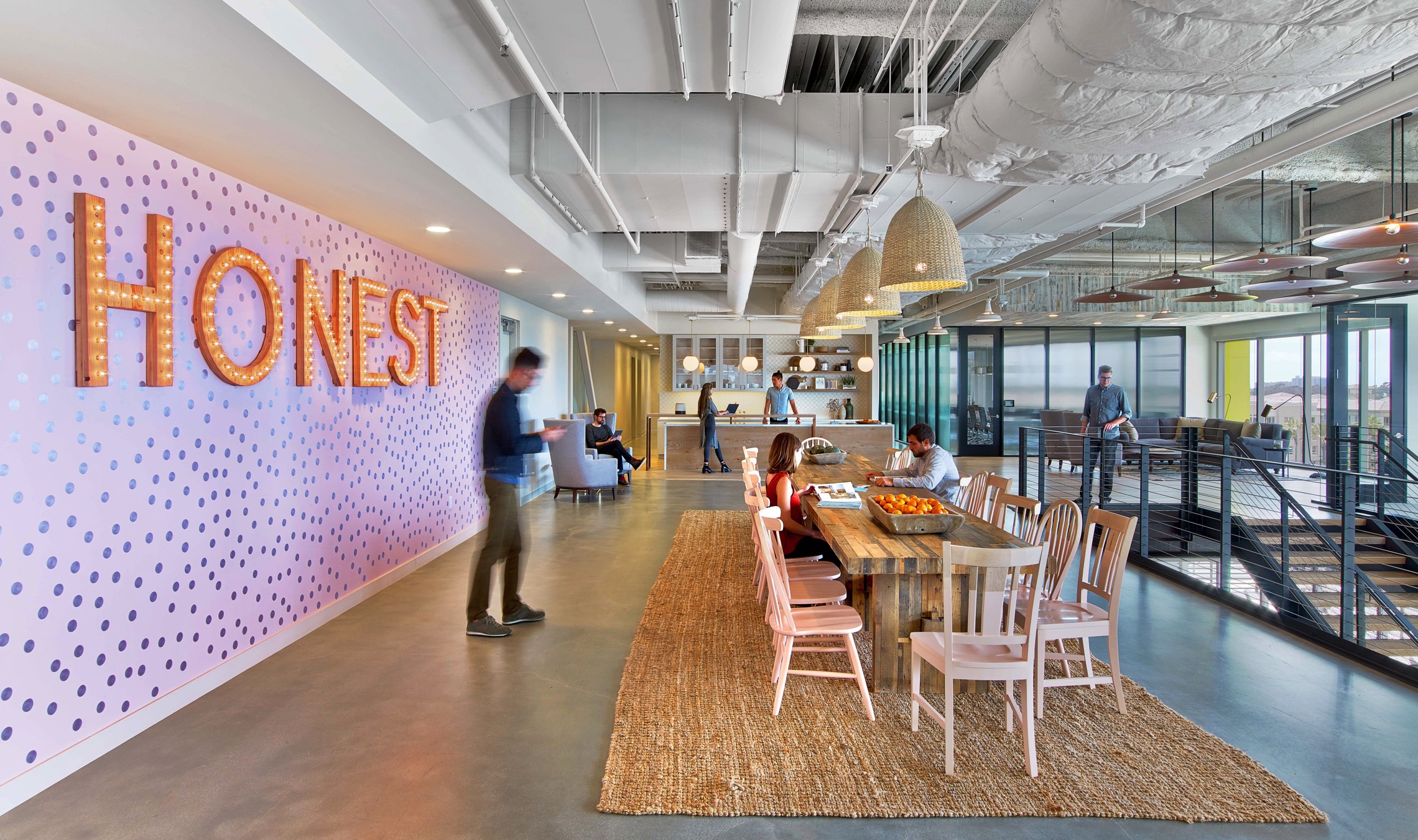 The Honest Company by RAPT Studio. Foto: Erich Laignel. Find more out and click here.

Dynamic Yield, Tel Aviv
Unspoilt, raw and provisional yet inspirational and engaging: This space was designed in 2017 for Dynamic Yield, whose driven and aspirational leadership see it as a temporary solution along the path to the next big growth phase for the company.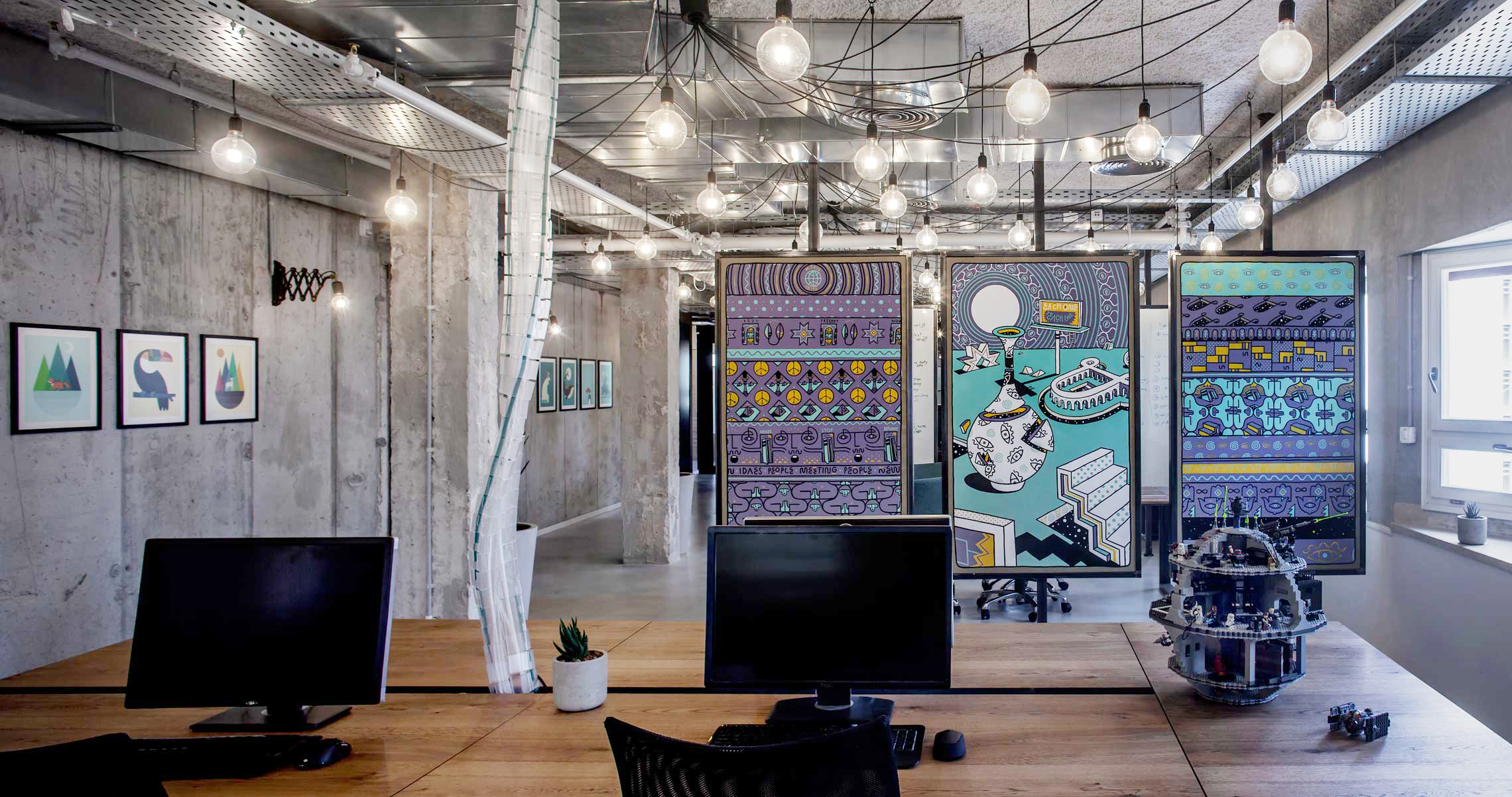 Dynamic Yield by David Studio. Find more out and click here.
Money.co.uk, Cirencester
Allergic against all forms of pomp and kitsch in office design? Desensitize yourself by traveling to Cirencester, an old town a hundred miles northwest of London to the HQ of financial services website money.co.uk. It's housed — literally — in a castle. Presumably staff will be able to ward off any disgruntled customers by pulling up the drawbridge or escaping through a hidden trapdoor.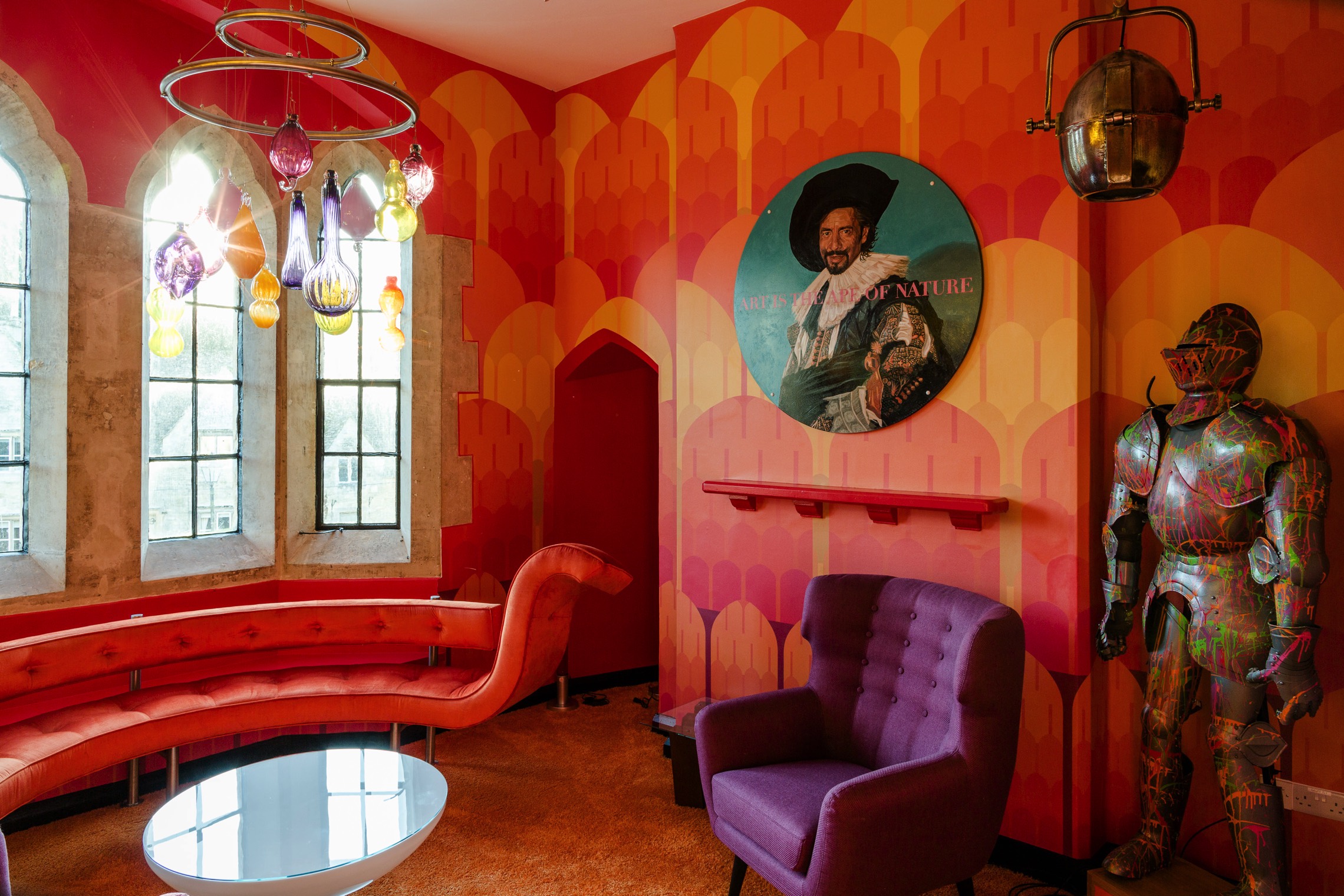 money.co.uk by Interaction. Find more out and click here.
Google, Zürich
Zürich is the financial and trade capital of the Swiss Confederation. For strategists at Google, it's important that each of its offices reflects the character of its region. These decidedly Alpine gondolas often prove tempting to employees and visitors alike. Workers needing a short time out in tranquil surroundings can close the door and let their thoughts drift or pick up a book, while the mountain view helps lofty, creative minds looking for inspiration.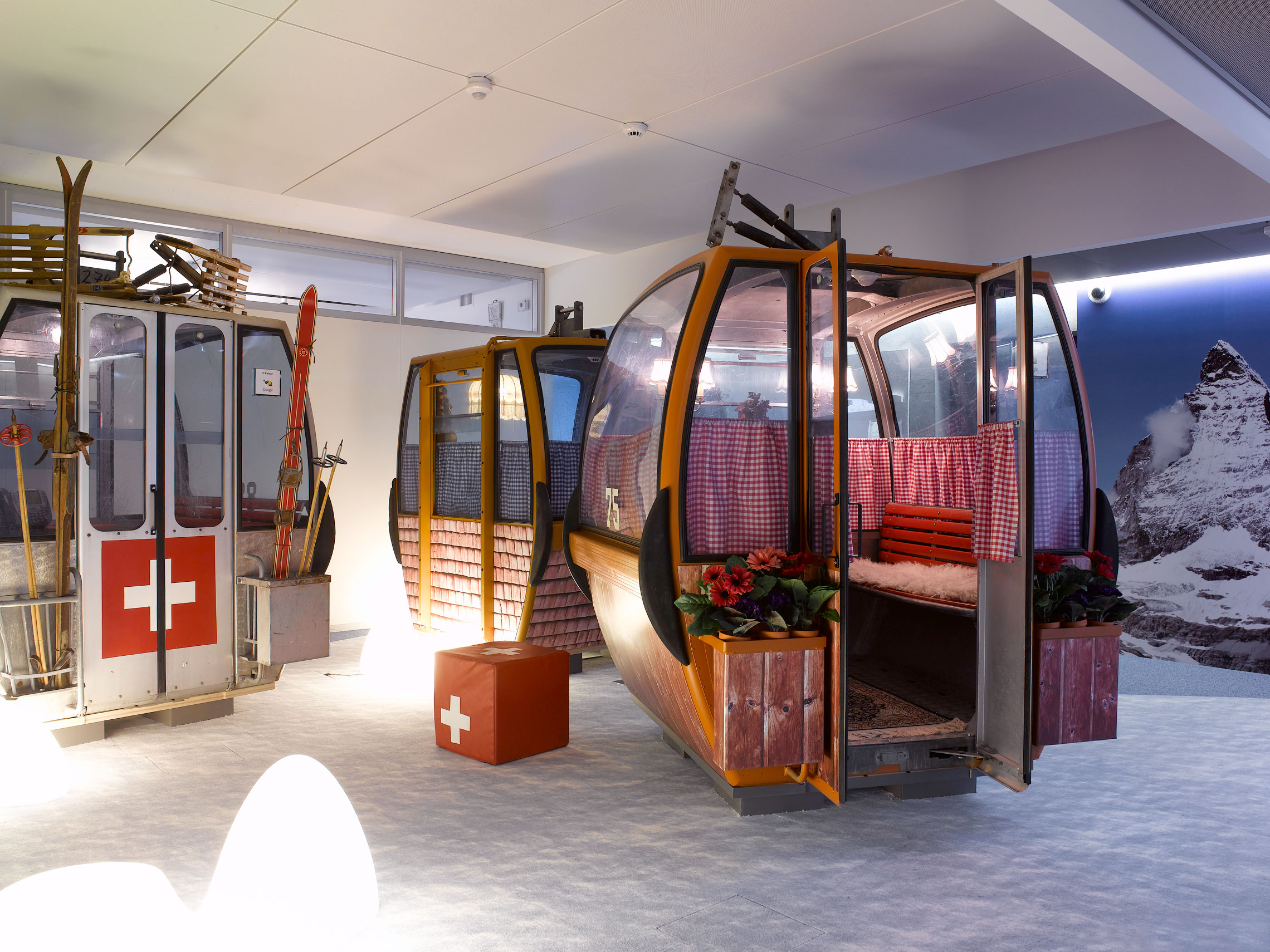 google Zürich by Evolution Design. Pjoto: Peter Würmli. Find more out and click here.
Fender, Los Angeles
After several decades headquartered in Arizona, the famed guitar maker has returned to its Californian roots. Its offices are located on Hollywood's Sunset Boulevard, where the designers from Rapt Studio created a range of open spaces with, unsurprisingly, a strong guitar theme. Let's hope for the sake of the employees' sanity that many of them can actually play.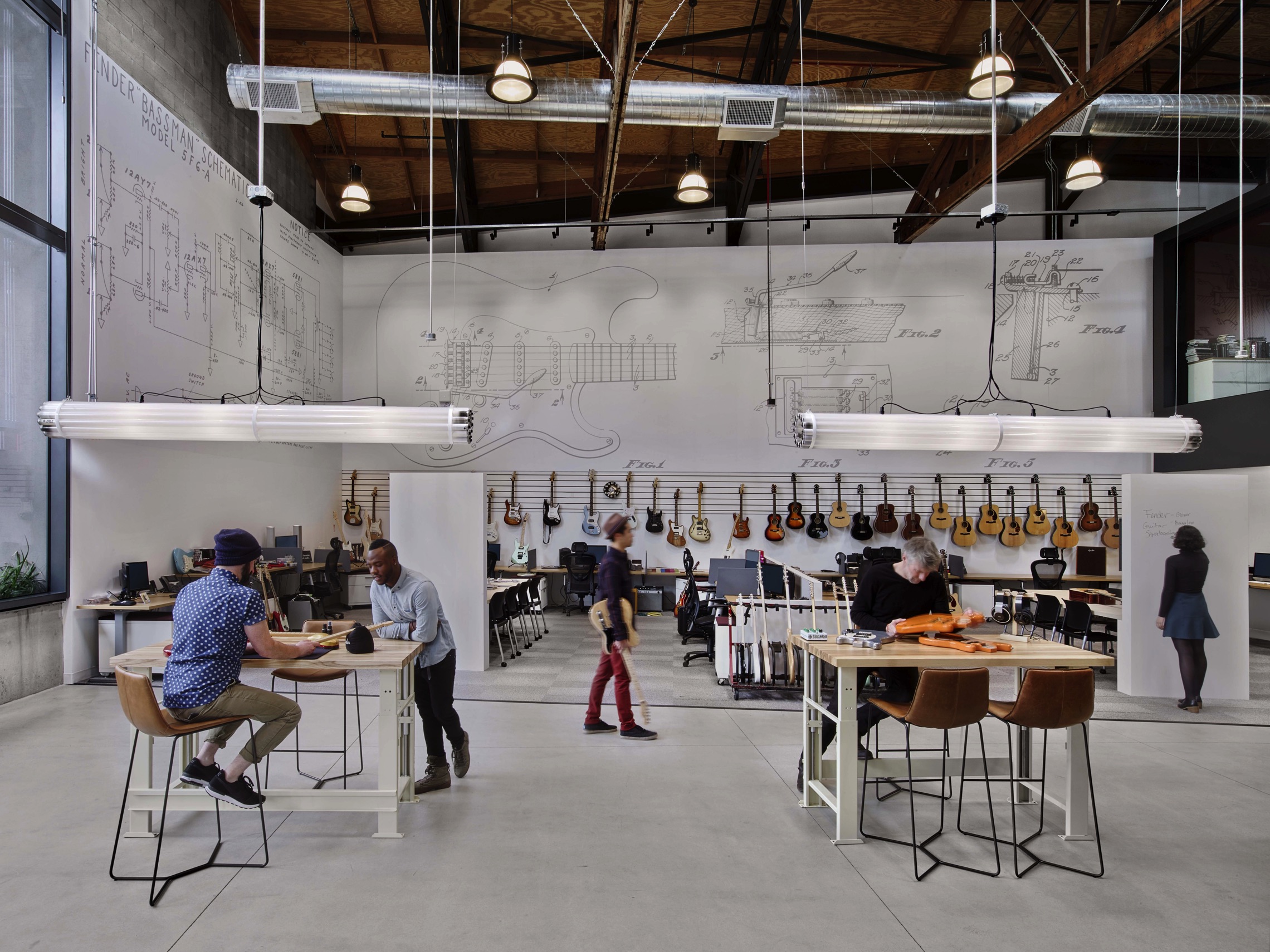 Fender by RAPT Studio. Foto: Erich Laignel. Find more out and click here.
Red Bull, Mailand
The designers behind these offices favored clear, dynamic forms. In contrast to its vividly colorful logo, this purveyor of soft drinks has chosen sober, stringent design principles for its office environment.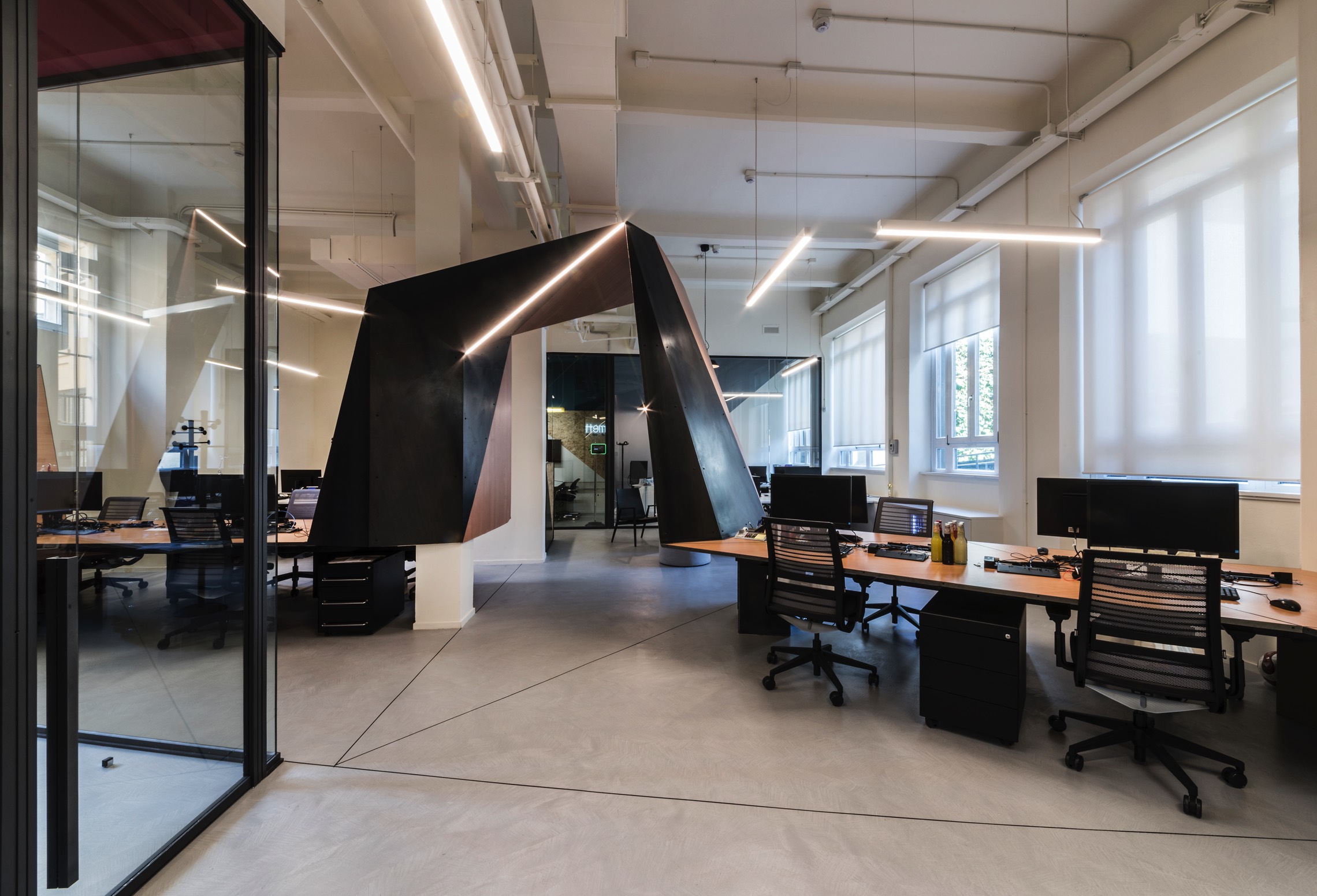 Red Bull Mailand by Il Prisma. Foto: Vito Corvasce. Find more out and click here.

KASIKORN BTG, Bangkok
One of Thailand's leading business technology companies, Kasikorn BTG has created an office space across 41,000 m² that encompasses creative 'cells', relaxation areas, meeting rooms and office spaces. The backdrop here is an open arena for presentations.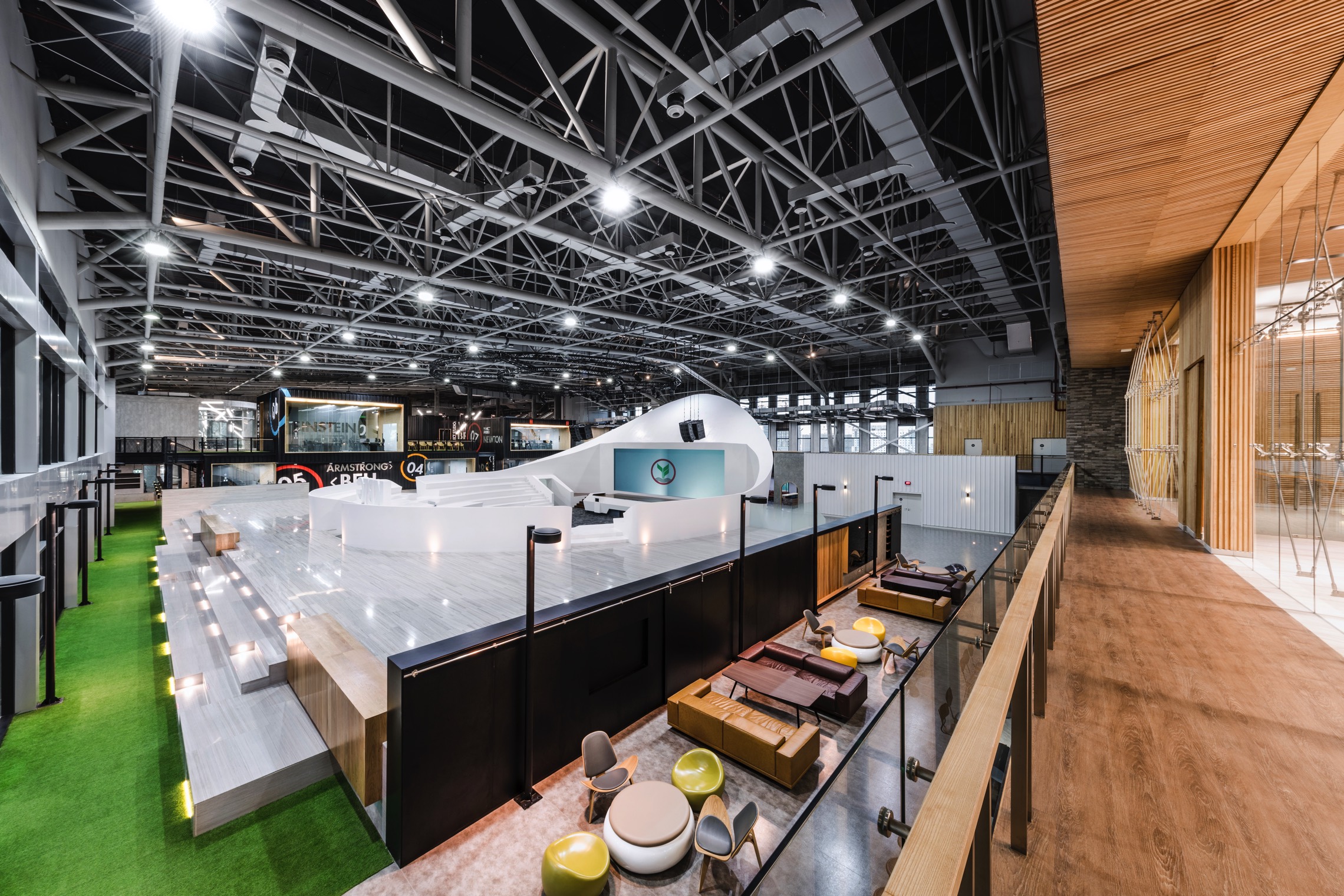 Kasikorn by pbm. Foto: W Workspace. Find more out and click here.
Linkedin, Paris
Based on their client brief, the designers at Il Prisma came up with an inspirational — and inspired — "Ecosystem of Work". The philosophy here is to place employees in an environment where they can maximize their skills and potential. And that includes a relaxation area to digest a portion of classic crêpe suzette.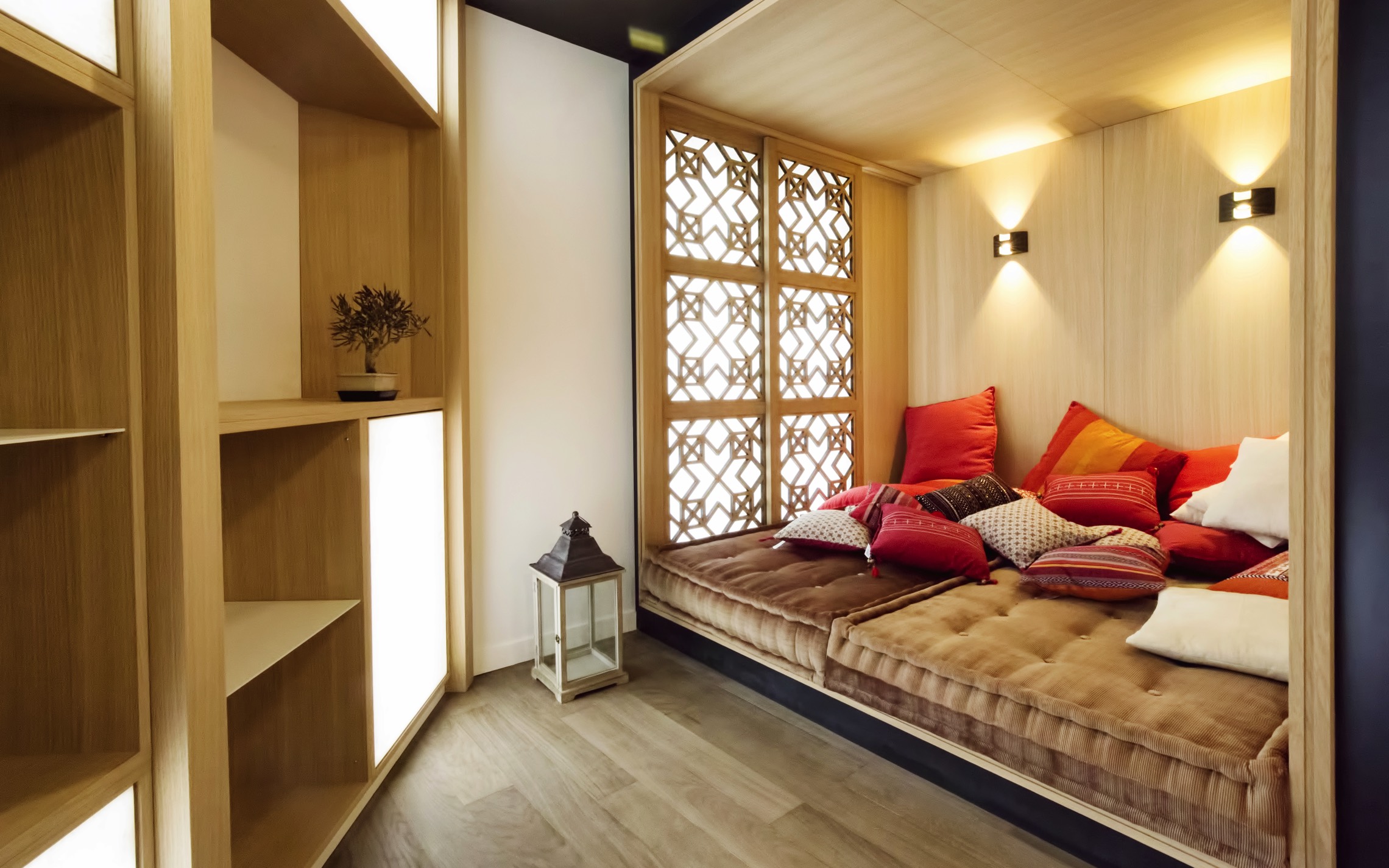 LinkedIn Paris by Il Prisma. Find more out and click here.
Opera Software, Breslau
"We want the best office in the world." That was the supremely ambitious brief for the designers at mode:lina for these two burgher's houses built in the early 20th century. Skeptics expecting superficially appealing gimmickry will be disappointed. This design includes an array of subtle details inspired by the region, including prominent use of latticework and arches as a nod to Wrocław's reputation as the "city of a hundred bridges."
Opera Software by mode:lina. Foto: Marcin Ratajczak, Maciej Dąbrowski. Find more out and click here.
Pernod Ricard, Sydney
For the final leg of our whistle-stop tour, let's take a breather for a relaxed after-work drink. Let's drink to the end of traditional dichotomies between the office work and our private lives, to a world of work where we can feel just as comfortable with who we are as when we're at home.
And we've come to a place that showcases exactly that: the offices of Pernod Ricard in Sydney. Here, in the 43rd floor of Tower 1 in Barangoo, staff live the company's motto: Moments of conviviality.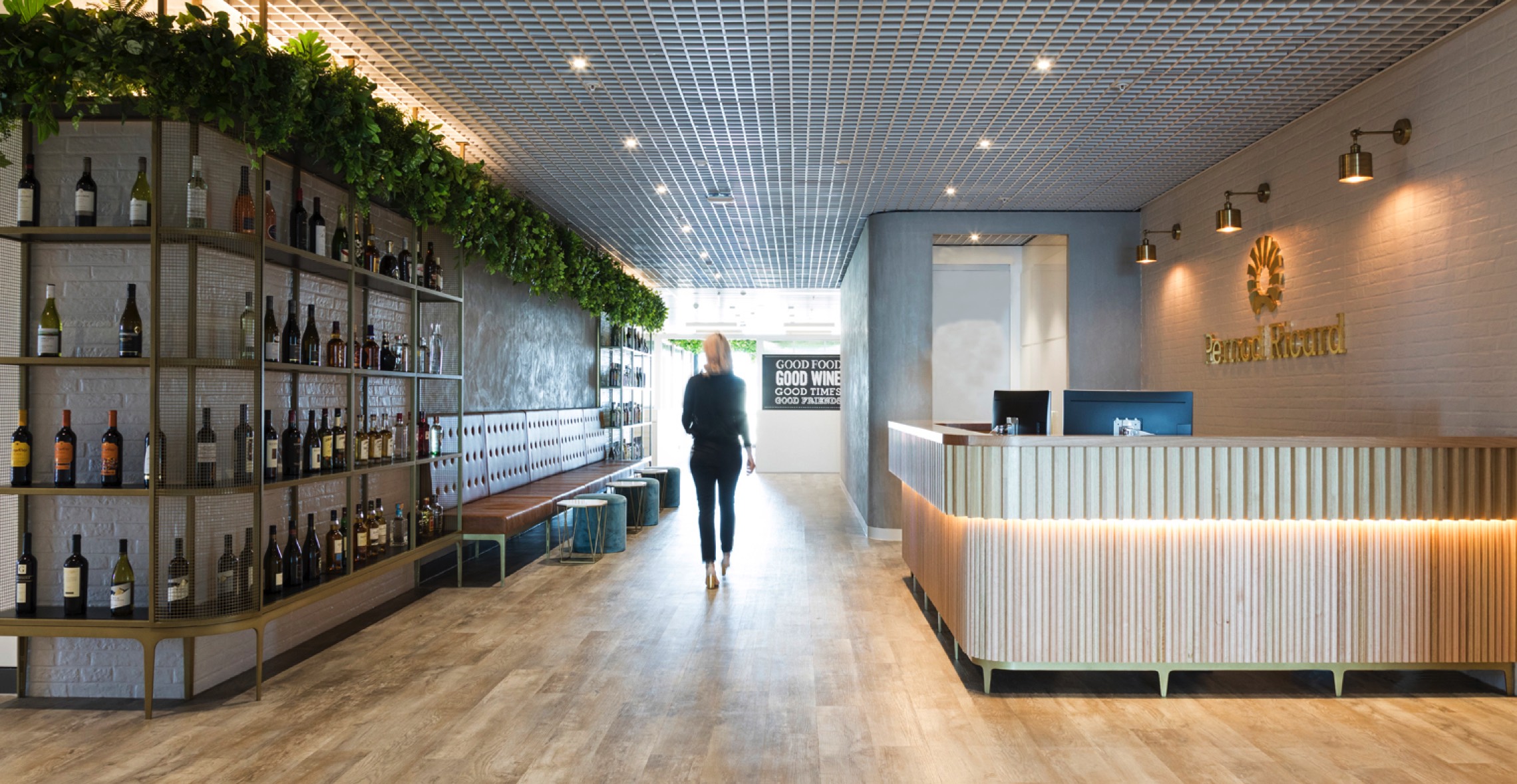 Pernod by The Bold Collective. Foto: Andrew Worssam. Find more out and click here.
Our world tour ends on a slightly tipsy, jet-lagged note, and we return to our dark curtains to take refuge from the heat. And while we reminisce about comfortable kitchens, Alpine views, castles and bridges, we can begin drafting a letter of complaint to our tour guide for taking perhaps the most circuitous route imaginable on our round-the-world trip. Or we can put it off till tomorrow...
Author: Jonas Demel, Header Foto: Fender by RAPT Studio. Foto: Erich Laignel.