Smartphones vibrate. Messenger notifications arrive every minute. Mails with the highest priority need to be answered immediately. Voices can be heard from the nearby meeting. Today, focusing at work is difficult due to numerous sources of disturbance such as noise, parallel communication channels and the never-ending flow of information. Many people therefore long for one thing only in the office – to finally be able to work in peace.
Seen from this perspective, the trend towards open spaces and open-plan offices can suddenly become a stress factor for employees – or even a health risk. Open communication and short distances are undisputedly important pillars of the modern working world. But removing walls and inserting stylish furniture aren't enough to ensure either.
To promote productivity, health and employee satisfaction in the long term, careful planning and innovative office concepts are required – and a new understanding of spaces and screening. Partition walls can play an important role here.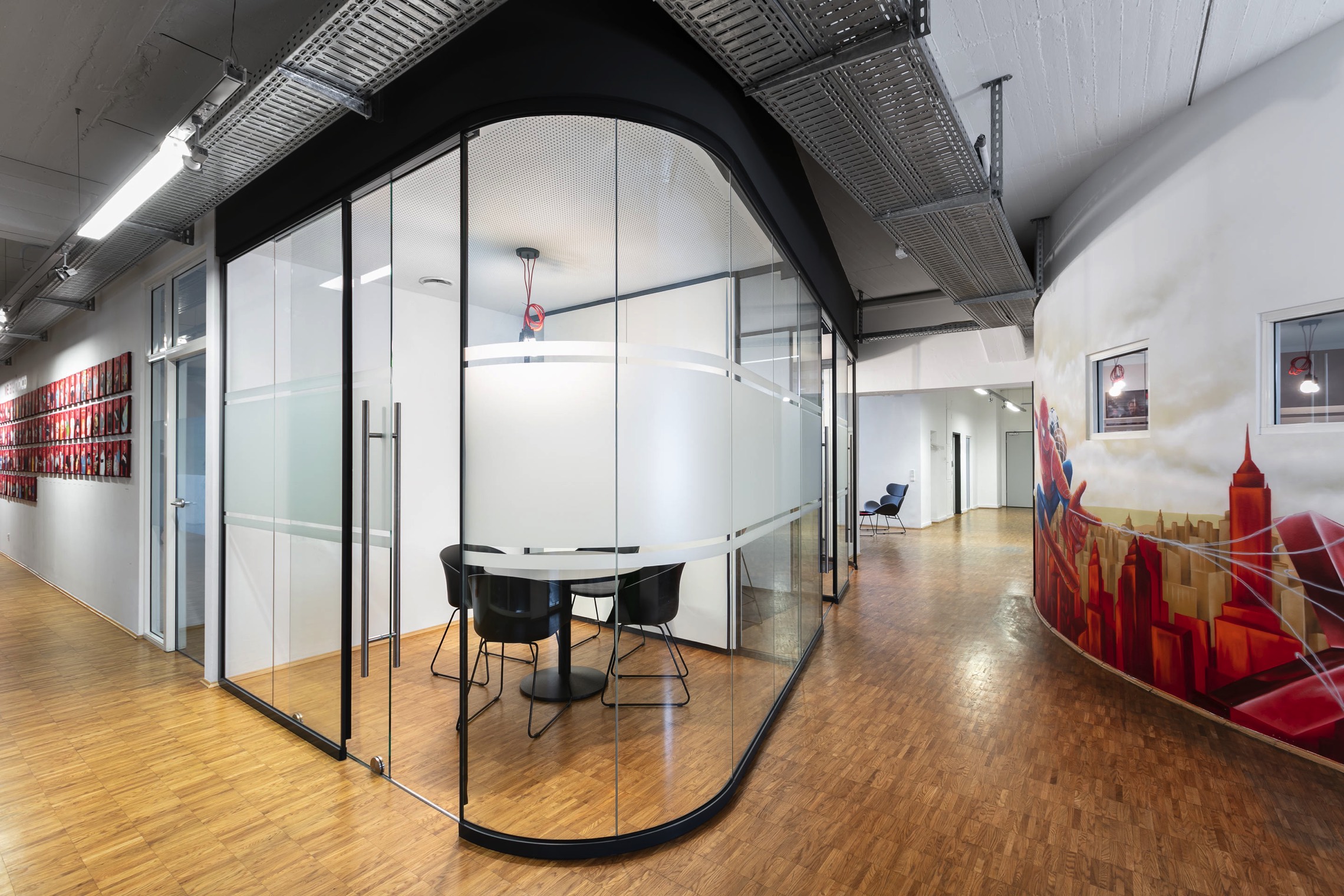 Quiet creates satisfaction
Already today, mobile devices are enabling a degree of accessibility that is increasingly rendering fixed workplaces superfluous. At the same time, tasks are becoming increasingly complex. In response to agile forms of work and changing activities, more and more companies are therefore opting for open-plan offices.
The result: More than half of all office workers miss having areas to which they can retreat to carry out concentrated work. Instead, constant noise and constant accessibility are making concentration impossible, which is not conducive to either productivity or health. An ergonomic work environment on the other hand promotes personal well-being and increases the productivity and creativity of employees by up to 36 percent (Fraunhofer study "Office Analytics", 2018).
Well-being is consequently an often underestimated factor for success in the working world, making it all the more important to create office architecture in the future that is a physical expression of the appreciation of employees. In addition to the right light, colours and privacy, good noise management, and thus the reduction of noise pollution, is a key factor in ensuring satisfaction.
Productive work through flow
Future-oriented office concepts offer spaces in which it is possible to withdraw oneself and work undisturbed and concentratedly on individual tasks. Anyone who works in a concentrated manner and is shielded from disturbances experiences the comforting feeling of having achieved something. The talk is then of "deep work", a state of completely concentrated and focused work. According to a study by Saarland University, 60 minutes of deep work are sufficient to measurably increase work quality.
The reason for this is that by focusing all one's attention on a task a state of flow can be achieved, with almost all surrounding elements forgotten. In this flow mode, a large amount of mental resources are used, creating optimal conditions for intensive and creative work.
The environment plays an important role in this. Moreover, spaces can precisely stimulate this state, so-called "focus spaces". In the Urban Office they offer peace and quiet and a special place for (re)thinking and concentrating on individual tasks. But what do these high concentration spaces look like?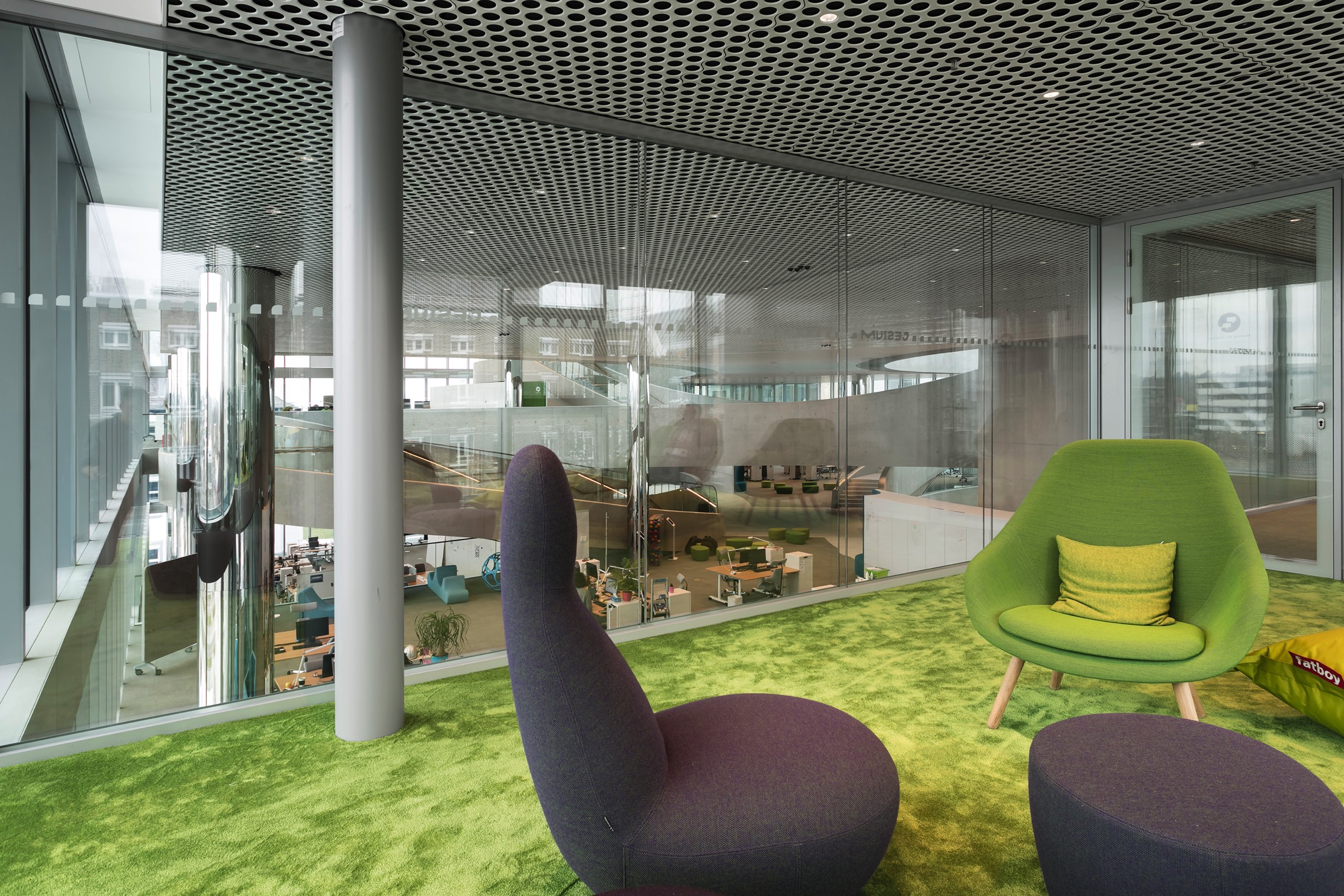 Freedom needs space – and walls?
We are convinced that in the office of the future spatial zones that enable arranged meetings, secluded focus work, team-oriented project work, spontaneous encounters and inspiration to take place will become standard. We have also designed our own "IdeenReich" working landscape at the feco-forum according to this concept.
The concentration spatial zone plays a special role here. It enables intensive work and protects the user from interruptions. However, it does not necessarily require rigid walls. What matters is optimised room acoustics – through high sound insulation, sound-absorbing surfaces and sound-insulating elements.
Even sound absorbers and furniture with acoustic damping can minimise the noise level and be integrated harmoniously into the overall design, with muted colours defining individual workplaces for concentrated work. Depending on the requirements, however, spatial separation of these temporary retreat areas from their surroundings can also be useful.
Optimised room acoustics
Such islands of concentration are best created with acoustically-effective system partition walls. However, this does not automatically mean that the openness and transparency of agile work landscapes is restricted. Glass partition walls such as the fecoplan all-glass construction create visibility for the team and at the same time important retreat areas for confidential telephone calls and concentrated activities.
These so-called "think tanks" not only structure space and are therefore an important part of multi-space solutions, with their, for example, curved, coloured glass panes they also allow the working environment to appear in a different light and can thus additionally contribute to tasks being processed more efficiently.
Whether in a closed room with high sound insulation or in an open working environment with sound-insulating elements and sound-absorbing surfaces, with the right spatial concept no important thought is lost. Deep work can thus contribute significantly to the productivity of employees.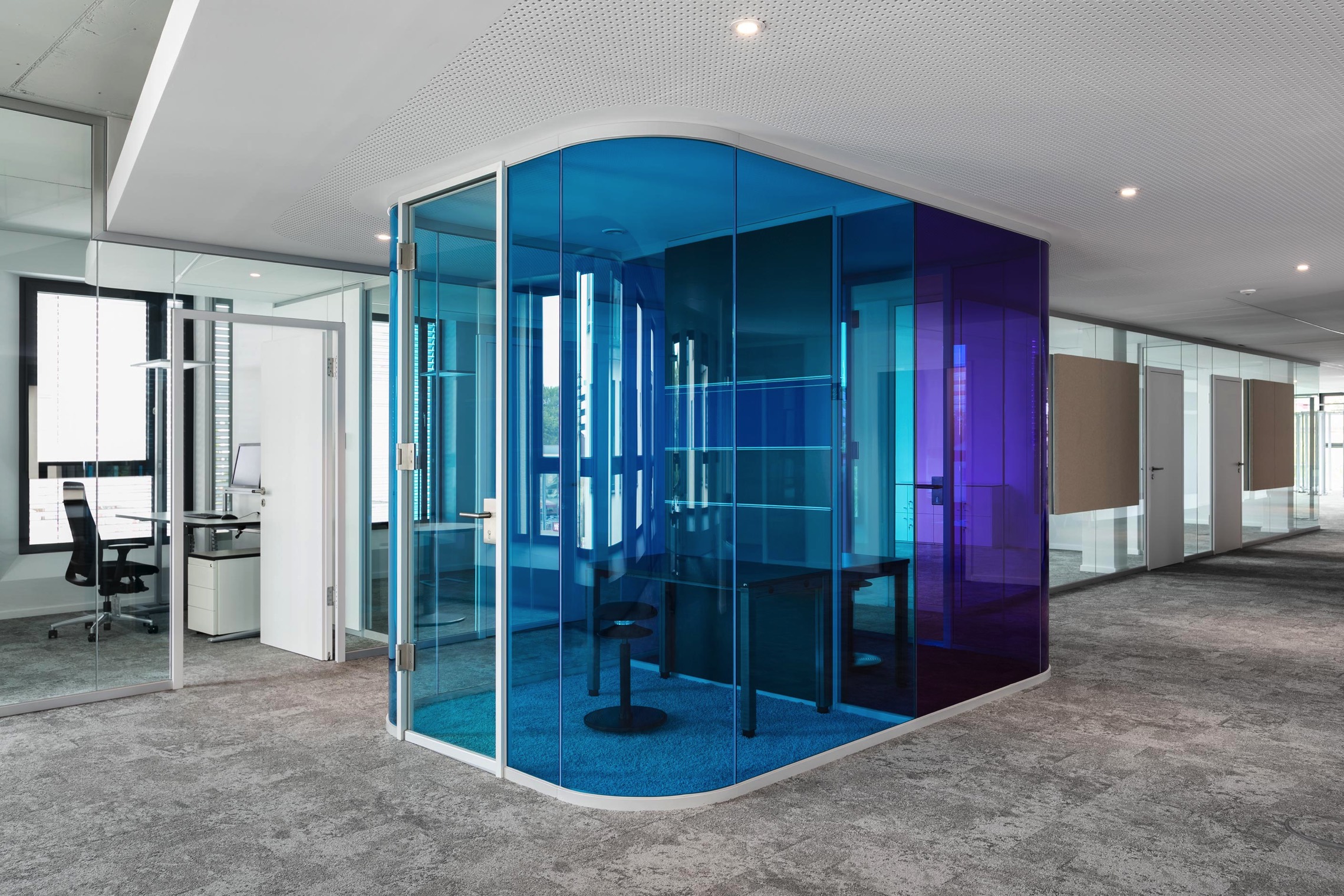 feco-feederle, Karlsruhe, February 2021