Experiential Graphics
Housed in a highrise constructed in 1998, Adobe realized that its San Jose headquarters were going to need incremental updating that would fit their culture and vision. A series of design charettes with the branding team amounted to two core architectural themes: the "Santa Cruz Mountains" and "California Coastal," which were adapted into various aspects of the Adobe story. Opportunities for community engagement as well artwork were developed akin to these themes, all the while embracing Adobe's ethos of being 'globally consistent yet locally relevant.'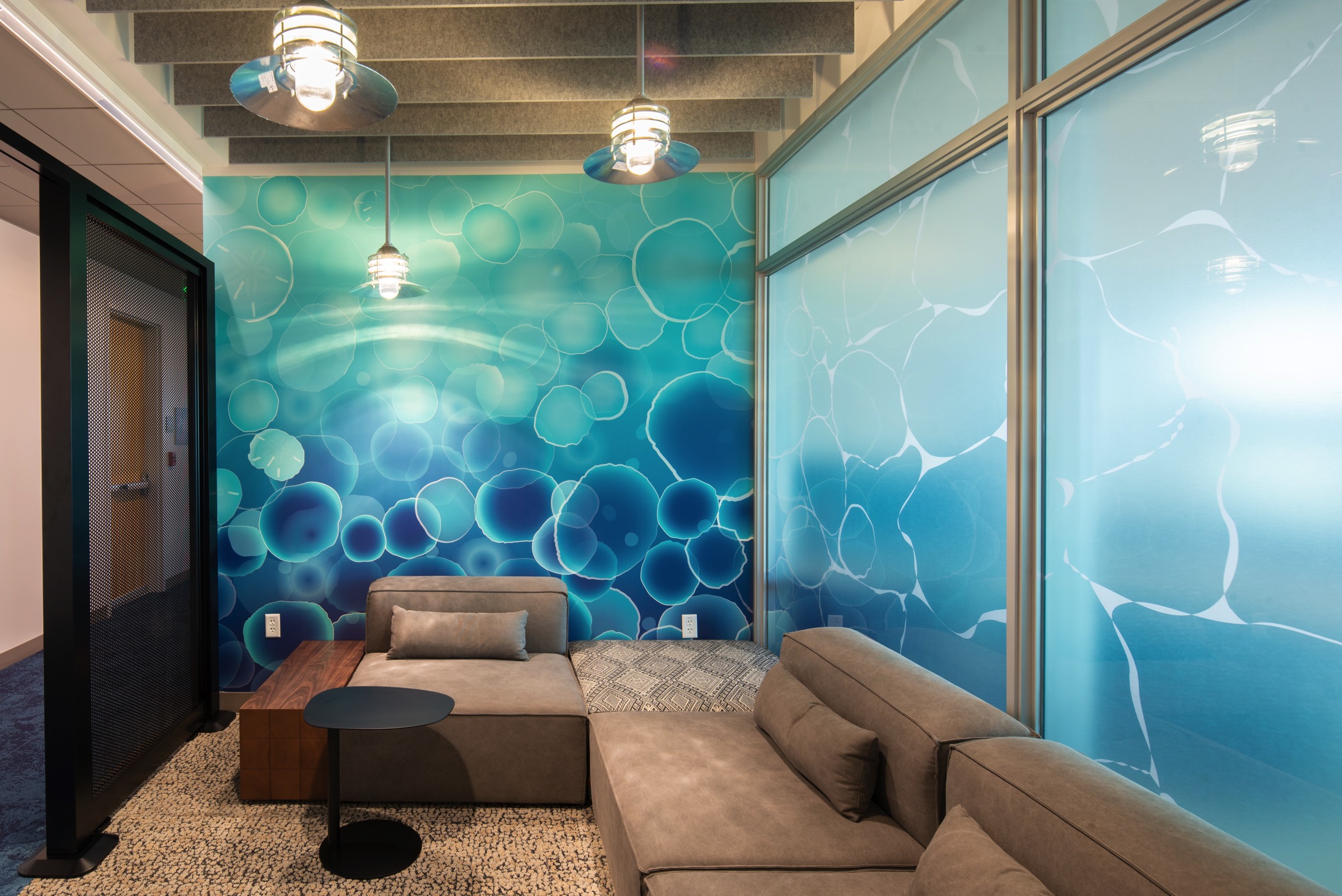 Each wall graphic or artwork installation directly ties to the nature theme of the floor, but in many instances also reference science and the innovation behind their products. Symbols from Adobe's digital interface were integrated into printed artwork, adding moments of delight by merging images with Adobe's design products. To encourage employee engagement, each floor includes a custom pegboard near the break room containing moveable clipboards. This space allows employees to showcase personal projects, items of inspiration, team photos, and community / event information. This aligns with the #adobelife initiative that showcases glimpses into the life of Adobe employees.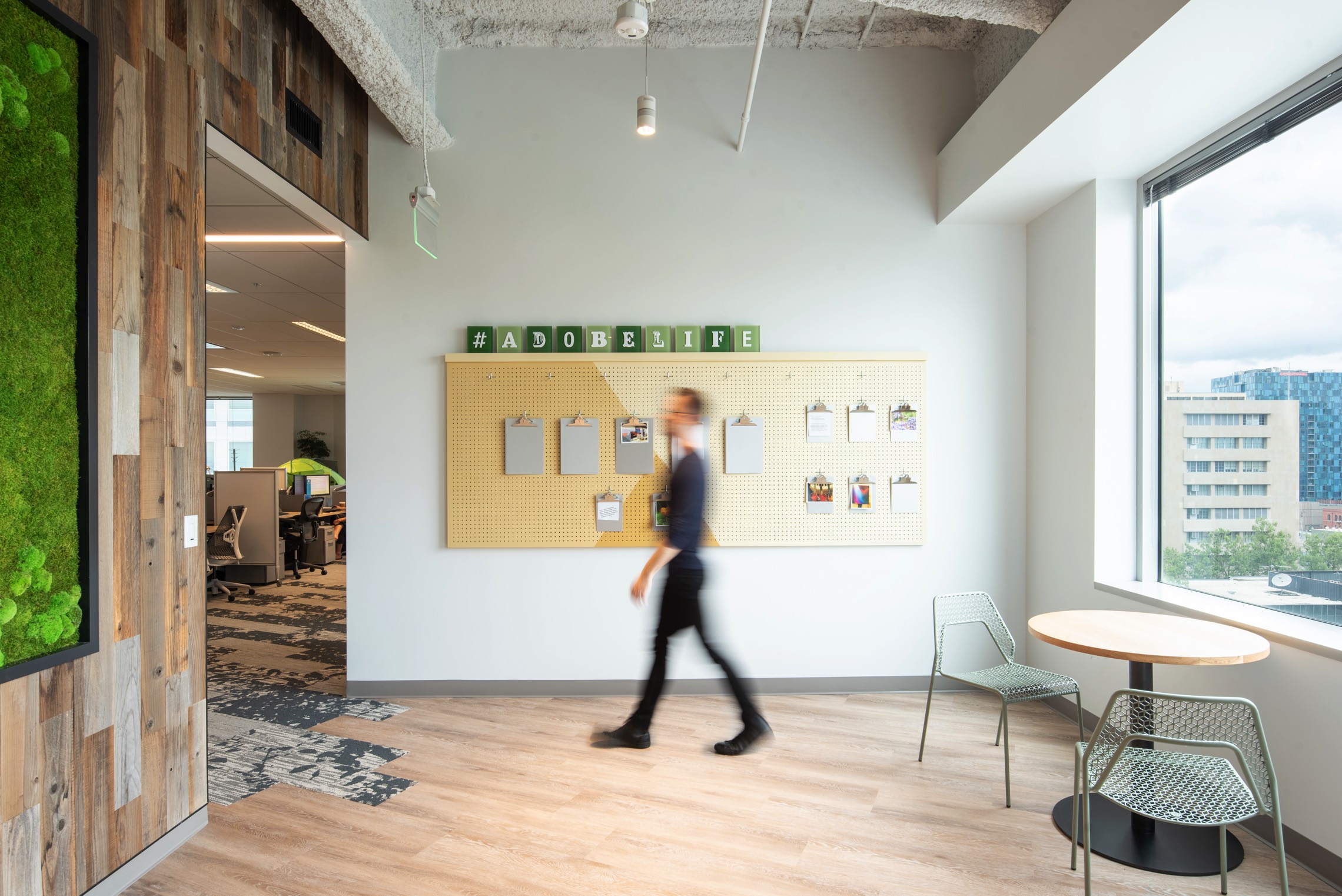 The teams also commissioned two artists, Erik Otto and Hannah Sitzer to create a large mural on each floor. Each were challenged to express their personal responses to the "Santa Cruz Mountains" and "California Coastal" themes while showing the creative process behind the art. These mixed media installations included a variety of handmade and found objects (driftwood, sailcloth, etc) combined to create a large installation along the main corridor.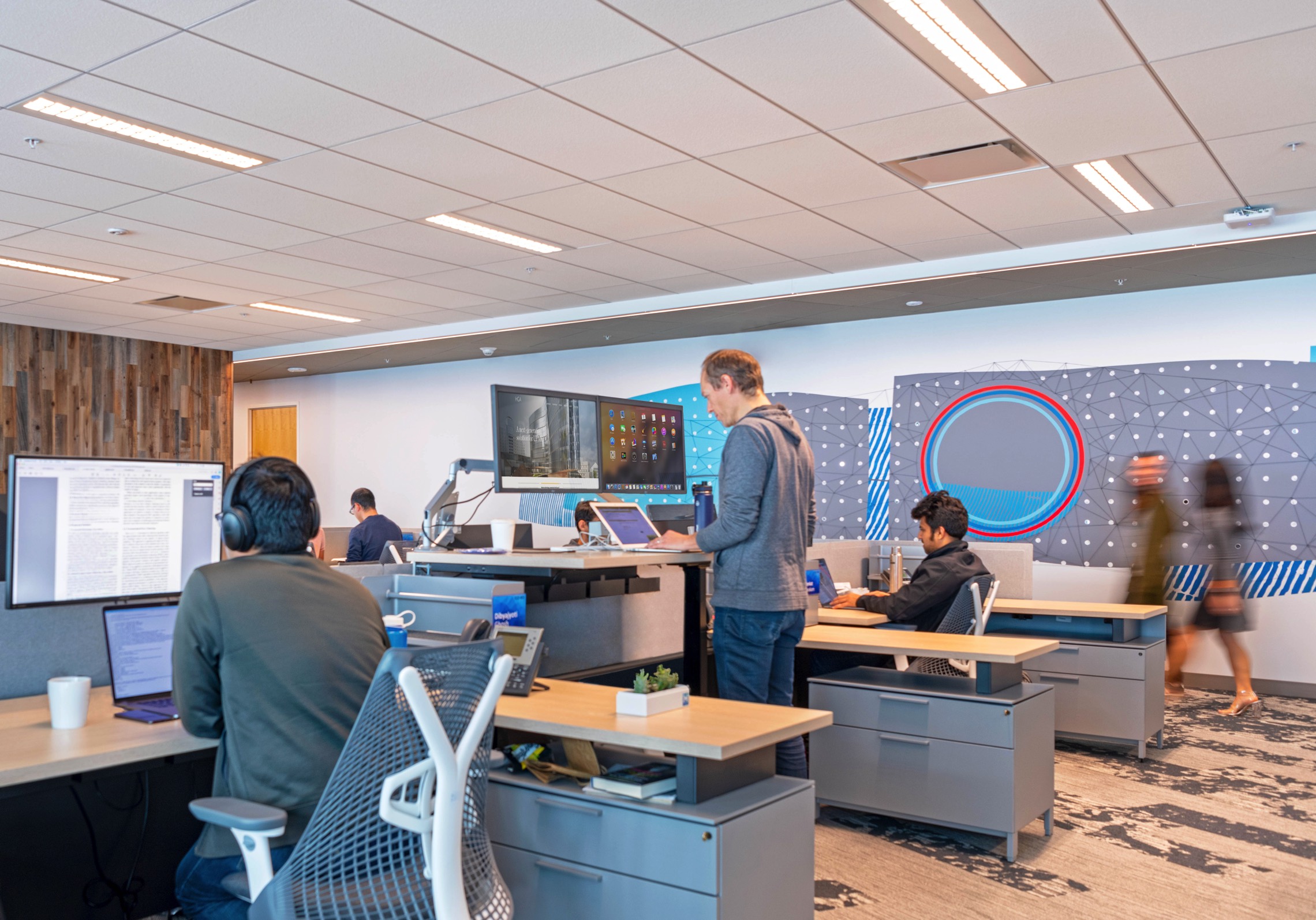 The overarching design strategy merges art and science — referencing the local environment while adding a layer of wonder and innovation true to Adobe's brand. Just as the design team (and commissioned artists) experimented with unique materials and leveraged Adobe's cutting-edge products, the idea is for Adobe employees and collaborators to continue to innovate and employ novel thinking to their own work.
Quote:
"Leveraging Adobe's creative toolkit and story of innovation allowed the team to reference local nature in a bold, dynamic way —from large immersive moments in public spaces to small flashes of delight in collaboration spaces."- Noah Jeppson, Lead Designer, Media-Objectives
Credits:
Photographer: Jasper Sanidad, Francisco Lopez de Arenosa, Antlre
Experiential Graphic Designer: Media-Objectives
Architect / Interior Designer: HGA