The New York practice of global architecture and design firm Perkins&Will has unveiled its new Manhattan home at Nomad Tower, located at 1250 Broadway in Midtown. The studio functions as a storefront, providing passersby with a peek into its design culture while connecting staff to the street life below.
The vision for the New York studio comes to life as an agile and intuitive space that can pivot to accommodate behavioral, cultural, and technological change in the workplace. The studio's flexibility allows for the new space to serve as an agile learning lab, experimenting with new work models and technologies in real-time.
"The gradual return to the office presents a rare opportunity to pilot elements of our new studio as we collectively navigate what the hybrid work model will look like for us. Our design vision was anchored in an acknowledgment of constant change in the way we work, the way we socialize and the role technology plays in our lives," said Bill Harris, managing director of Perkins&Will's New York studio.
The city functions as the third and fourth "walls" of Perkins&Will's new studio
The new space officially opened in the fall of 2020 with both the build-out and move accomplished amid the COVID-19 pandemic.
The firm also developed a Return-to-Studio (RTS) app through which staff check-in and check-out of the office from their smartphones. This helps reduce density by scheduling employees for on and off days that alternate studio seating. The RTS app also surveys staff for symptoms before coming into the studio. This enables Perkins&Will to conduct track-and-trace in line with COVID-19 guidelines.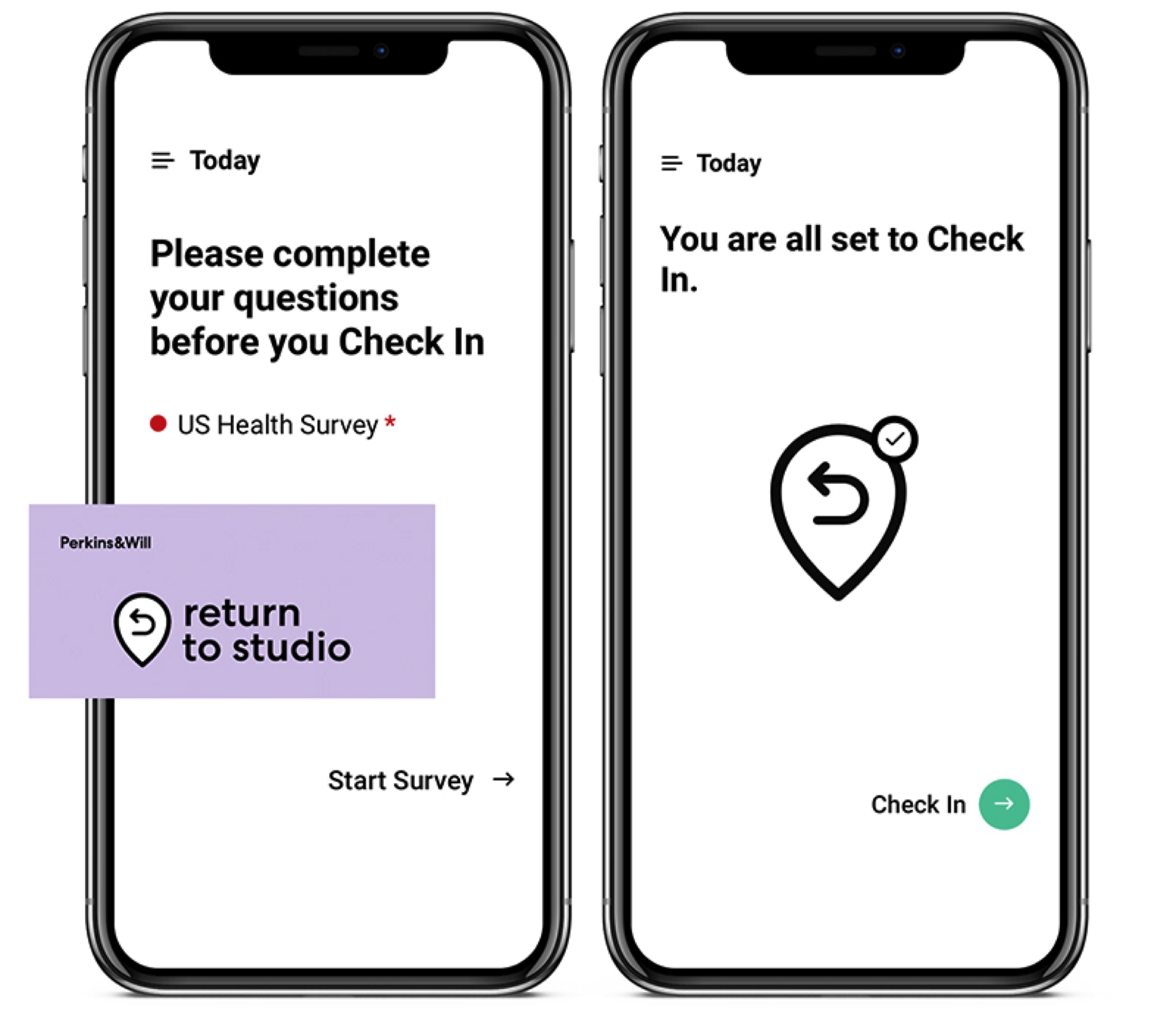 "Our first priority is making sure the staff feels safe and comfortable returning to work," Harris added. "Beyond that, we're most looking forward to re-committing to the values our workplaces have come to represent: a sense of belonging, a social community, and a strong design culture, many of which we previously took for granted."
Resilient design in real-time
Led by interior design director Brent Capron, the team harnessed insights from staff to create a workplace that is flexible, agile, and receptive to new workplace norms. Already designed for resilience, Capron and his team had little to change in the wake of COVID-19.
Long before health authorities mandated physical distancing last year, the team had intended to preserve human connection and provide places for more isolated, focused work. Robust IT/AV infrastructure and resources support agile in-studio working, and continued productivity when working remotely.
"We're often designing client spaces for hypothetical situations that we assume will occur in the future. The New York studio is a case study for resilient design in real-time," said Capron, "In many ways, this is a post-pandemic workplace designed pre-pandemic."
Redefining workplace agility
From the outset, the design team for 1250 Broadway embraced a mindset of experimentation and exploration. They engaged their colleagues in workshops and led interdisciplinary forums to understand the dynamics, and possibilities, of agility what it really means for the workplace of the future. One key design feature, unassigned workspaces, encourages interdisciplinary collaboration, while closed and open meeting rooms prove to be more pertinent than ever.
"The word 'agility' is used often and often misunderstood," adds Capron. "True agility is choice. It is integrated flexibility built into the bones of a space, not just a few pieces of mobile furniture. Agility arms us with the roadmap we need to navigate our return to 'normal'."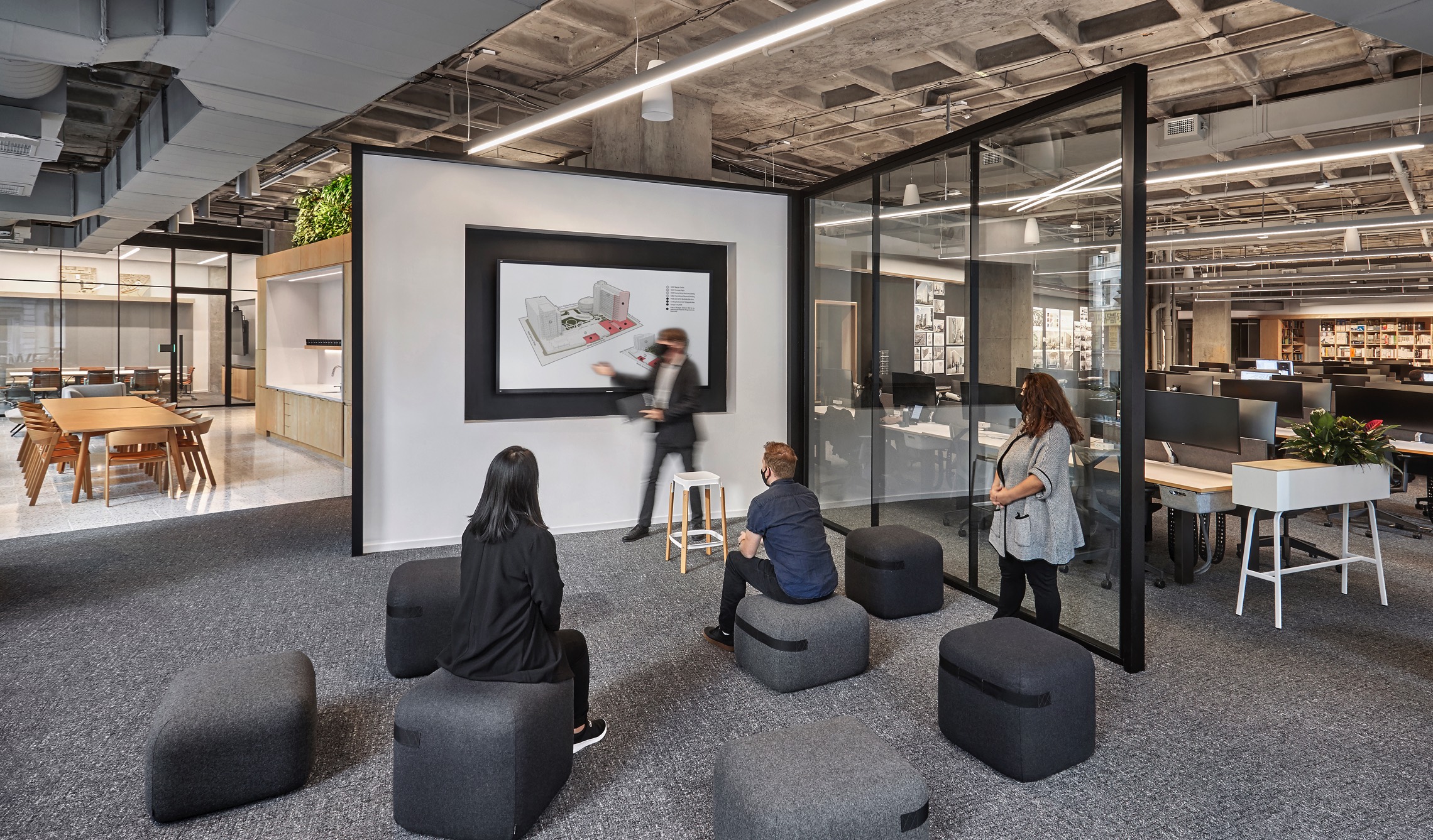 The design process is celebrated and displayed throughout the space, from the 70-foot pin-up boards to model-making and renderings displayed on digital screens. The studio's layout encourages cohesion and collaboration between teams through a blending of spaces.
Broadcast technologies support new work models
Perkins&Will its New York studio as a vehicle for experimentation and a case study on future workplace models, today. Functioning as a learning laboratory, the new space intuitively encourages new ways of collaborating and producing excellent design work. Notably, the studio's design incorporates learnings from Perkin&Will's experience with clients in the broadcast media industry. For example, AV systems come with birds' eye view cameras for real-time collaboration in meetings, drawing sessions, and cross-office broadcasting; this supports new hybrid work models and remote work. Wiring was strategically placed for future reconfiguration of rooms, allowing for a variety of "plug-and-play" activities. Additionally, an LED video wall offers an interesting feature for clients and visitors touring the space. Sensors in each room measure light, sound, temperature, and humidity to provide an optimal experience for staff. The practice also introduced regulated clean airflow systems that mitigate the spread of airborne pathogens.
Inviting the neighborhood in
1250 Broadway is located in the emerging NoMad neighborhood in New York City, a new epicenter of culture. The studio occupies the second floor of a renovated building known as NoMad Tower. The double-height space, originally intended for retail, benefits from oversized windows that welcome the hustle and bustle of the city into the office environment.
"We wanted to, quite literally, immerse ourselves in the urban environment that we ourselves help build," says Harris. "This is about as close to a storefront architecture practice as you get."
Click here for 3D.