Finely tuned materials and lighting elements for a dynamic company that shapes the future.
In the course of the energetic redevelopment of the public services Karlsruhe SCOPE was commissioned to realize a new interior and workplace concept.
The task was to find a design language representing the values of the company and to be aware of its tradition.
The headquarter on Daxlanderstraße from 1977 concentrated on 18.994 qm offices for 550 employees, customer areas kitchen and casino as well as workshops. The workplaces were already planned as an open plan office during the development of the building. The only zoning was represented fabric-covered movable walls that were arranged around the employer seating groups. This circumstance hasn't changed until the redesign. In our conception we met this functionally insufficient open plan office with a zoning by integrated room-in-room-bodies. These rooms zone the large area, guide the streams of people, and offer a variety of functional space that support the work.
The foyer with the large reception counter and the consulting places illustrates the change the building has taken. The bright spacious room with its fine finally turned balanced materiality and lighting design stands for a dynamic company that shapes the future.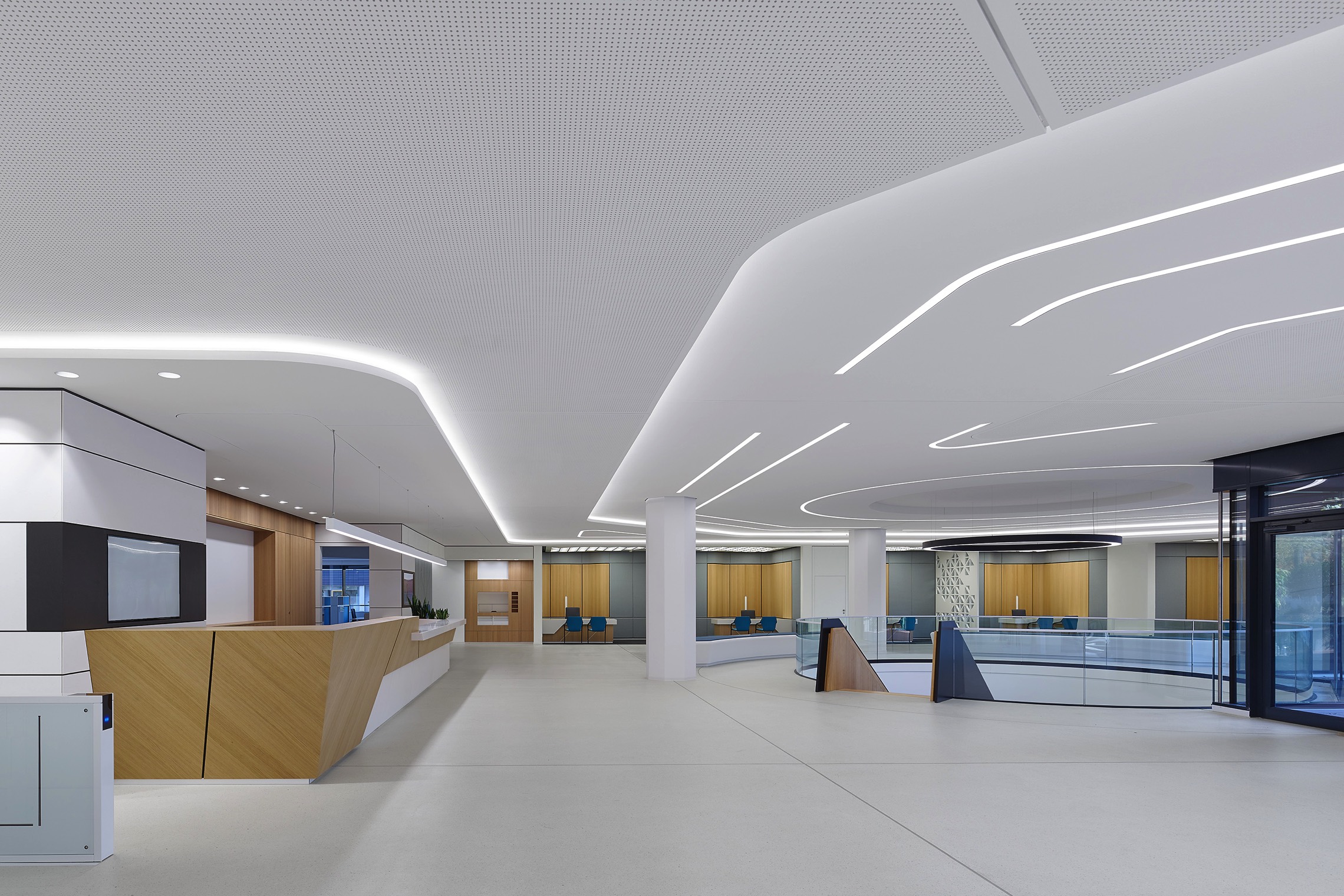 The staircase connects the basement floor and the foyer. In this basement floor there is the casino with the corresponding kitchen as well as a meeting room, and an house-printing press and engineering rooms. The casino is designed for 280 people (with a double seat change) and offers guests different atmospheres. The freeflow area is separated by a large bench with a spatial filter of wood and glas. The center of the room is defind by large tables, whose position is reflected in the design of the ceiling with black eternit and designed as large ring lights. The space is complemented by tiled bar tables and introverted niches. Again the white areas are also accented with wood and green fabrics.
The four office floors are complemented by conference rooms, management and team-wide communication areas. The other office floors convey a friendly, calm working atmosphere. The mood is underlined by the conservative white areas only separated by muted blue colours and wood surfaces in simple oak.
In addition the room program should be complemented by a representative roof system with a conference and a dining room.
The new roof system was built as a steel frame construction and includes the meeting room as well as the event room. This one could be converted by a small kitchenette to a dining room. The light concept is modulated to the relative room situation and emphasizes the high-grade materials. Light woods in the wall paneling are interrupted by black fabrics whose colors are reflected in the carpet and the splices of the wall paneling. The silvery facade picks up the color of the existing facade and is structured by large lamination. The folded facade finds its counterpart in the ceiling design of the interior.