Workplace design in times of Covid 19
Surely none of us could have imagined at the beginning of the year how comprehensively our lives would change in a matter of weeks. The pandemic has made deep incisions into our collective daily life and it has long since been clear that we won't see the like of those Christmas parties in far-off December again for some time to come. Similarly, our working life won't be the same again for some considerable time yet. The question now is: how will workplace design change to adapt to the current and post-Corona world, and which of those changes will stand the test of time? We put these questions to a number of the most prominent designers and interior designers in Germany and worldwide. We're now publishing their answers to these questions in our series "Workplace design in times of Corona".
"While the importance of basic workplaces and classic meeting rooms will gradually decrease, companies are called upon to offer more places of retreat, co-creation and community. This development represents a radical change from the traditional office concept.
You've made your working environment Corona-safe, ensured maximum health protection and can still make full use of your premises? You've got your employees committed and on board with the new situation by means of sympathetic dialogues and a targeted package of measures? You give the appearance of a cohesive, productive team despite remote work and social distancing? Then you have already achieved a great deal. But then you'll probably ask yourself:
How will Corona change working environments in the long term? Which effects will we still feel when the virus has long since been brought under control again, or even been completely eliminated?
We don't have a definitive answer to this and you should not trust anyone who claims to have one. Through project experience and customer dialogue, however, we have been able to develop hypotheses that we consider probable on the basis of current developments and which are worth keeping an eye on.
Our hypotheses are based on the firm conviction that an ideal working environment is structured in such a way that it supports the activities and processes taking place in a company in the best possible way (multi-space/ activity-based working). We divide premises into the following categories according to their activity-based purpose:
• Basic: space for simple tasks which are carried out alone
• Places of retreat: room for tasks with high concentration levels that are performed alone
• Meeting: space for meetings for the pure exchange of information, classic "meeting"
• Co-creation: space for joint, creative and agile work with the aim of developing new concepts, solutions or products
• Community: space for informal or non-work-related exchange; serves to create cohesion and strengthening of the sense of "we"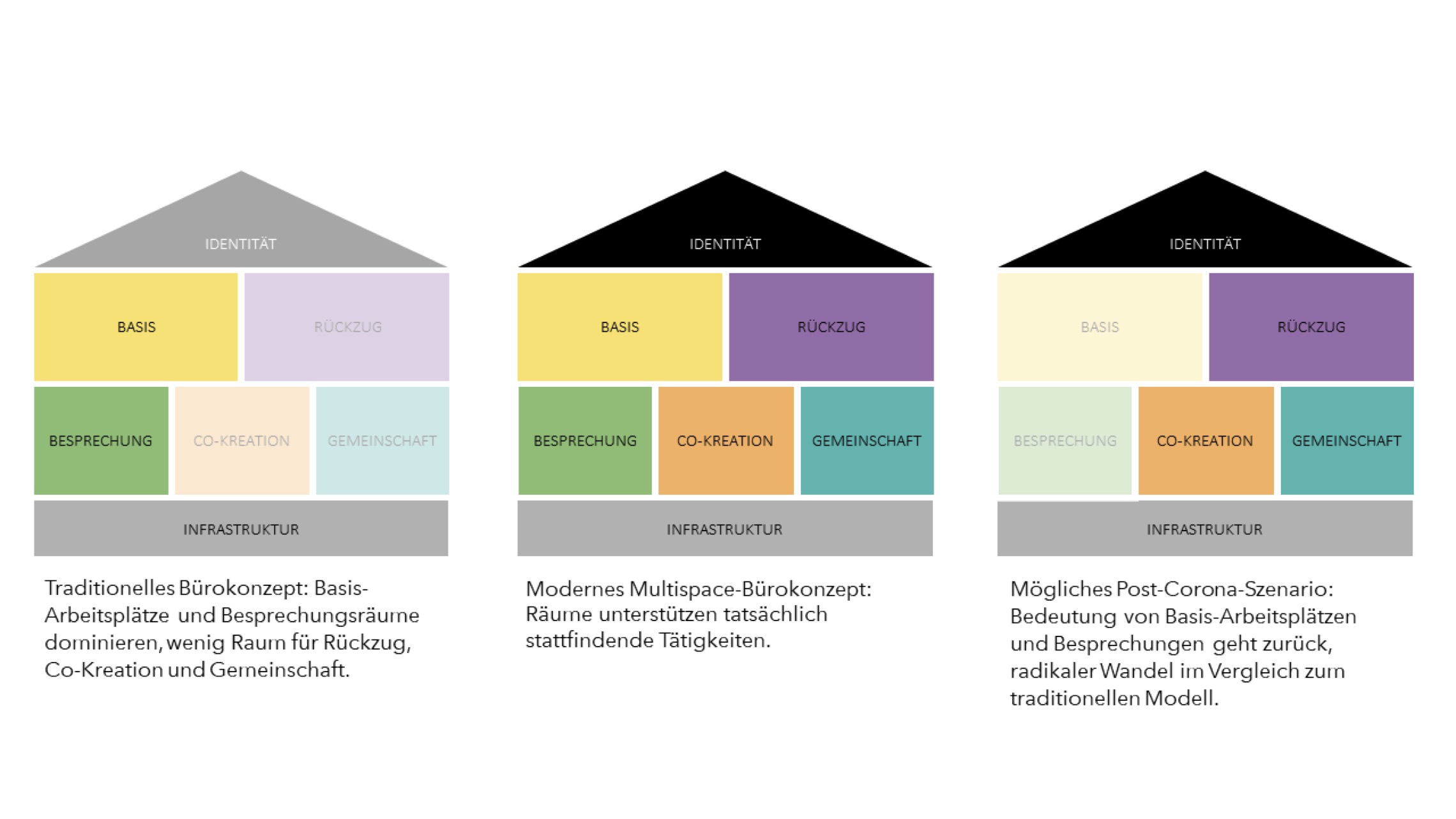 Which changes take place within this matrix?
We assume that the time spent working from home has firmly anchored a specific experience in the collective consciousness of the office population for each of these categories. We also assume that these experiences,in turn,have clear implications for the office of the future:
Hypothesis 1
An office is not absolutely necessary for purely basic activities. In principle, these tasks can be performed just as well in the living room, garden, city park or train. The importance of space for basic activities will therefore gradually decrease in offices in the future.
Hypothesis 2
While some people have always appreciated working from home as aplace of retreat, for others it means exactly the opposite. Children, flatmates,or construction sites can have the effect that you cannot find peace and quiet at home and that the office is valued above all as a place of retreat. Companies are called on to create more real places of retreat and effective focus zones in the future.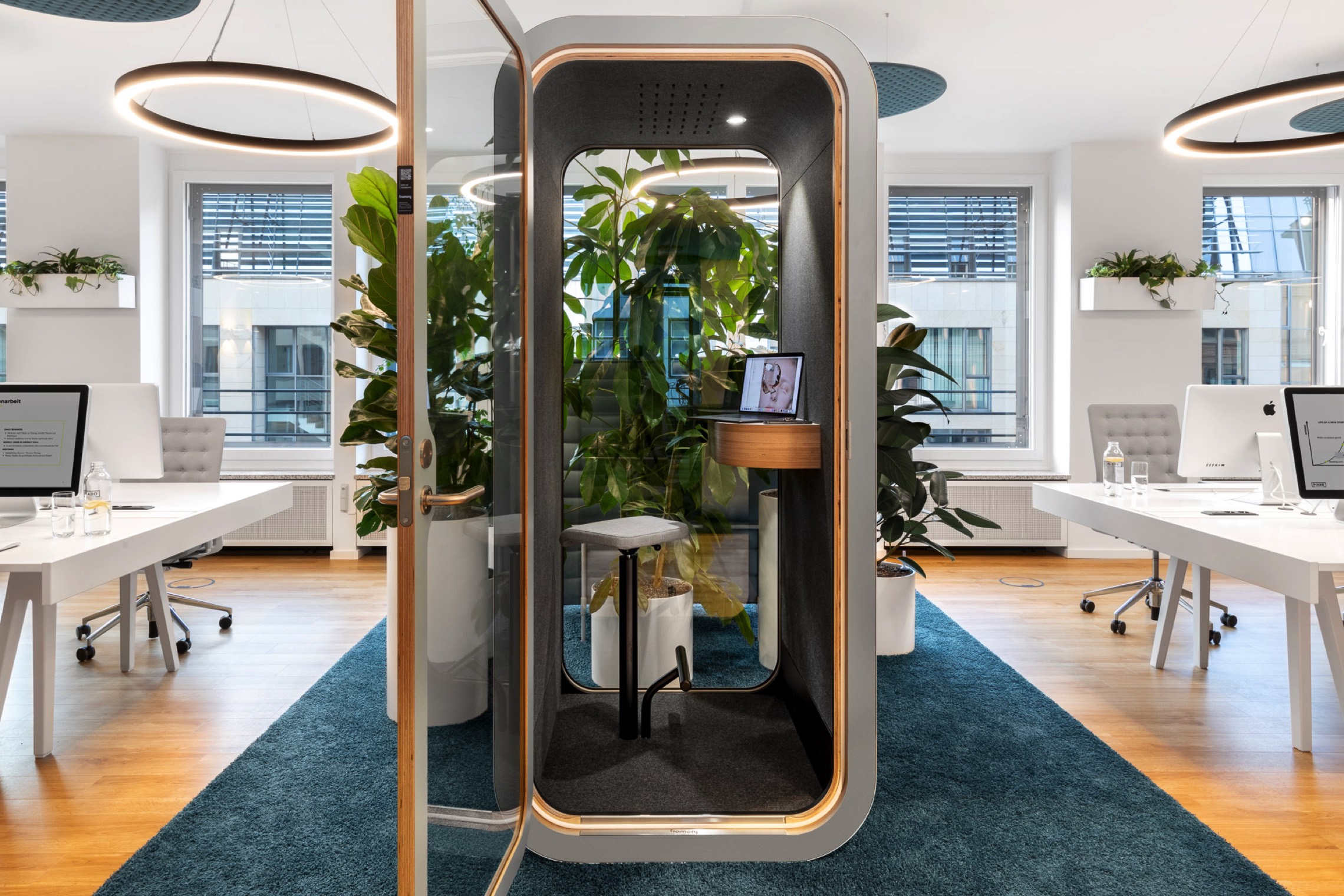 Hypothesis 3
Thanks to digital meeting tools, classic meetings for exchanging information can be held with consistent success, regardless of location. The importance of classic meeting rooms will gradually decrease in the future, just like the basic activities.
Hypothesis 4
Effective digital tools are now available for co-creation, but the effect is not the same as in a face-to-face meeting. The importance of effective areas for co-creation will increase and companies will be called up on to make them available.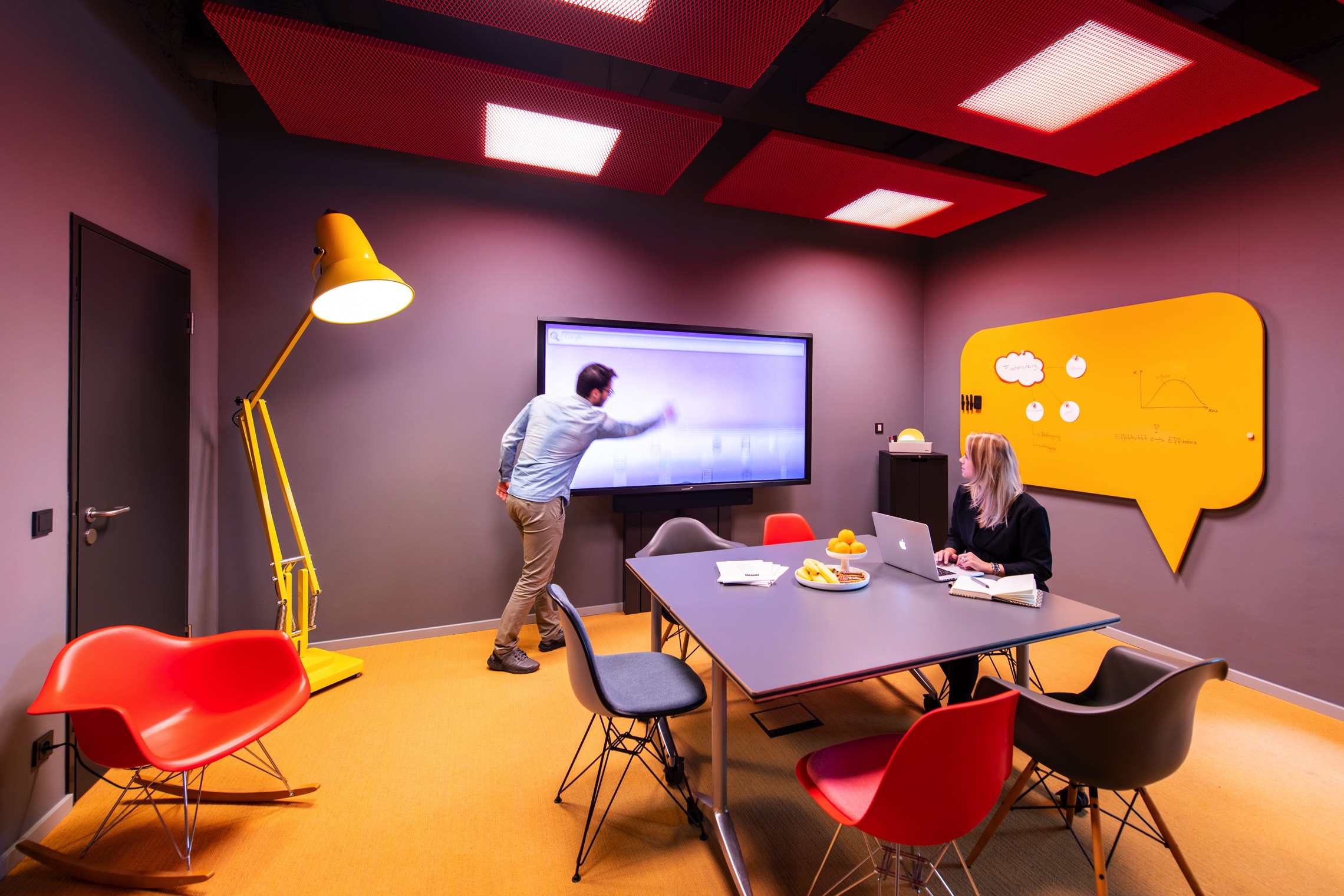 Hypothesis 5
Real community does not happen at all,or only to a very limited extent, when working from home. However, people yearn for it, not only in their private lives but also in a professional context. The importance of communal areas will therefore also increase. Employers who recognise the direct link from the employee community to identification with the company, and provide targeted support in this respect, have a clear advantage.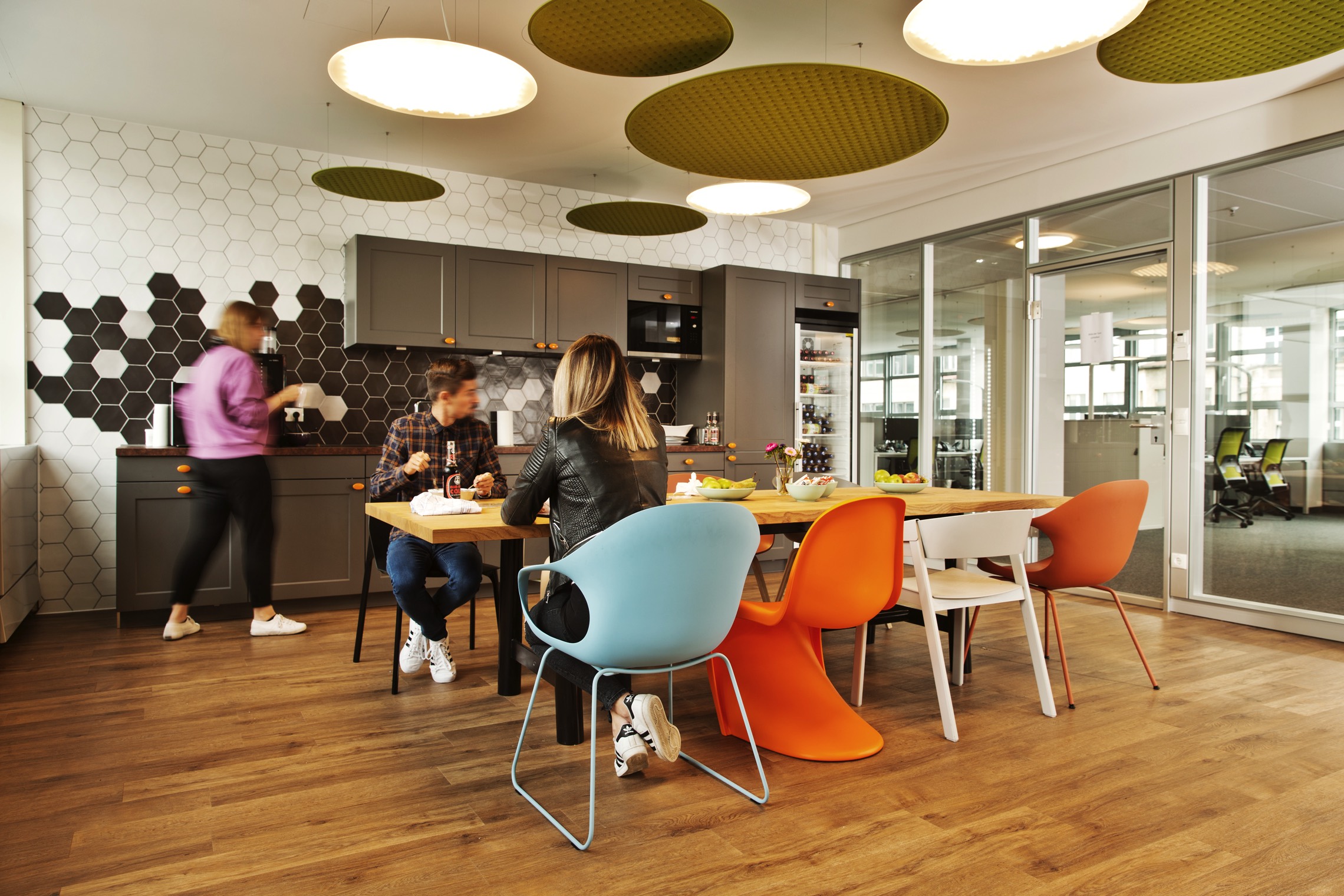 Conclusion: There is a clear shift towards more places of retreat, more co-creation and more community, and instead less basic activities and classic meetings in offices.
This shift is particularly fundamental because the traditional office concept (which still prevails in a large proportion of companies) works precisely according to the principle of "standard workplaces plus meeting rooms" - in other words, the very rooms that form the essence, the meaning of which is dwindling. For companies that adopted the multi-space approach even before Corona, the change is much easier to manage. For all others, the need for action is all the more urgent should our hypotheses prove to be true. Give your employees a reason not to work from home - make the journey to the office worthwhile! Are you returning to the office with your company? Then you are facing a real challenge."
Alexandra Frot, designfunktion, Nuremberg, June 2020
You can download the complete guide here free of charge. It offers concrete recommendations for action regarding hygiene measures, internal communication and long-term effects of the pandemic. Only available in german.
Credits
Statement and Infografic: designfunktion
Photographers:
Header Foto "df_biz_sskm" und Picture "Co-Kreation": Lennart Preis
Kitchen area @ defu: Achim Hehn