Featuring wide, open spaces and individual work zones while eschewing permanent desk assignments, AXA's "New Way of Working" project has seen the completion of its first new office as a model for the workspace of the future. The company's Hamburg site was selected to be the pilot location for the NWoW project. NWoW translates AXA's vision for its future into new work environments for its employees that create space for new ways of thinking, extend employee autonomy and nurture interdisciplinary approaches. The company aims to remodel all 16 AXA sites in Germany under the auspices of NWoW by 2020. As a first step, its Hamburg staff moved to a new site in late summer 2017.
Alexander Vollert, chairman of AXA Germany's executive board, explains the background behind NWoW: "With NWoW, we will create an environment that stimulates the development of innovative ideas at our company and makes it easier for our people to communicate with each other. NWoW is a paradigmatic example for new ways of thinking in our company. We see ourselves as an organization that learns."
(Video available in german only)
"New Way of Working" – Breaking Up Work Routines
People who feel happy and at ease where they work are more productive, come up with more ideas and are more likely to innovate. In this context, NWoW incorporates open-space designs, reconfigures work routines and offers new creative spaces.
The 'All-in-One' area offers standard-format workspaces for staff to make phone calls and handle their emails. As its name suggests, the 'Communication' area is designed to make it easier for staff to talk to one another, when conferring with a colleague, for example, or by providing a creative arena for group work. The 'Focus' zone is a quiet, peaceful sanctuary that lets staff escape the background bustle to concentrate on a particular task. Another important component of NWoW is that employees have the option of working outside of AXA's offices for up to two days per week, saving on long commutes. During this time, digital collaboration tools such as Skype let workers take part in meetings and stay networked with their colleagues.
Open spaces accelerating cultural change
Astrid Stange was AXA Germany's chief officer for strategy, personnel and organisation until 2017. In December of that year she became COO of AXA Group in Paris. The Workplace and Infrastructure Team launched the NWoW Project for AXA Germany under her leadership. For Astrid Stange, AXA's chief officer for strategy, personnel and organization, NWoW is nothing less than an accelerant for the intended change in corporate culture. "NWoW will make it much easier for employees to communicate and cooperate on developing new ideas. This will lead to faster decision-making processes and better, more innovative solutions that will benefit our customers in the long term," she says. The concepts behind NWoW were tested for several months within a specially designated space and adapted to reflect feedback from participating staff. As part of NWoW, old work routines are deliberately broken up to promote productivity and heighten agility.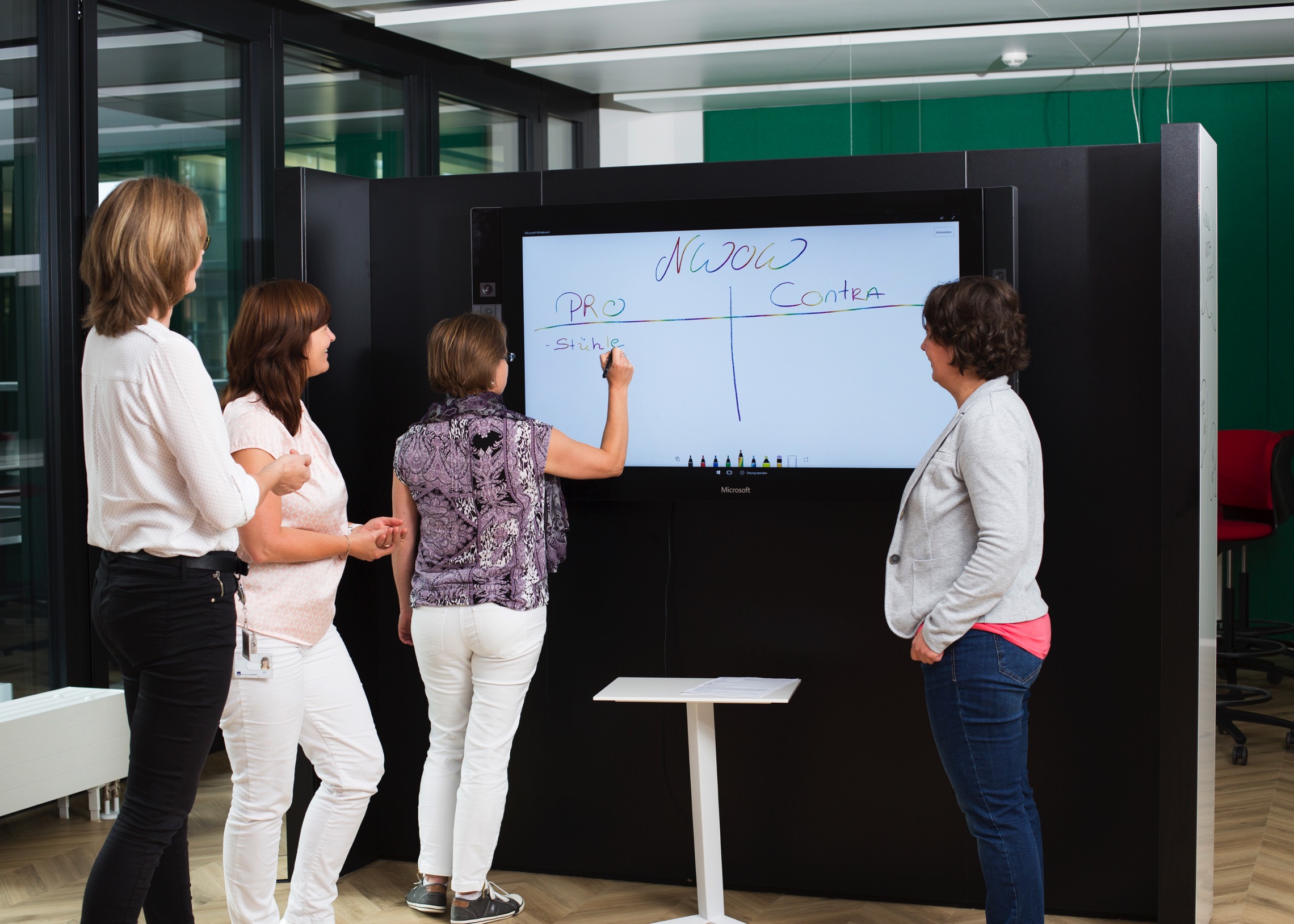 Single-Person Offices: Moving on from old status symbols
"Each of our employees has his or her own needs and expectations of their workplace and requirements in handling their tasks, regardless of whether they provide customer service on the telephone, process claims or work in IT," explains Oliver Eske, NWoW project leader. "NWoW reflects that. Staff aren't assigned to one particular desk any more. No one, not employees, team leaders or even board members, will have their own desk in the future. The era where having one's own office was seen as a status symbol is in the past. Desk sharing lets our staff, equipped with laptops and headsets, to stay mobile throughout their working day and switch to a different work area if they need to." Eske has been managing the NWoW project at AXA Germany since 2015.
Healthy work practices and a new office environment
Workplace safety and employee health are closely linked to the design concepts behind NWoW, which aims to ensure that staff are working in the best possible environment both at the office and from home. AXA's guiding principle here is to strengthen employee autonomy and expertise. Health-focused workshops and seminars on how to work autonomously are designed to encourage every employee to manage health issues at work. The program also deploys tools such as the "Office Fitness" web-based training module. Among the elements supporting healthy work practices at all new workspaces are ergonomic chairs and desks that can be electrically raised or lowered. To ensure that staff enjoy the best work environment wherever they are, AXA has committed to providing modern technology for staff when working from home.