Nevertheless, a research of Savills and consulting cum laude demonstrates that the office of the future will, and even must, change. Ultimately, megatrends will mean that today's office landscape is faced with challenges such as increasing urbanisation and rapid advances in digitalisation. Such megatrends and developments have implications for the situation and location of offices, the buildings themselves and, of course, the office space including the actual workstations. It is noteworthy that the personnel, whether from Generation X or Generation Y, have very similar views of the office of the future in almost all aspects. But what do these visions look like in concrete terms and what are the principal findings of our research?
The situation and location of an office will play an even greater role in future. Offices in central locations in particular, which enable rapid access by car, public transport or bicycle, have an advantage over less favourably situated offices. The availability of additional services, such as car and bike-sharing or same-day goods deliveries, which are only viable in very central and densely populated areas, also make a central office location appear even more important than previously. Furthermore, in an increasingly flexible world of work, the urban environment is gaining increasing importance as it allows private and professional lives to be combined.

The aspect of urbanity is also associated with a stronger mix of different uses both at the level of individual properties and in terms of urban quarters. Mixed-use properties not only offer synergies for occupiers but also improve risk diversification for investors.

The combination of different uses also leads to a reduction in traffic and, therefore, has ecological benefits. Besides the sustainability aspect, however, such arrangements also promote identification of personnel with the building and, consequently, with the company itself. Ultimately, our respondents would like a sustainable office building. They would also like pleasant lighting, air conditioning and, increasingly, involvement in determining the layout of the office space. If the latter wish is fulfilled, personnel can identify with the workplace and feel comfortable. This, in turn, translates into higher motivation to work and greater productivity and, thus, benefits all parties.

Digitisation has already significantly changed the world of work in recent years. In future, it will be possible to work from anywhere, whether the office, a home office or a café. This will allow better harmonisation of professional and private life. However, technology is advancing many times faster than most people can adapt to these innovations and the associated possibilities. Both the industry and companies must make greater endeavours to "take their personnel by the hand", demonstrating the possibilities and inspiring them with the associated opportunities.

The new flexibility in terms of working has implications for the layout of office space. If personnel work more frequently out of the office, desksharing can save a certain amount of floor space. At the same time, new space is required for communication and creative working within the office. However, when the personnel themselves are asked, they would like their own fixed workstation almost without exception. Ultimately, it is up to companies to find a middle ground between more cost-efficient use of space and employee satisfaction.
Summary: the new maxim of property investment might be "location, flexibility and service"
In order to remain successful going forward, it is now also up to developers, tenants and investors (i.e. all parties concerned with office space) to respond adequately to these insights. Developers, in addition to adhering to ever greater energy requirements, must also conceptualise intelligent building technology that meets both the overall requirements of the individual tenants as well as those of each individual user. Investors making acquisitions should no longer focus merely on "location, location, location". This well-known maxim of property investment might be better expressed in future as "location, flexibility and service". Companies, meanwhile, must communicate the opportunities and possibilities of new office concepts and office technologies significantly earlier and involve all personnel concerned much earlier and to a far greater extent in the planning and development process. Only thus can the office of the future provide added value for all parties.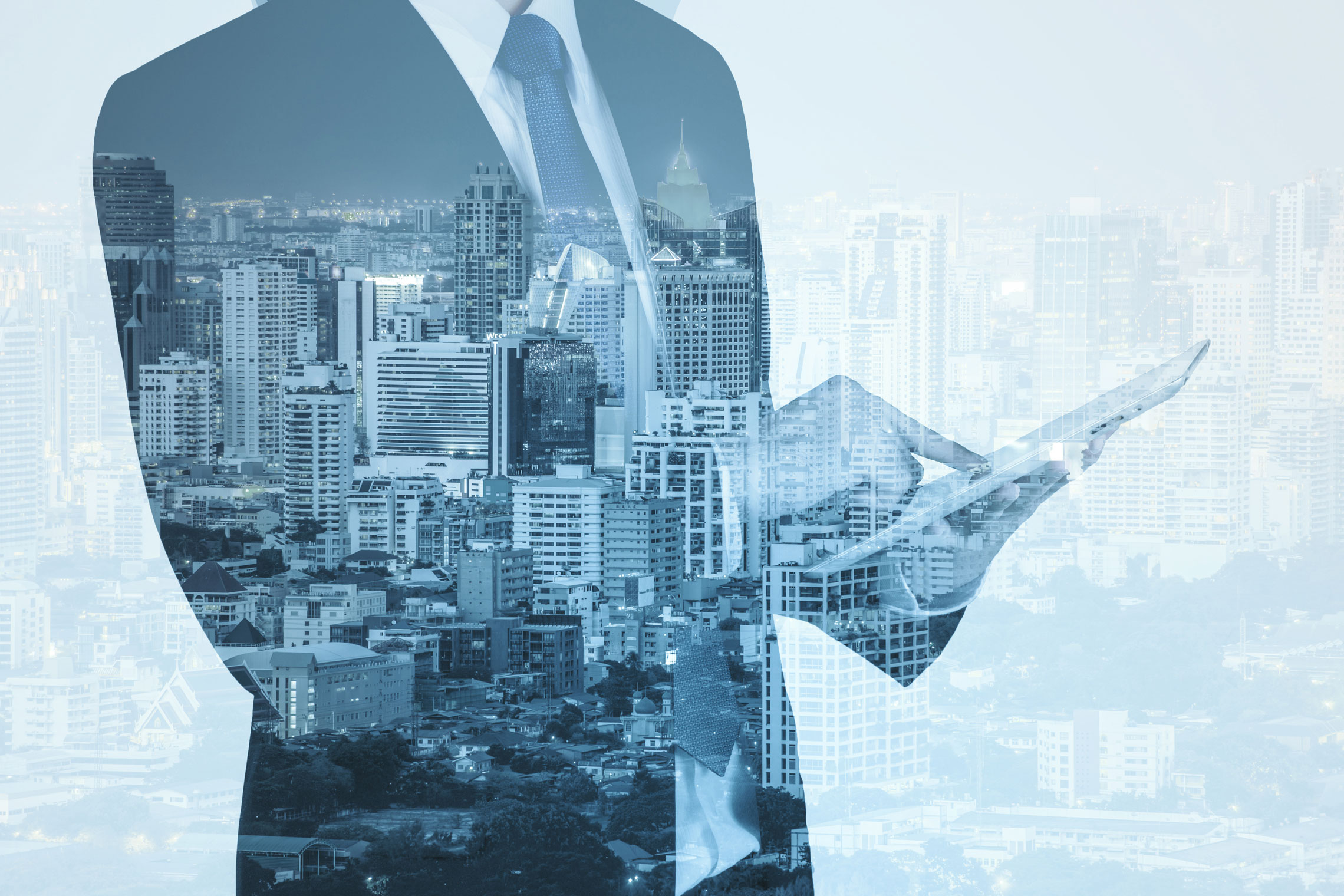 6 hypotheses on the office of the future
Everybody probably has his/her own unique vision of how the typical office will look in future. One person, try as they might, may not understand why anything should change in terms of the office of today. Another may struggle to conceive of how any aspect of today's offices could be a sensible component of those of the future. As ever, the truth probably lies somewhere between these two extremes. At the beginning of this project, we asked ourselves: how do we envisage a typical office property of the future? The results of our musings are six hypotheses on the office of the future based upon our own perceptions, which are informed by research, articles and various media.
Hypothesis: The office of the future is urban
The office of the future is situated in an urban environment or creates one. In the vicinity are various local amenities for daily and periodic requirements. Restaurants, cafés and bars complete the urban environment. Owing to its central location and good connections, the office is rapidly accessible, regardless of the chosen mode of transport.
Hypothesis: The office of the future is not only an office
Properties used exclusively as offices are a thing of the past. The office of the future is a mixed-use building used around the clock for other uses such as retail, residential, eating out and leisure facilities.
Hypothesis: The office of the future is sustainable and creates identity
The office of the future provides insight into the company's values and creates a sense of identity for its personnel. This is expressed, inter alia, in a sustainable quality in terms of technical, ecological, economic, sociocultural and functional characteristics. Only if personnel can identify with the property, the space and the workplace, will they feel comfortable and be able to make a creative contribution and work productively.
Hypothesis: The office of the future is digital and supports working from anywhere
Digitisation is a megatrend. Consequently, the office of the future also has extensive technical equipment. Personnel with technical devices are flexibly integrated at all times and, thanks to modern cloud systems, can access relevant data from anywhere. Communication between personnel is always possible regardless of their location within or outside of the office. The workplace is no longer an issue thanks to digitisation. Personnel can work from anywhere, including a home office, a co-working space, a café or the park.
Hypothesis: The office of the future is multi-functional and flexible
Since work is not only carried out in the office in future but can be structured flexibly, there is a higher proportion of temporarily used space in the office. Models such as desksharing replace the fixed workstation. The office of the future is flexible and multi-functional. There are communication rooms, quiet rooms for concentrating on work, rooms for temporary project work for teams of different sizes, meeting rooms, telephone and video conferencing rooms as well as fitness, relaxation and sleeping rooms for mental balance and physical wellbeing. Thus, the office can adapt individually to the different working methods of personnel and offers optimal conditions for every working stage of a project. This is essential since standard office activities are largely automated and people primarily do creative and knowledge work. The layout and fit-out of the office space must, therefore, create optimal working conditions for the individual requirements of each employee.
Meta-hypothesis: Gen X and Gen Y have (entirely) different visions of the office of the future
Compatibility of professional and private lives is very important to Generation Y. It demands more time for friends, partners and themselves than Generation X. Creative and motivating work contents are paramount. Their work must be meaningful and enjoyable. Scheduling of the working hours must be flexible and all personnel should be able to decide for themselves whether they work in the office, a café or a beer garden. Generation Y also requires a flexible, inspiring working environment in order to access full potential. The idea of having their own desk and being present in the office every day is overwhelmingly rejected. Individual configuration of the workplace and a sense of wellbeing are also important factors. Generation X, on the other hand, was and is accustomed to going "into the office" and working there. Working conditions are accepted as given and one concentrates primarily on completing the work duties. Professional and private lives are clearly separated. Personal career planning has greater importance than the need to have a say in shaping ones working environment according to the own ideas.
Find the complete study here.
Photos: Savills Deutschland/ thinkstockphotos
The article is a guest commentary by Savills Deutschland