In our modern world, we spend most of the day indoors. Although much of this time is spent in the workplace, offices are primarily designed as workspaces rather than "lounges". In view of rising real estate and rent prices, efficiency and space optimisation are the top priorities in many places when it comes to creating workspace. However, especially at a time when creativity and productivity are becoming increasingly decisive for the competitiveness of companies, this concept is increasingly reaching its limits.
The reality is that hardly anything has such a beneficial and inspiring effect on us as nature. According to the Human Spaces Global Report*, well-being and creativity increase by 15 percent when natural elements are integrated into the work environment. Reason enough, then, not to dismiss plants and natural materials as pretty decoration, but to make them an integral part of office planning. We are talking about "biophilic design".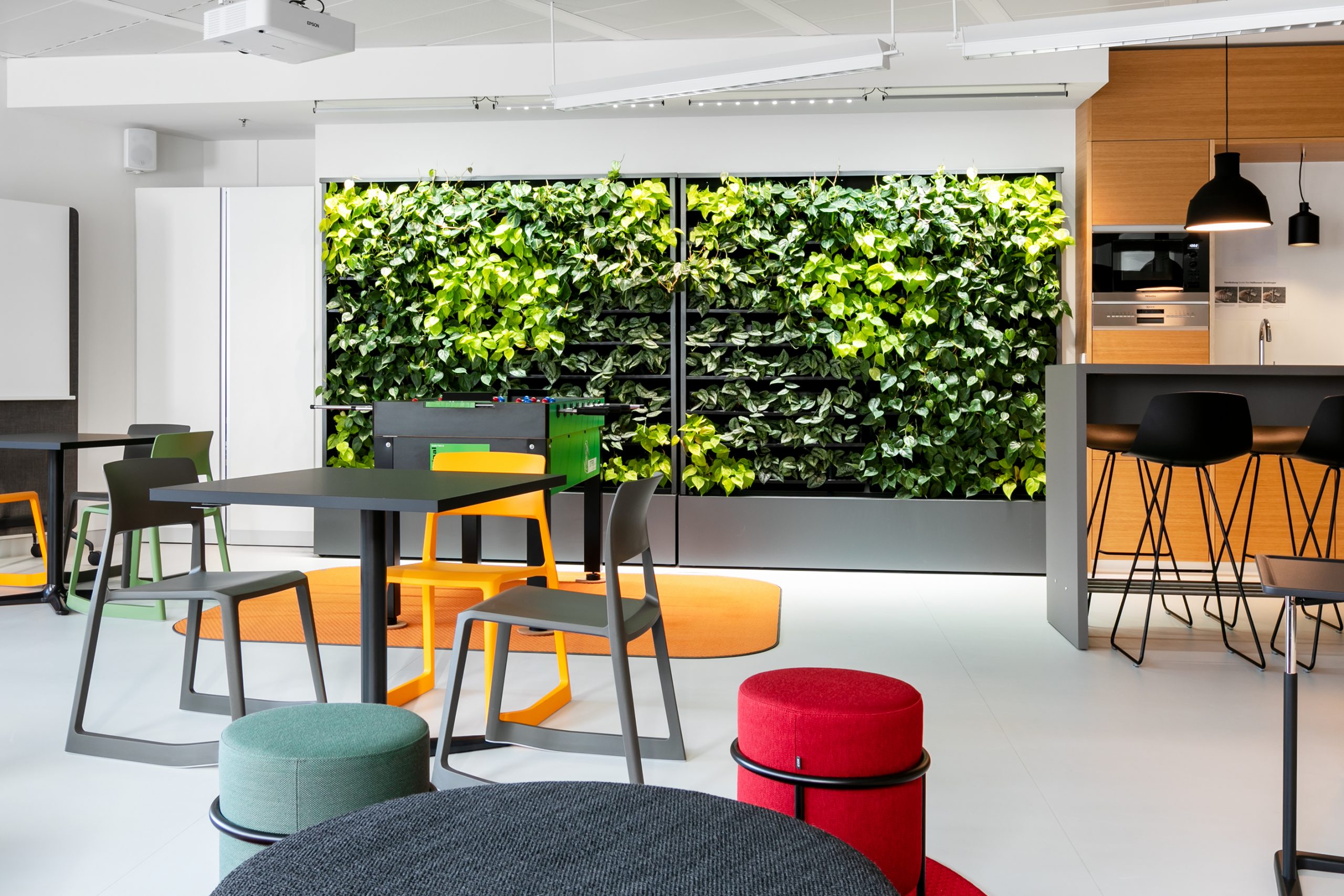 Plants enliven spaces
Wherever plants are integrated into spaces, not only the air quality is improved, but also the entire atmosphere. This has a direct impact on our productivity and well-being. Trend expert Birgit Gebhardt explains it this way: "We like nature not just for aesthetic, recreational or leisure reasons. We are a part of it - and even if we have forgotten that, our body and mind still interact with it."
Despite this, more than half of all employees do not have real plants in their office (Human Spaces Global Report). Companies often shy away from the costs and maintenance involved, but underestimate the "human factor "** of this supposed green accessory.
Innovations such as the free-standing room divider Para Vert by Brunner or the Vitra Dancing Wall, which only unfolds its full effect when planted, show that indoor plants are not just decoration but can be an integral part of office planning. Existing furniture can also be greened with plantable add-on modules, such as the Allvia shelving from Assmann and Grand Slam from Sedus. Intelligent systems such as the self-watering plant spiral from Hydrokulturen Müller*** can also reduce maintenance to a minimum.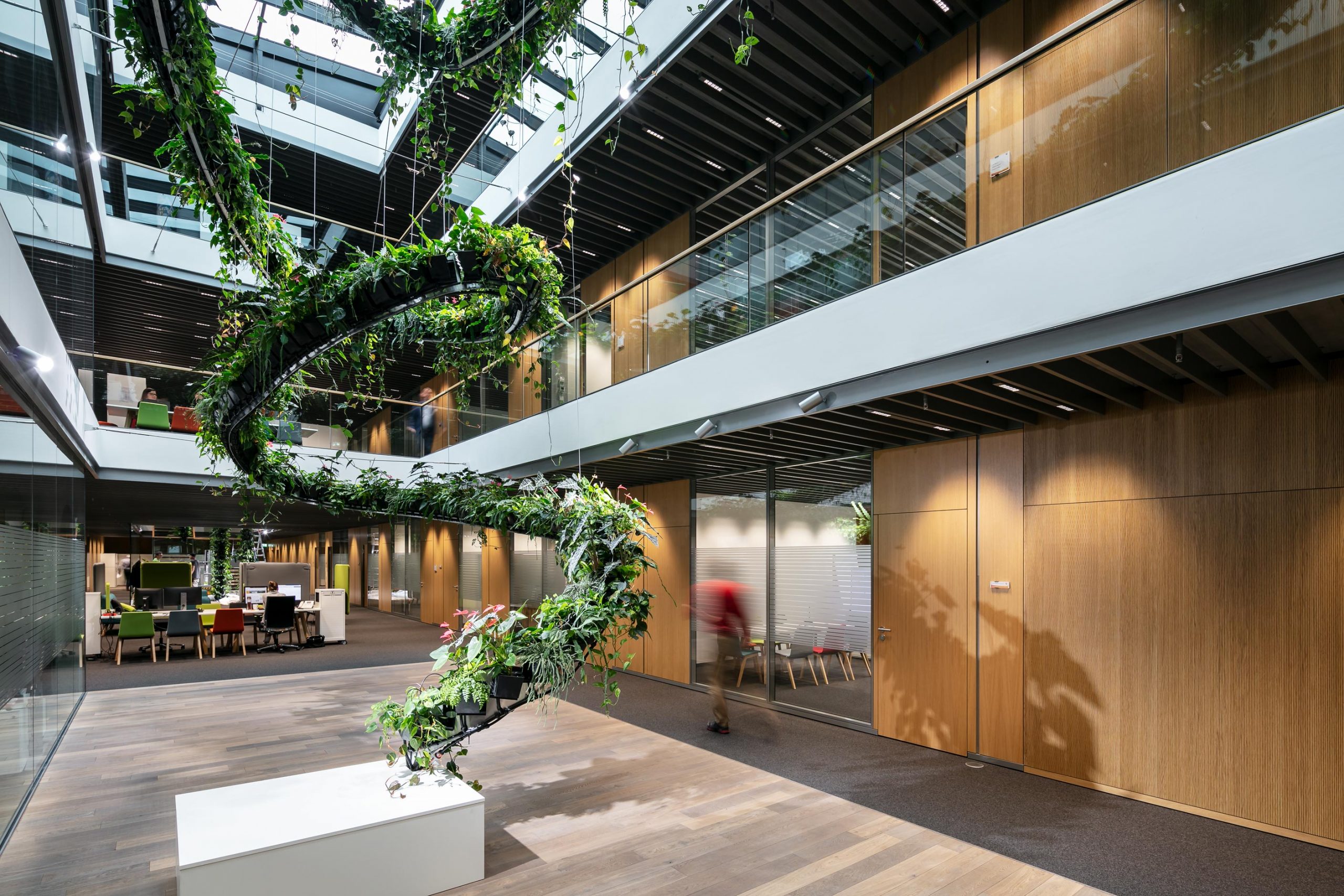 Nature as a design principle
Literally translated, biophilia means "love of living things". Nevertheless, biophilic design is not limited to plants. Because what fascinates us so much about nature goes far beyond green leaves: the focus is on the multi-sensory experience, especially the haptics and the visuals. Analogies to nature are therefore a central design element in biophilic design.
A particularly strong connection to nature is created by biomorphic forms and patterns as well as materials that establish a local reference. The aim is to imitate organic and implicitly natural structures and to transfer them into the rooms: from the fabric for the office chairs to the shape of the lampshades.
Less tangible, on the other hand, is the design device of the view, which has its origins in our innate need to look beyond our surroundings into the distance. For this reason, many architects rely on long sight lines, windows and balconies. Such an effect can also be achieved through interior design, for example through large-scale nature motifs that can be printed on system partitions.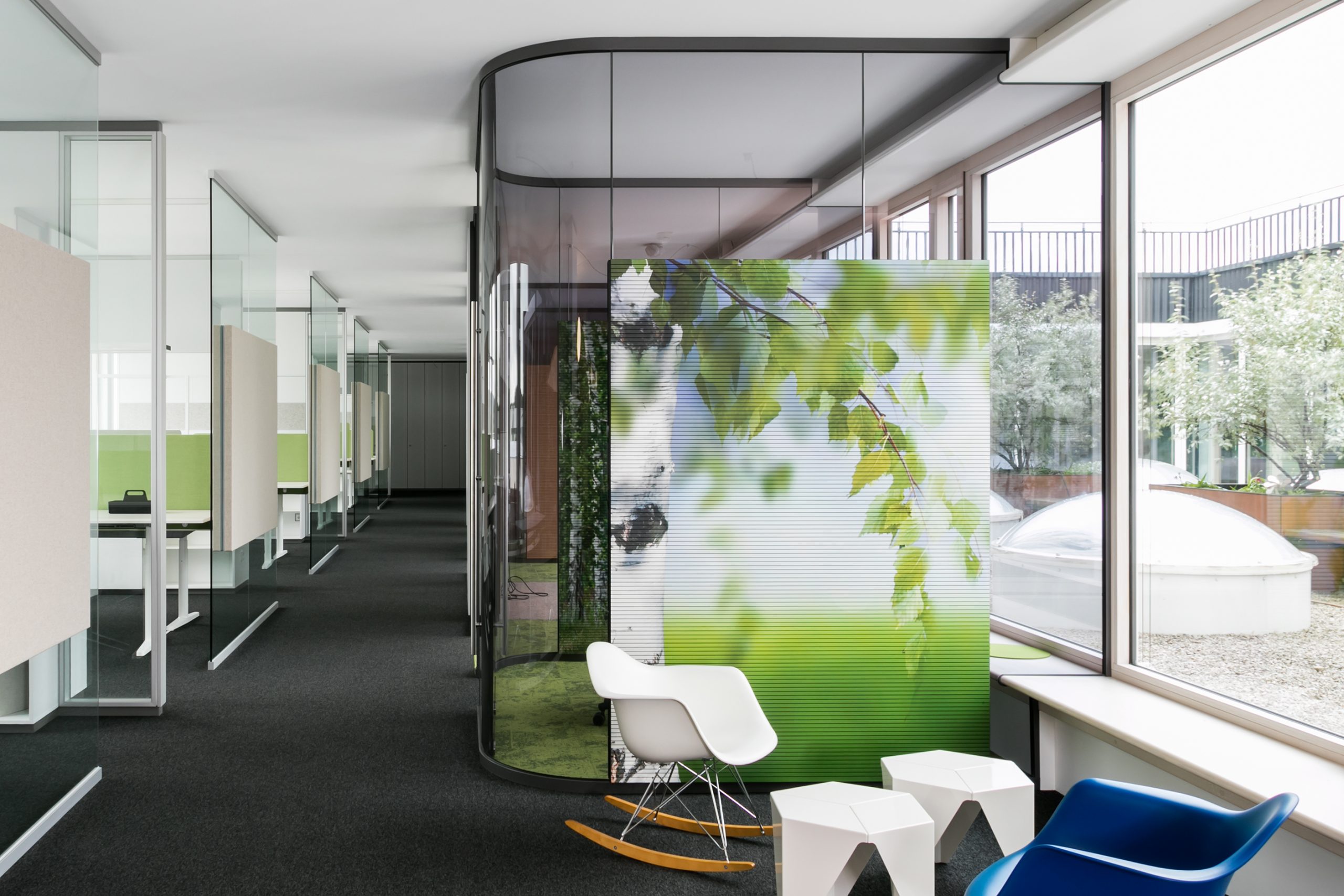 From biophilic office to experience space
While the most successful companies in the world advertise with excitingly colourful offices, the reality in many workplaces looks different: Grey, sterile rooms in which nothing is supposed to distract from their actual purpose of existence - working. So it's not surprising if the longing for the outdoors grows here. The fact that many office workers had to switch to the often more homely home office during the pandemic has reinforced this effect.
With biophilic design, it is possible not only to make office environments visually more life-friendly, but also to create a noticeable added value in terms of productivity and well-being. This is when natural design elements turn a workspace into a feel-good space that stimulates all the senses.
feco-feederle, Karlsruhe, August 2021