New, attractive, global
Based on a comprehensive usage analysis, DIA – Dittel Architekten developed a holistic office concept for the German headquarters of the Husqvarna Group in Ulm with more than 10,000 m2 and won out against the competition. The aim of the concept was to create new workplaces and an attractive environment that will suit the global operations of the international company, bring together employees, and attract new ones. The Husqvarna Group is a leading global equipment manufacturer in the forestry, landscape and garden maintenance, construction and stone industries. With the conversion and redesign of a 1,500 m2 area in an existing logistics building, the first step was carried out. In March 2019, the modern work environment, with 100 new workplaces, was ready to move into.
New ways of working demand new environments
With the question of what the office has to offer today and tomorrow, architect Frank Dittel, managing director of DIA and his team are always working on something new; planning working environments is one of the key topics of the office. "To create sustainable concepts, we must always keep an eye on our changing society." These observations have revealed to him that the high demand for modernization measures for office spaces is no coincidence. "The drivers of digitization and globalization as well as the shortage of skilled labor in Germany pose challenges for companies. New business and work models are needed here – and they need a suitable environment," says the Stuttgart architect. The latter should be attractive, encourage exchanges and facilitate flexible work styles, and so make an important contribution to well-being, health, motivation – and, ultimately, to the productivity of the employee.
Modernization for the growing Husqvarna Group
In addition to an acute lack of space, which – thanks to positive business development – resulted from numerous new hirings, the need for modernization was also a central motivation for commissioning the architectural office. Working off a site-wide usage analysis, DIA demonstrated various possibilities for extension and modernization. "We decided first to redesign the upper floor of our logistics extension, which we only started using as such a few years ago, as new office space," says Joachim Müller, CFO of the Husqvarna Group Germany. "In addition, we will gradually turn our attention to the existing office space and modernize it." In the now completed modern working environment, Frank Dittel and his team created around 100 workstations and brought in versatile office forms that will now be tested by the Operations teams for the first time. Open Space, Desk Sharing and Focus Rooms can be found here, along with group rooms, numerous meeting pools and, in the center, a spacious island for meetings and exchanges. To create acceptance and anticipation of the restructuring in advance, the employees were sensitized to the construction project. "Visualizations helped to convey an impression of what would happen. In addition, we posted on our intranet a short video showing the progress of the construction site," says Müller.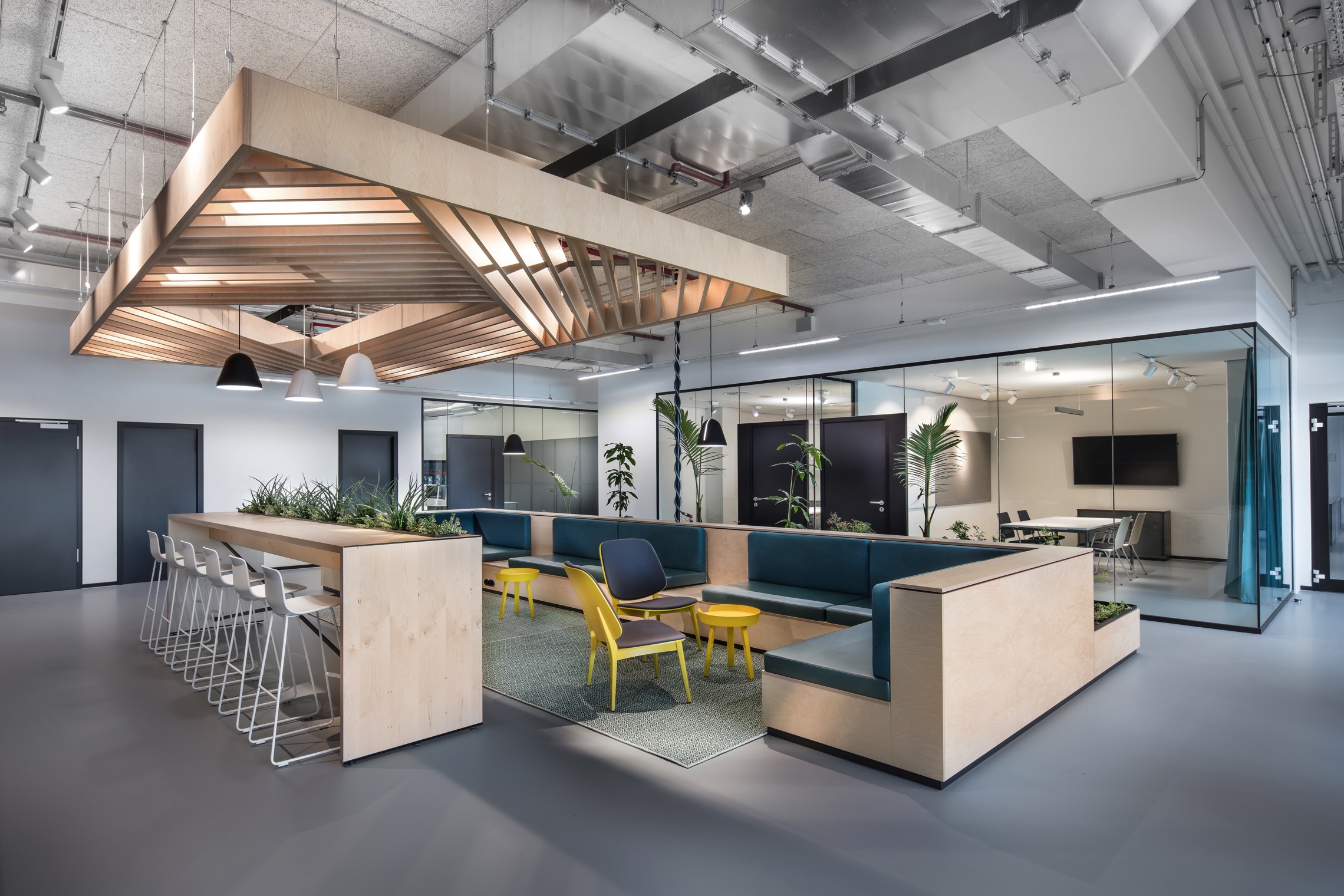 The planning phase determines the success
For Dittel, the main thing is to make plans as forward-looking as possible, always hewing closely to the customer's corporate culture. The architects were able to answer the question of the best solution for the Husqvarna Group through workshops on concrete usage requirements and on the basis of a well-founded analysis of the structural materials and construction task. According to Dittel, the challenge is always to find a good balance between area efficiency, functionality and quality. "This project too was about accommodating as many employees as possible and ensuring for every workplace efficient infrastructure, pleasant room acoustics, sufficient daylight and a good indoor climate – all this in a logistics building with its special conditions. And that certainly calls for creativity."
Quote:
"The room should get across what the company is all about. In addition, we believe that architecture can foster creativity and be inspirational." - Frank Dittel, CEO Dittel Architects