Colorful, international, sustainable. With the redesign of the LOQI European headquarters in Berlin, the lively creative DNA of the globally active young company was implemented in a congenial brand appearance. New work and activity based work are merged in a new "airy activity office". The Workspace is treated like living, breathing organisms that adapt to accommodate the team deciding on flexibility, autonomy, and the ability to choose when and how they work.
Created by Tina Bunyaprasit and Werner Aisslinger the result is an office space of a different kind, a lively and inspiring working landscape breaking through the grey schematism of standardized workstation units - a work environment as a holistic experience.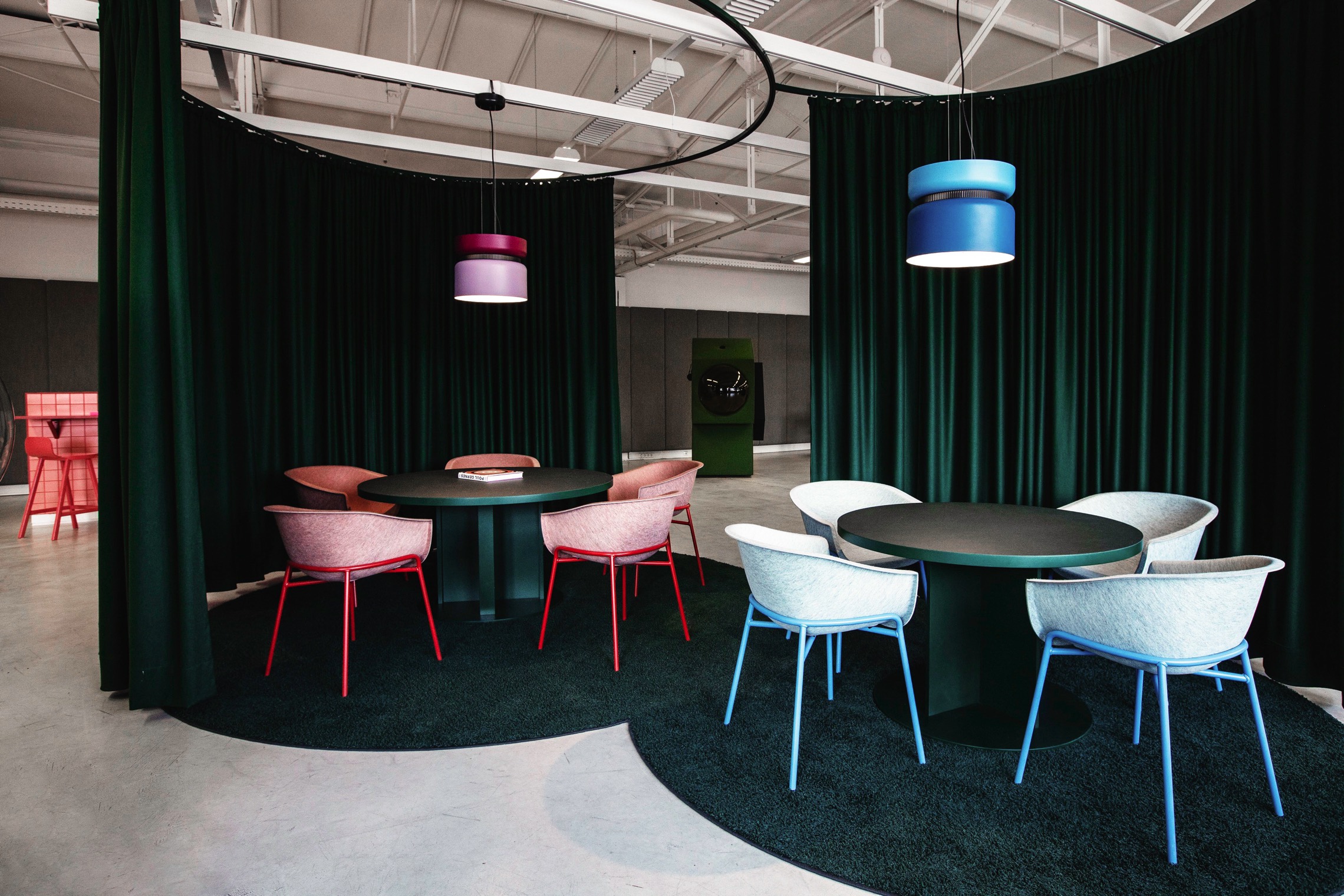 The ongoing office discussion related to New Work and Activity Based Work has in 2020 been pushed into the background by the conception of the Post Pandemic Office. This more socially distanced office with its "six feet office" workstations closed plan designs, wider corridors and doorways, special partitions and touchless controls is not so much a new work philosophy but a technical driven optimization of a building equipped with hygiene touchpoints contactless technologies and the creation of oneway flows in buildings. New offices being planned for the near future will less emphasize communal coworking areas but nevertheless we all need new spaces for interaction or idea generation and collaboration.
The 1000 sqm LOQI hall with an open ceiling structure has become a complex, constantly changing conglomerate of working areas, break-off units and work capsules.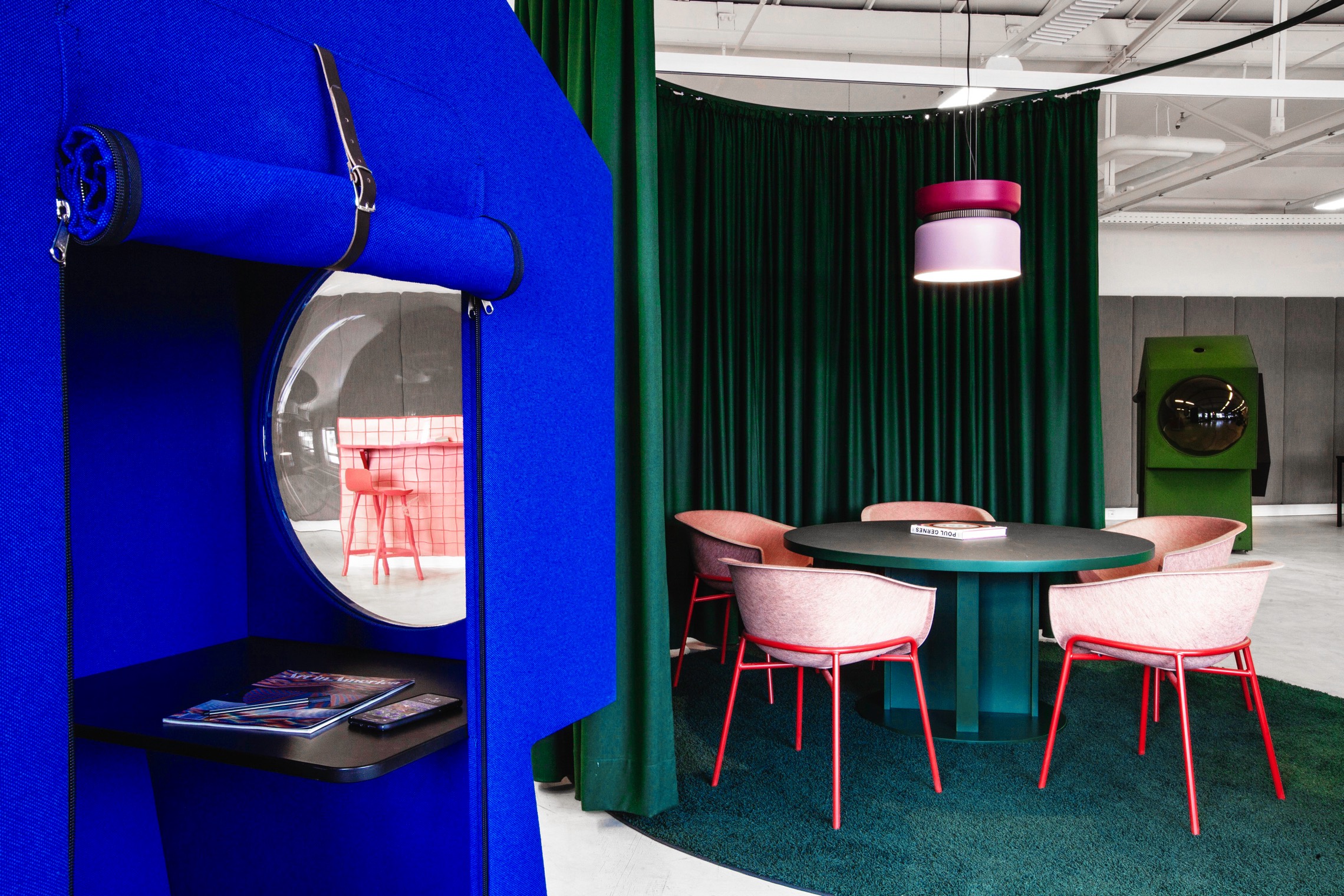 The cycle of a sustainable production and lifestyle is seen less as an urgent necessity than as an opportunity, recycling and upcycling not only as a daily office routine, but as a design impulse. Striking fabric curtains, transparent folding screens, materials and colors moderating the transition between the different working areas.
Sitting at ones desk or standing at a high table, debating the most recent project at a round table or thinking through an inspiring design, secluded in the work capsule that shields all noise from outside - flexible and open, the room adapts to the respective needs, creating space for playful creativity, for that dance of mind and body that is needed to gain new ideas.
Learn more about LOQI here: www.loqi.eu
Work Philosophy of STUDIO AISSLINGER
Creative work philosophy
With its unique symbiosis of storytelling, narrative architecture and collage principles STUDIO AISSLINGER counts among the trend-setters in "spatial design". Additionally, however, we are also pursueing new paradigms to guide our design practice; "experience architecture" and "instagramable spaces" have become conceptual centerpieces to our design projects.
Collage
Design goes beyond form. It is about the constitution of space, of atmospheres. Today, neither stylish minimalism nor the uniform appearance of modular-schematic interior design can be the goal. The urban nomad wants to experience design as patchwork and a cabinet of wonders emerging from his own biography. Thus, the future challenge will be to create no universal style but friendly, daily-life objects fitting the collage that our lives are. Not the minute detail by itself but its behavior within a complex whole will be important. Colors will experience a renaissance and the designer has to learn again how to combine them virtuosically.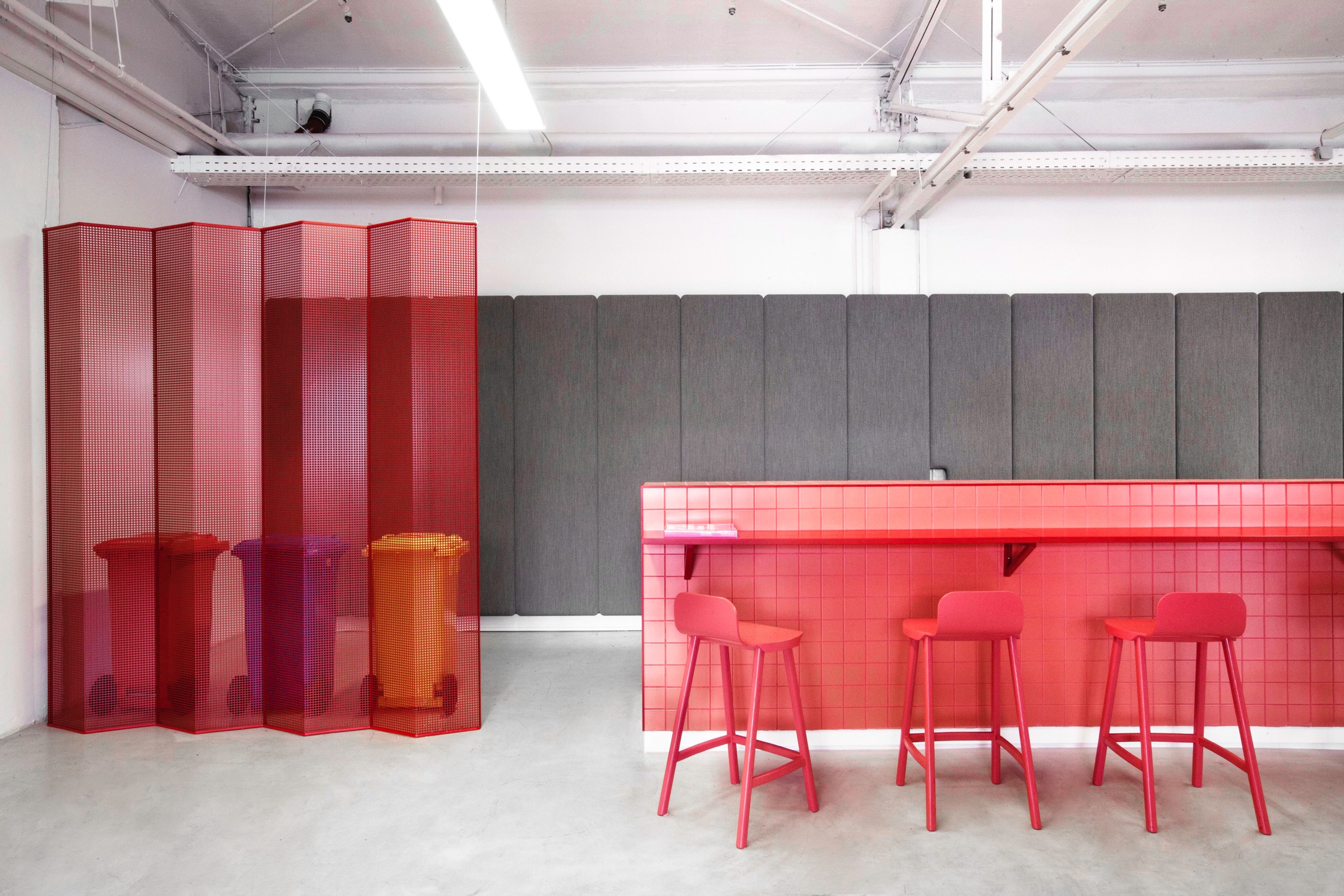 In this sense, STUDIO AISSLINGER conceives of the designer as a DJ, sampling material from different sources; he does no longer aim for the homogenous "total look", but instead wants to surprise with a collage of things. As our daily life, as the world itself is a conglomerate of most different elements, STUDIO AISSLINGER does not sight a monochrome, all-encompassing style, but a mixture of vintage, fleamarket, classics and archetypical new design; the result is a grown mishmash, turning the heterogeneity of different parts into a vibrant and inspiring atmosphere.
Storytelling
Over the last decades, narrative qualities of products and spaces have gained in importance. Today, no object or architecture project is able to survive without an intriguing story. Why? Sheer functionality, which for decades served as the designers's only guideline ("form follows function"), has become insufficient. Although not simply wrong and dispensable, in times of digitalisation it does no longer satisfy visitors, clients, users. A growing need to know more about the product's origin, the working conditions, under which it is produced, its CO2 footprint or the power balance of the whole building wants to be met. But even beyond these rather technical information emotional links to the material item get more and more into the center of attention. Social media make their users search an imaginative, personal contact with the analog object or space, a personal contact he misses in his digitalized quotidian life. "Storytelling" can turn the antiseptic product into an object with biography, into an authentic, self-confident item, made of sustainable material in regional manufacture.
Designer as "DJ and Curator"
As DJ, conductor or curator in a world of things, the designer has to link the diverse dynamics and energies, the objects' different stories without simply eliminating disparity. Conceptually ambitious "spatial design" lives of its different inspirations and its artistic diversity. The integration of art, Art Buying, media installations, robotics, materials research, fashion or styling transforms the designer's role within a project from that of a 'mastermind' to that of a DJ, conductor or curator in a larger creative team. The formerly silent draftsman or architect more and more turns into a moderator or regisseur of an unconventional "creative crowd" producing symbiotically a new kind of design quality.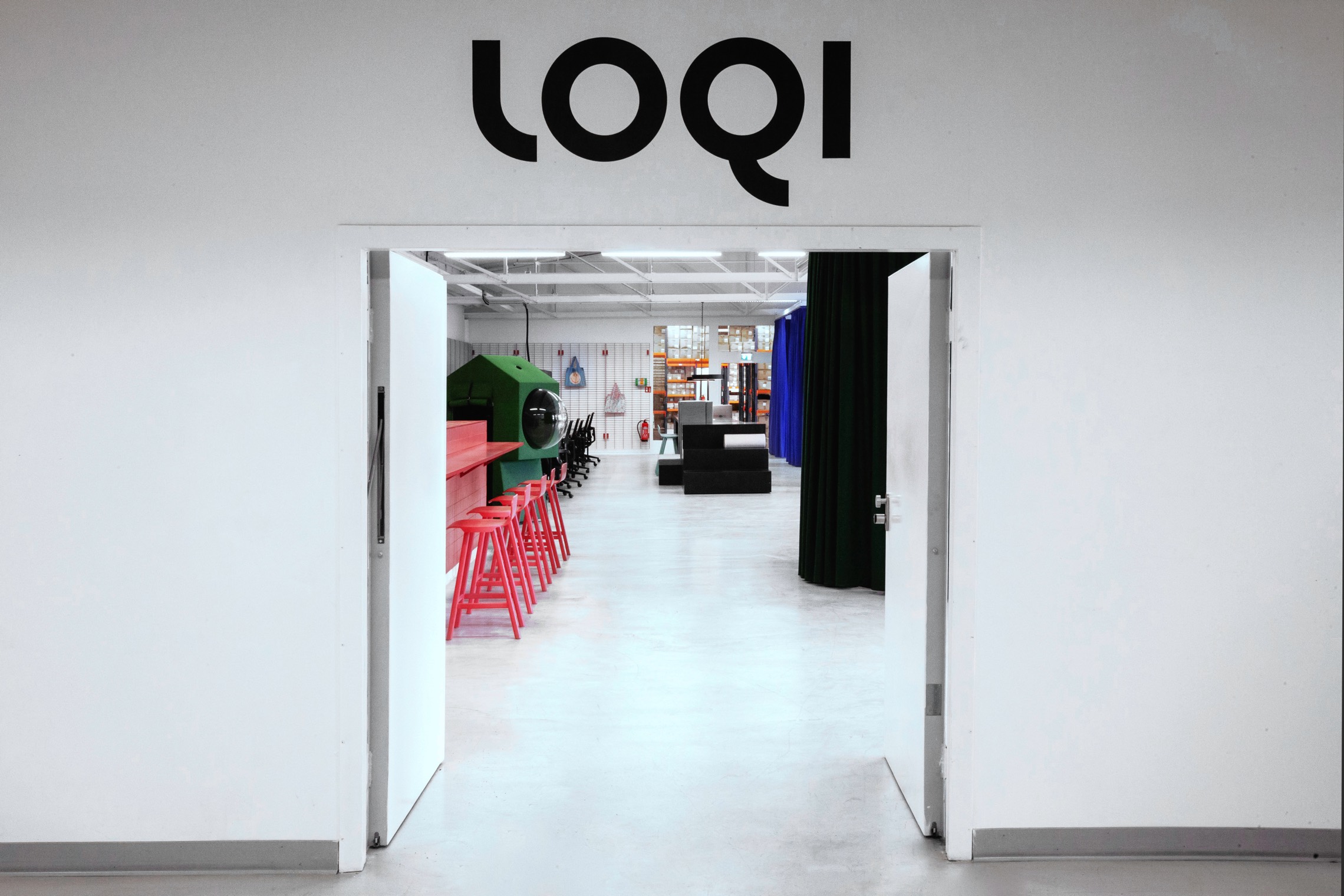 Experience Architecture
Digitalization has made it easy to order things online, to stay at home and completely lose touch with the real world. Public areas, hotels, restaurants, concept stores, shopping malls have to reinvent themselves and turn the visit of their respective location into an unforgettable experience. Against the tendency to marginalize the analog STUDIO AISSLINGER creates spaces, in which it unpretentiously unites with digital technologies. Seeming conceptual dichotomies like analog/digital, global/local, factual/narrative, general/individual as well as industrial production and manufacture manifest themselves as complementary rather than oppositional and can be melded into a new symbiosis. That way STUDIO AISSLINGER designs spaces that don't deny the opportunities of digitalization and yet secure the possibility of true sociability through their analog, haptic and visual quality.
"Instagramable spaces"
Despite the rehabilitation of the analog, STUDIO AISSLINGER also unfolds the digital possibilities of contemporary design. Today, architectures and spaces have to be compatible with social media to satisfy the needs of a permanently online generation. "Instagramable design" indicates the conceptual integration of instagram-suitable visual structures and perspectives into the project's overall story. Designer and architect adapt the vision of cameramen: how is it possible to stage spaces in a way that allows interesting images and sets to emerge?