The light of the internet
Founded in Sweden in 1999 in the midst of the digital revolution, the agile company Netlight has been developing solutions for the pioneers of the Internet ever since. Netlight helps executives in the digital economy succeed. Today, Netlight has over 1,200 consultants in Stockholm, Oslo, Helsinki, Copenhagen, Munich, Hamburg, Berlin, Frankfurt and Zurich. Netlight implements new solutions for media, gaming, e-commerce, finance and the IoT (Internet of Things).
The corporate culture of Netlight based on a comprehensive knowledge exchange and the passion to learn from each other. This cross-border exchange is the source of their success. Customers not only benefit from the skills of their consultants, but also from the input of a worldwide network of professionals.
The process of collective, on-going knowledge transfer is referred to as "Edge" at Netlight.
"Edge" takes place at lunch between colleagues, at conferences, on big stages, in offices, on the phone, in online chatboxes, at breakfast or even at dinner. "Edge" includes all "netlighters" and their customers.
Netlight is a value-oriented company. The personal values of each individual drive the company forward.
Basic values such as equality, participation and diversity are required so that all employees can contribute to the corporate culture. Netlight believes in principle that all employees in the company are the same.
The Netlight horse, which is in life size at each location, symbolizes the symbiosis of horse and rider compared to the bilateral relationship between the Netlight consultant and his client.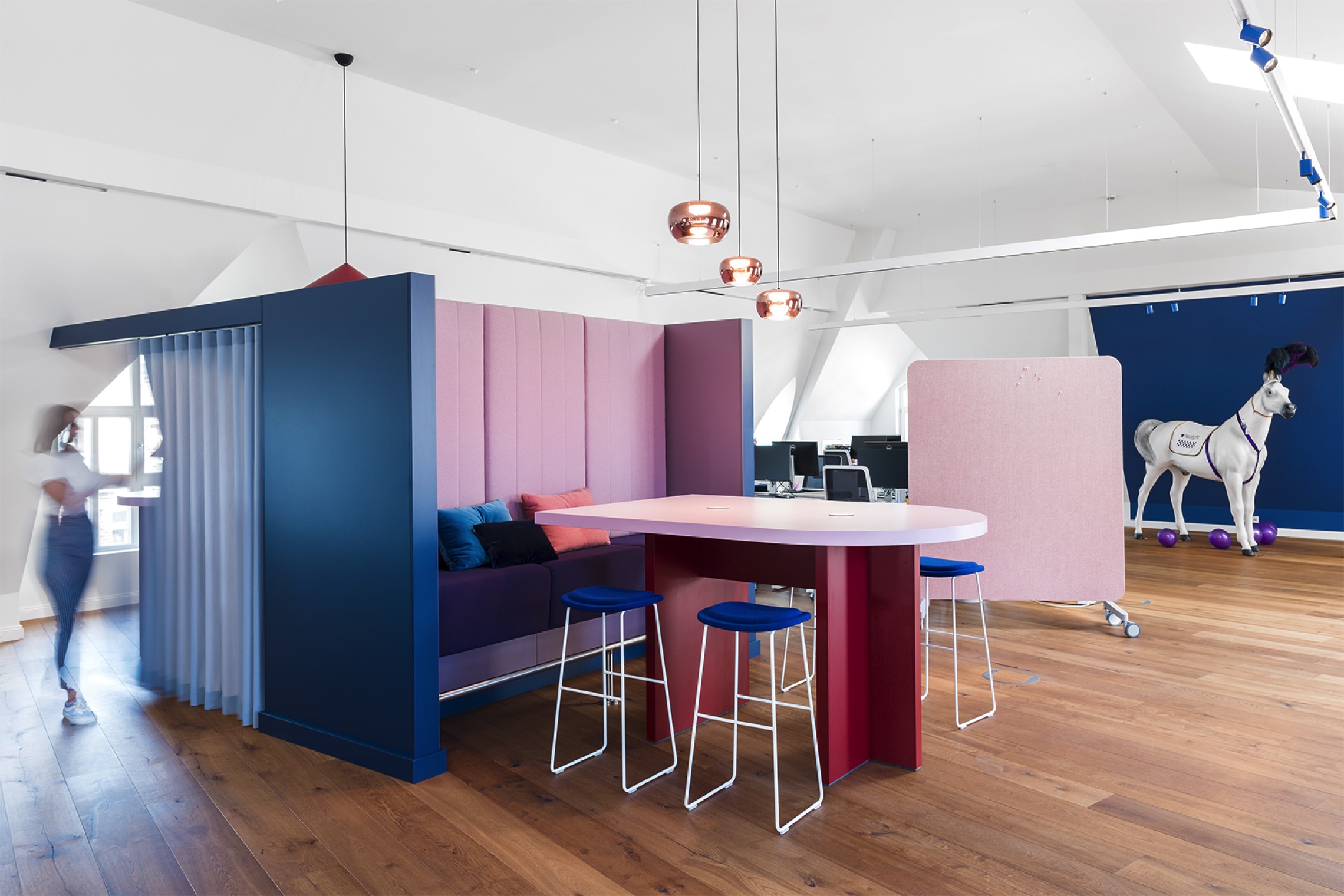 As part of the move to the new office location in Hamburg's old town, (address: Trostbrücke 1), in the summer of 2019, the company Netlight moved into a renovated top floor area of approx. 700 sqm in an old merchant's house. The planning task was to create a "hub" of encounter and exchange to promote and spatially represent the company's "EDGE" culture.
Harmonious color combinations create a pleasant overall atmosphere that sets itself apart from the classic office ambience. The furniture is completely designed for an agile way of working, so that there are numerous flexibly configurable working zones that can be quickly adapted to the respective tasks or requirements.
The rapid growth of the Hamburg location was also taken into account in the planning.
The diverse work opportunities are places of communication and knowledge transfer in the team and are considered by Netlight to be far more productive than a mere number of personally assigned work desks.
The lighting is based on the architecture and is thus integrated independently of the furniture. This makes the use of furniture more independent - Whether party, conference or everyday bench use - The rooms can "breathe" and change according to demand. They do not stand in the way of future development but promote it in a positive way.