The first large-scale sneeze and cough guards surprised many of us at the supermarket checkout. Several sales staff had "fenced in" their workplace with several layers of cling film in order to meet the required hygiene standards. It was a simple, yet depressing solution. Now, similar safety barriers can be seen everywhere: in the shape of plexiglass panels hanging from the ceiling, or counter tops made of acrylic. They are undoubtedly important and offer good protection against infection. Unfortunately, they also exude the sterile and oppressive charm of a quarantine unit. But now, a more colourful and far better alternative has arrived from Australia!
Some products are so simple, and at the same time so well thought-out, that they just make you go "wow". You see them and suddenly everything literally clicks into place. All the pieces of the jigsaw fit together and you have the perfect solution to a fundamental problem. In this case it is a simple, elegant and multifunctional airborne droplet protection kit, conceived by the renowned designer Zahava Elenberg. In search of a practical and aesthetically pleasing Covid desk protector for her office, she drew inspiration from the classic children's construction toy Playplax, which uses interlocking squares.
Each Clikclax kit consists of 16 parts that can be easily assembled without tools. The colorful, transparent and interlocking elements are effortlessly connected in all sorts of different combinations, while being securely held together by the built-in notches. The modular system allows a great deal of design freedom: from the construction of simple partitions to all-round protection with built-in shelves. If you don't like what you've built, you can rebuild your Clikclax construction in a matter of minutes.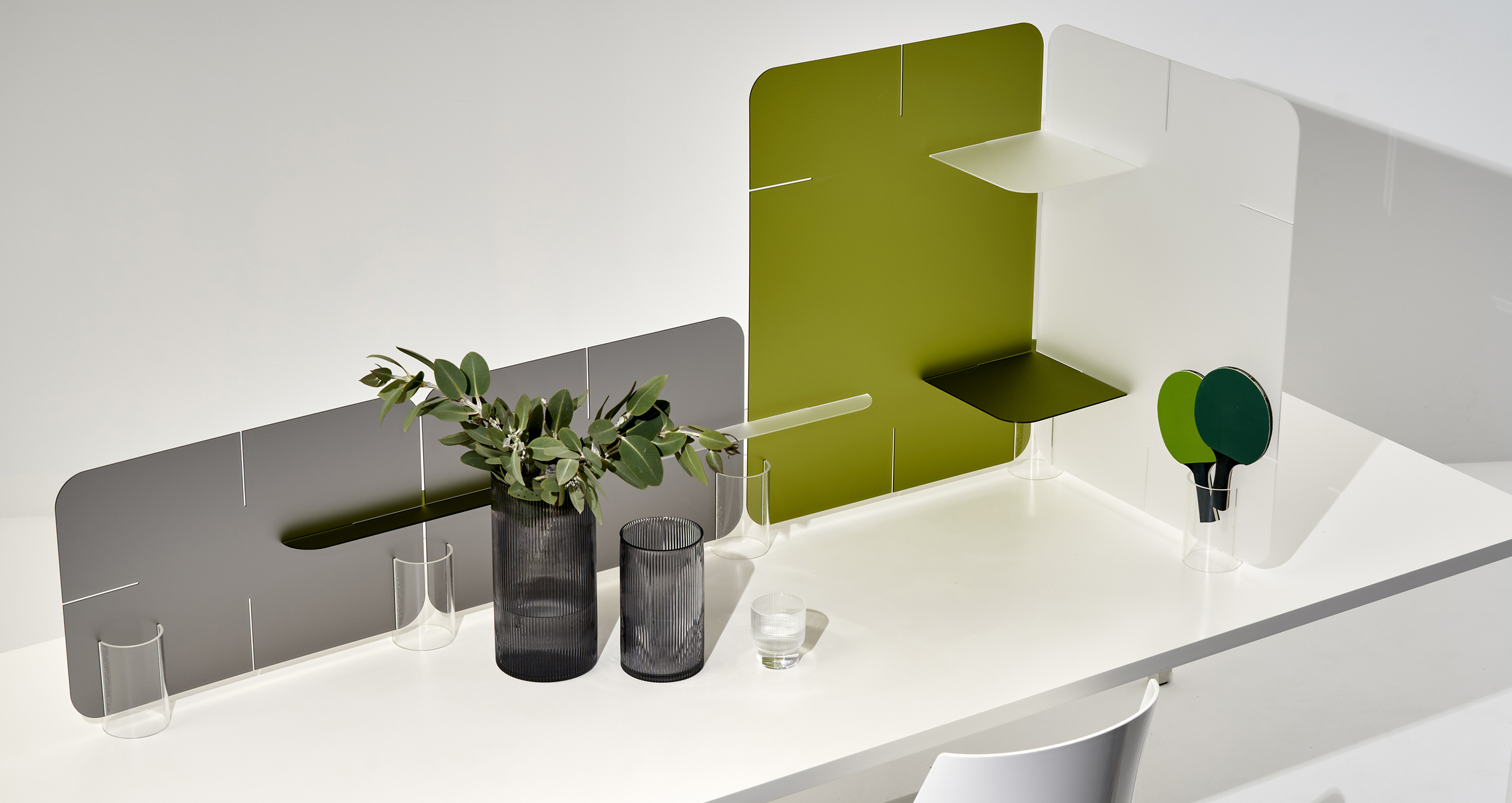 And the best thing about it? Well, it's robust, but flexible, transparent yet brightly coloured, compact while providing extensive protection, as well as being practical and creative. Put simply, building with Clikclax means that your imagination knows no bounds.
In return you get a stylish and safe sneeze and cough guard to ensure you can work safely and hygienically. What is more, you can create your own mix of subtle and inspiring colour tones, too. Here are the sets from the Clikclax Collection, to add a touch of colour and creative inspiration to your office:
Our conclusion
If you want flexible and reliable corona protection in the office, you don't have to stick to ugly run-of-the-mill solutions. Bring a touch more style, innovation and colour into the office. Clikclax lets you put your heads together again without getting infected, or being suffocated by dreariness.