The breakneck pace of technological change is unstoppable. It's a natural law as reliable and banal as the expectation that ice cream melts, beards grow and that printers are guaranteed to start acting up when we need them most.
Innovation permeates almost every aspect of our lives in a way we often take for granted. But there are exceptions, like the design concepts for the place where we spend the most time (disregarding sleep): Our place of work.
Despite the computers standing around on tabletops, offices are a place where time seems to have stood still. Desks, chairs, filing cabinets, telephones. Single rooms or open plan. Between six and ten hours a day. For everything and anything.

A Calling Card
It's now widely accepted that the atmosphere and architecture of our workspaces influences our productivity. The pace of change has been slow, yet an organization's offices speak volumes about its philosophy, values, attitudes to people and its ability to successfully deal with future challenges. Our offices, hallways, lobbies and meeting rooms speak openly to three groups that every company needs to convince of its strengths: The employees, on whose commitment and ideas everything depends; the creative and motivated talents all good companies want to attract; and, of course, the customer.
Companies that want the best, happiest and most motivated employees are well advised to critically question how their work environment is designed and styled. The demands made of us in today's workplace are too diverse for the standard few square feet of office space. For many employees, it's essential to feel creative in how they communicate with others. But so is having a place to escape to, a place of quiet concentration. Or intimate spaces that provide the ideal backdrop for those critical meetings and conversations. It's virtually impossible for one place to provide for these multi-faceted demands.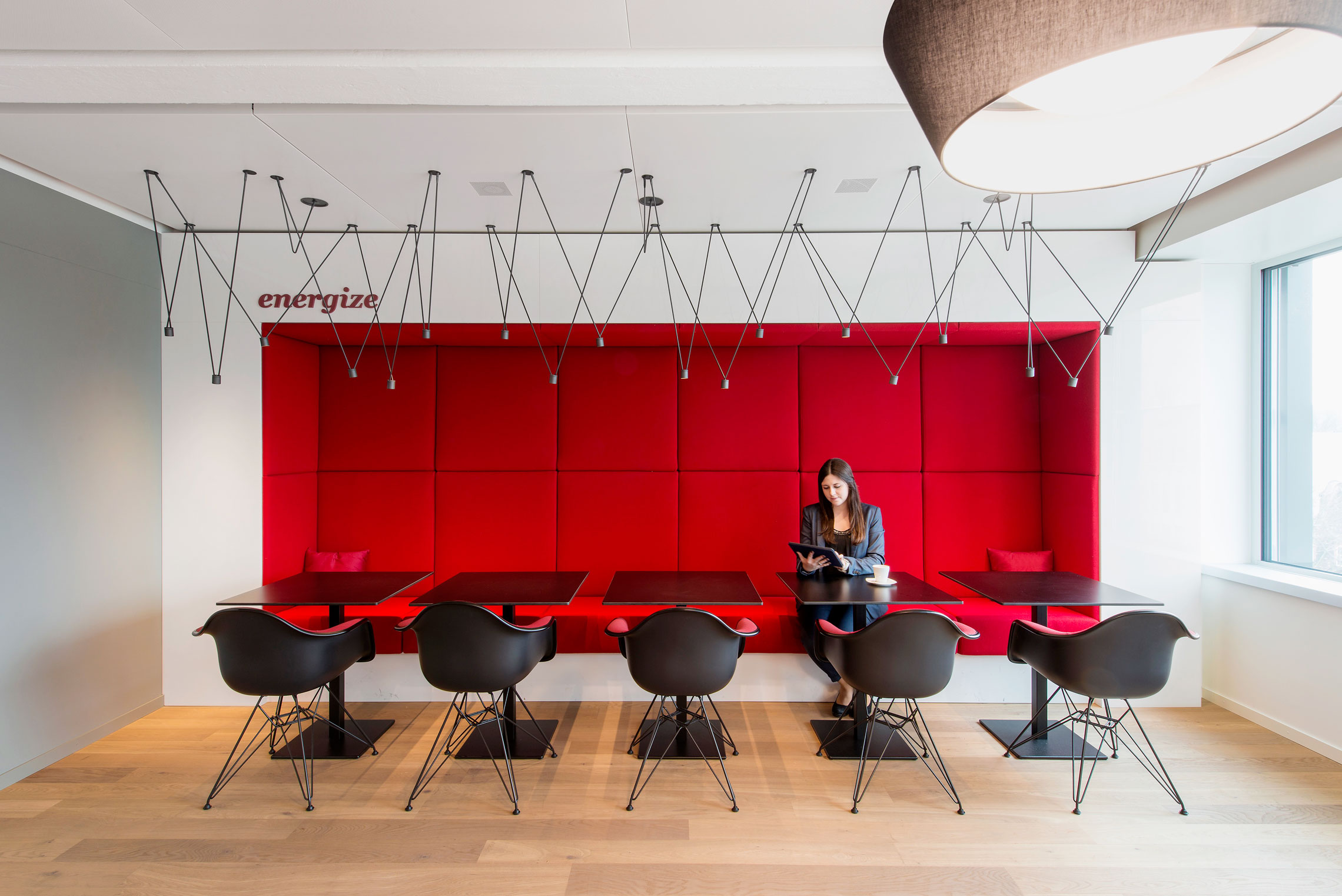 Mild Tortures
In 2016, researchers at the Mayo Clinic in Rochester, Minnesota constructed a "Well Living Lab" to examine the relationship between the quality and pace of employees' work on the one hand and the workplace atmosphere on the other. The results showed that the latter often has a serious impact on the former.
The "Well Living Lab" is a new breed of high-tech office simulator. With the push of a few buttons, scientists can manipulate workspace conditions and measure the impact on the test subjects' productivity and performance. The parameters extend far beyond room temperature and lighting, and include aspects such as background noise. Speakers built into the ceilings play sounds such as telephones ringing or the tapping of keys on computer keyboards. In one example, a male voice repeating the word "patient archive" over and over was found to have an effect on some test subjects similar to some milder forms of torture. The Mayo Clinic results corroborate the work of many other industrial and workplace psychologists. The ideal office consists of eight different zones, each providing for one aspect of our working environment.

Home Base and Touchdown
The home base, or quiet area, is closest to the classic "chair and desk" concept, just without the background noise. This is a place where you can fully concentrate on your work, write that important email, develop concepts and ideas, take planning for that crucial process one step further.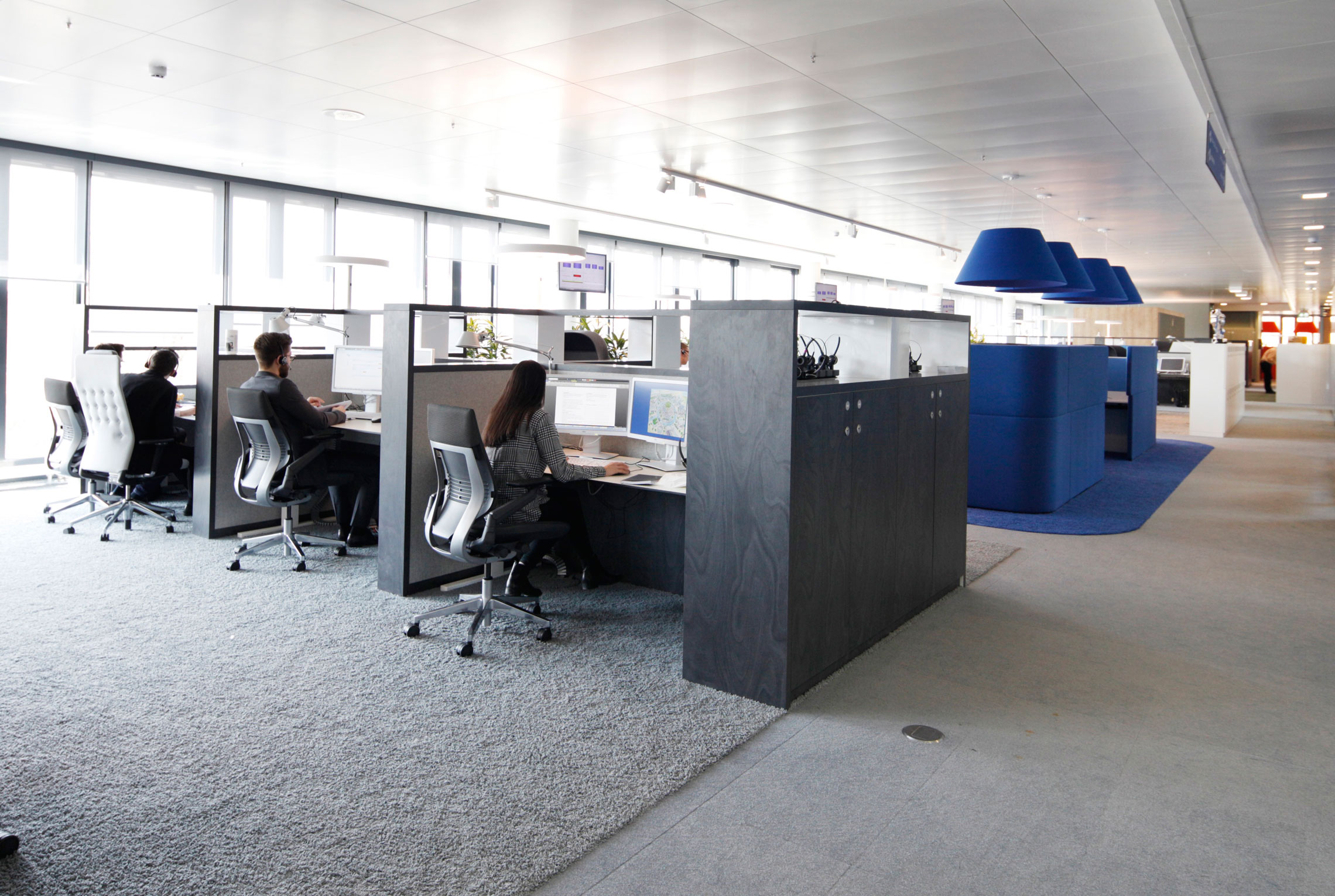 When you sit here, you can be sure that you won't be interrupted. Focused on communication, the open plan area is a cousin of the home base area. Sitting down here says, "Yes, I'm working, but feel free to talk to me." With an open and inviting design, this area is ideal for productive teamwork for groups of two or three. If more team members are involved, a meeting room featuring a long, central table provides the best solution. For presentations or training sessions, the ideal venue is an assembly room, the next step up in room size. Rather than dotted around the open plan area, equipment such as printers, shredders and copy machines or stores for work materials should be collated in a resource room. Studies have shown that this strategy not only means that equipment is used more efficiently and reduces materials wastage but also keeps the distractions caused by ephemeral "photocopier chat" to a minimum. Small talk, of course, is valuable in group dynamics processes, if those involved have some spare time and want to engage with each other. But if someone can't avoid their chat just because he or she happens to sit next near the photocopier, it can make for an uncomfortable situation. That's where the open break-out area comes into its own. It's the perfect place for some informal chat with some coffee in your favorite cup or a snack from that new delivery service that's opened nearby. The touchdown zone is ideal for colleagues who don't come in to the office often and just want to catch up on their emails or prepare for a meeting.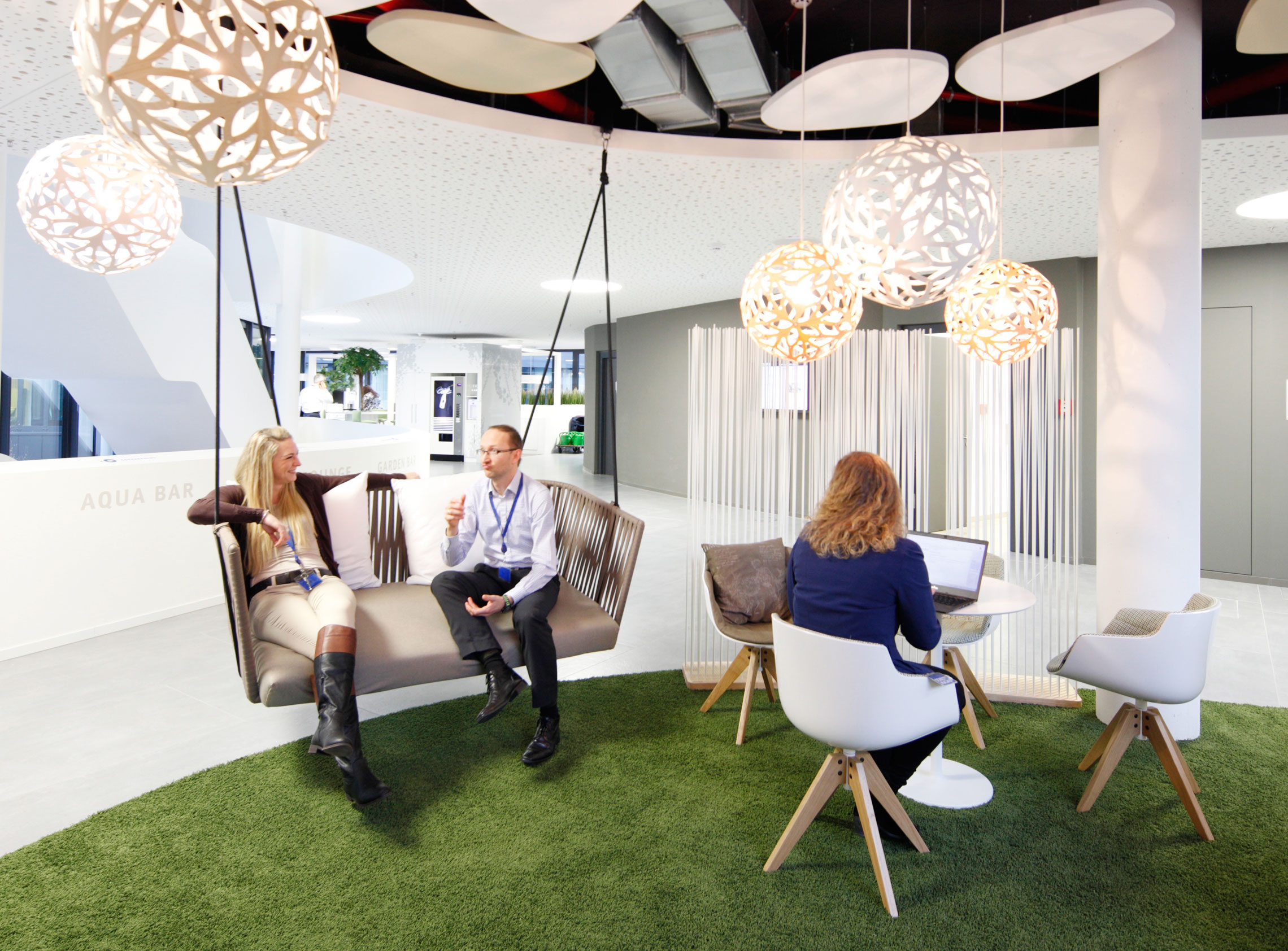 Confidential Talk
The best place for a confidential phone call or an important one-on-one meeting is the so-called refuge area. These places of shelter are often equipped with mobile and flexible furniture, a white board that's integrated into the wall and a computer screen. They can also be enclosed by glass walls that give the impression of a generously proportioned telephone cubicle, emphasizing the intimate and confidential character of this area (older generations will remember those). It's the place to go for important business meetings or a discrete conversation with your bank manager about your overdraft.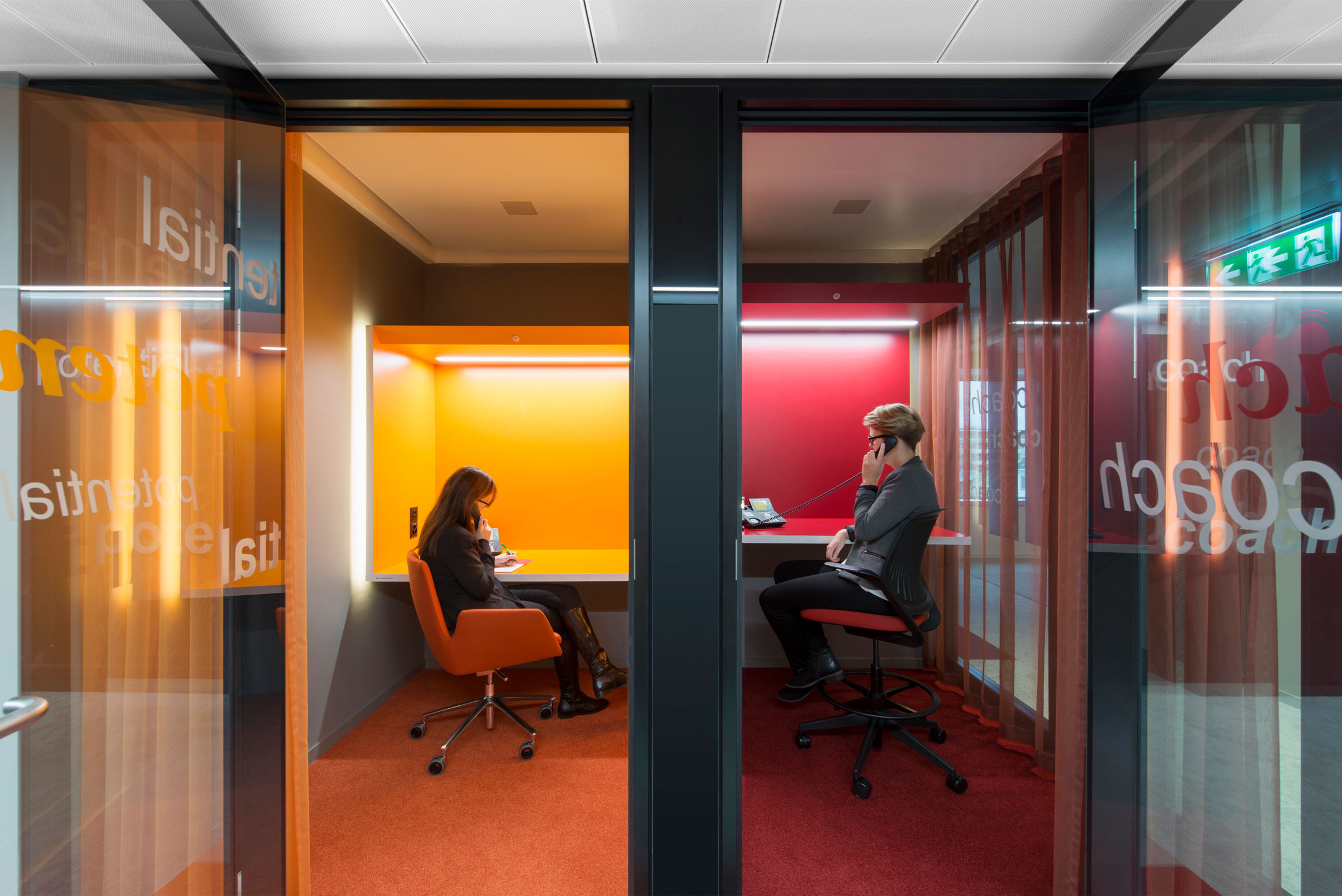 Experts are also unanimous about the importance of another other area that all offices have: corridors. In the office world, where tasks tend to be static, there's nothing better than a bit of movement now and again to stretch one's legs. Walking around or going up a few steps is a great way to reactivate your body and focus anew on the task at hand. What if your office space is too small? The following advice wasn't provided by scientists at the Mayo Clinic. It's ours (although we can't make any guarantees). Try giving the delivery guy a break and getting your own. Or – and this might also qualify as a special form of team-building exercise – pull the fire alarm.

The eight office zones – An overview
Home Base: Quiet area for concentrated, focused working
Open Plan: Open workspace supporting communication
Meeting Room: Conferencing, workshops and training sessions
Break-out Area: Informal working, break time and chat
Touchdown: A zone for spontaneous, flexible working
Refuge Area: A sanctuary for confidential conversations
Resource Room: Equipment and stores
Inter-zone Corridors: Reactivate and focus body and mind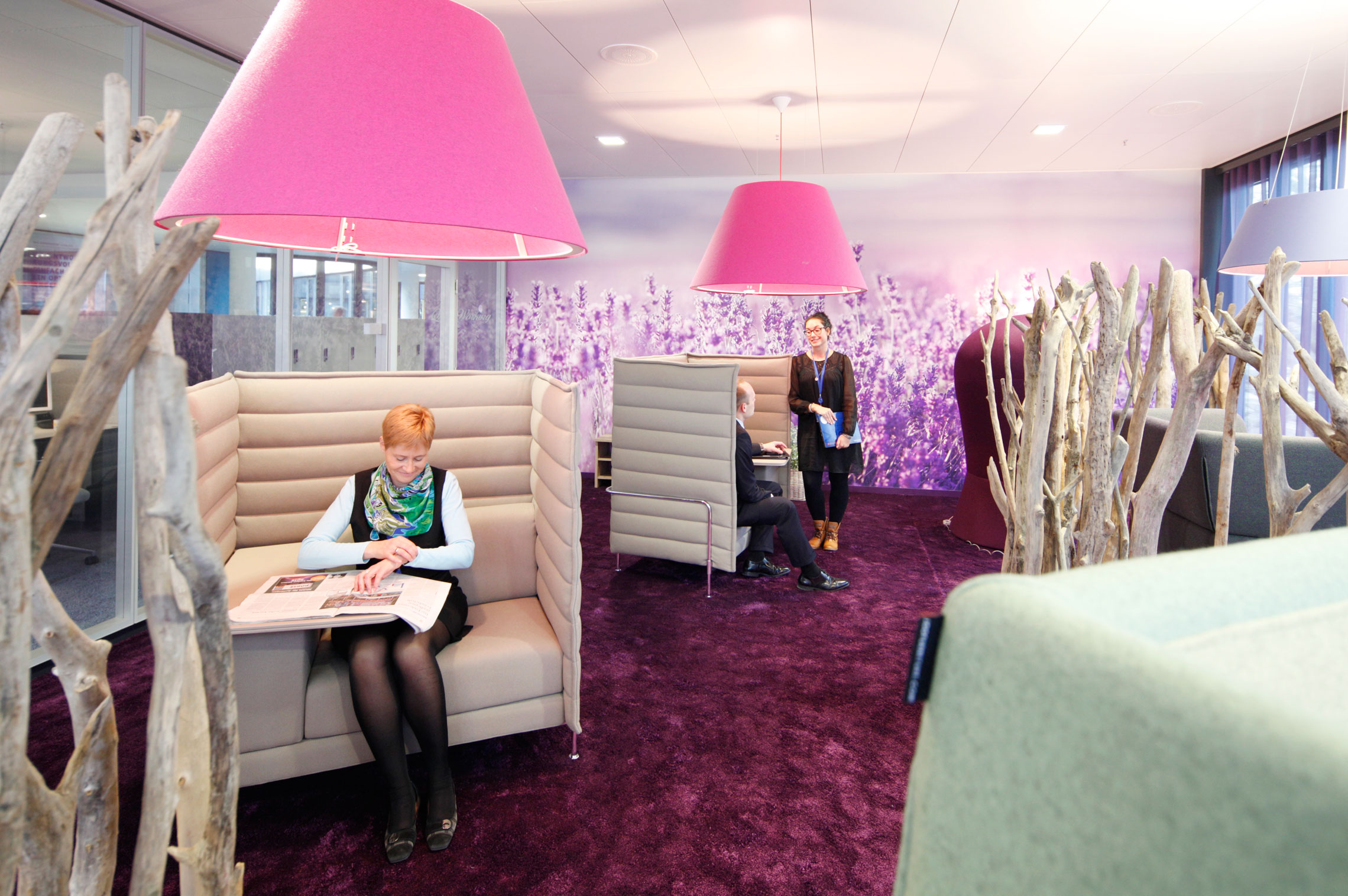 Header photo: PWC, Basel (design: evolutiondesign, photo: Peter Würmli)
Author: Jonas Demel
© Office Inspiration
For commercial re-publishing please contact office@officeinspiration.com