Workplace design in times of Covid 19
Surely none of us could have imagined at the beginning of the year how comprehensively our lives would change in a matter of weeks. The pandemic has made deep incisions into our collective daily life and it has long since been clear that we won't see the like of those Christmas parties in far-off December again for some time to come. Similarly, our working life won't be the same again for some considerable time yet. The question now is: how will workplace design change to adapt to the current and post-Corona world, and which of those changes will stand the test of time? We put these questions to a number of the most prominent designers and interior designers in Germany and worldwide. We're now publishing their answers to these questions in our series "Workplace design in times of Corona".
"Turbulent: that's how I would sum up the past few weeks for us and I think that's exactly how many people felt. First of all, things had to be reorganised and there were several short-term question marks and challenges to be cleared up. We've used this time very productively and digitalised several consulting and planning services and integrated them into our processes.
Many of our customers are now faced with the fundamental question regarding the outlook for work and office organisation in the medium to long term, as well as what the appropriate strategy is in terms of usage of space. There's a sense of optimism in the air. If there's one thing that the last few weeks have clearly shown us, it's that we can work extremely well beyond the traditional frameworks laid out. And it is precisely this fact that offers us enormous scope, both entrepreneurially, as well as structurally.
Don't believe in sweeping statements
We have clustered current trends into several scenarios to map out a more precise view of the future. These scenarios range from:
"continuing as before with an increased proportion of time spent working from home"

to

"a sharp rise in the proportion of time spent working from home leading to the leasing of office space"

to

"New work making the infrastructure and people more resilient"
The latter scenario depicts what we consider to be the most worthwhile, as well as wide-ranging future scenario. I don't think much of blanket statements such as "20% of office spaces will no longer be needed", even though this assumption may well be true and has the same implications as scenario 3.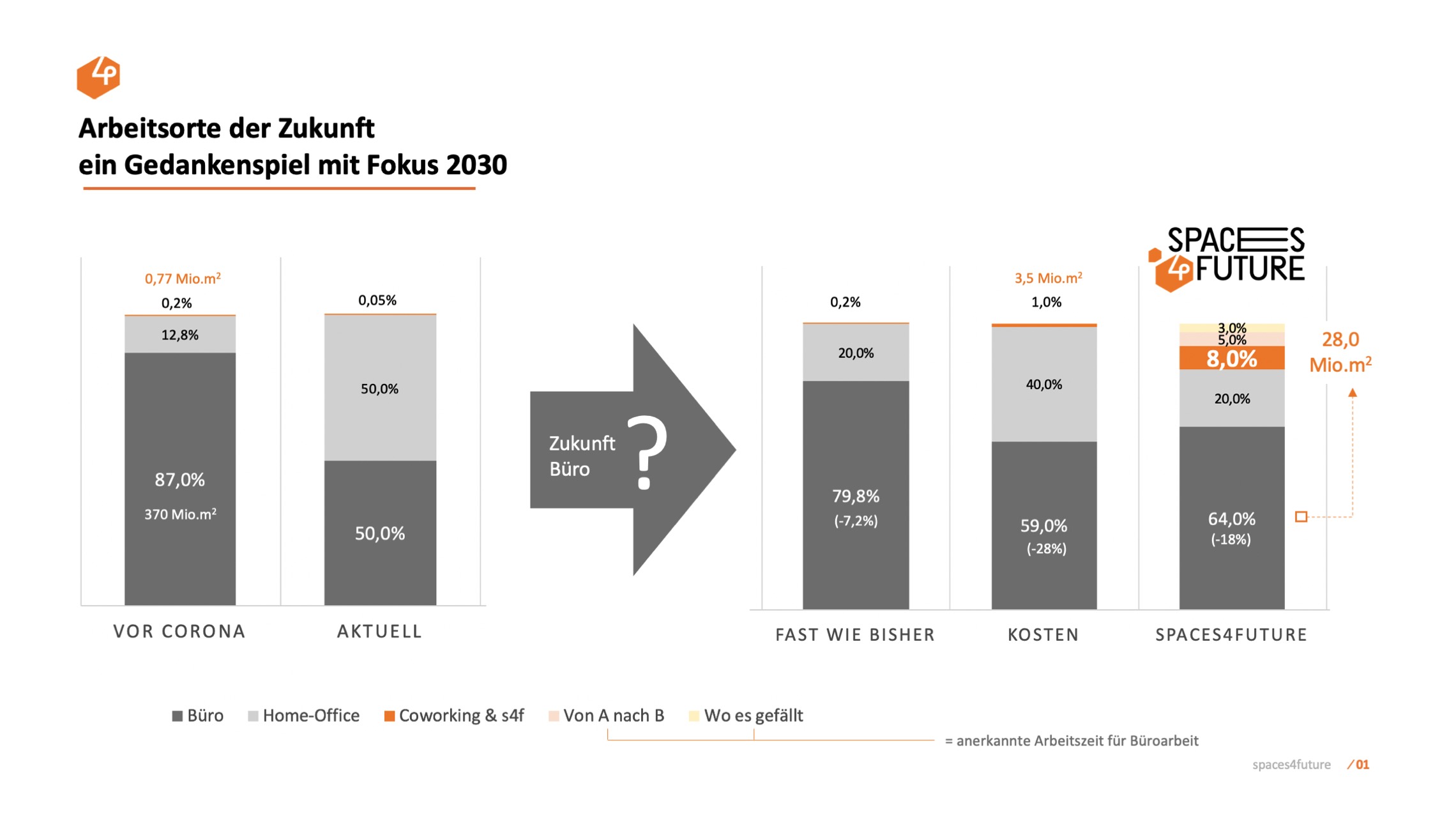 My motto, on the other hand, is develop your own scenario! Structural guidelines, such as the right to work from home which was already discussed before Corona, and the hygiene regulations which are now in force, will certainly be influential in the decision-making process. What is also certain, however, is that we are still testing the waters at the moment and that future scenarios will come in many shapes and sizes.
As a general principle, we should operate on two levels: the workplace design in the company and, at a higher level, the place of work, in order to examine it separately.
Why not mutual coworking?
Outside our own organisation, we should continue to tap into the potential of alternative places of work, so that we don't only focus on solutions revolving around working from home. What happens when friendly organisations set aside areas for mutual coworking? Or if the one-time community centre is also used as a work community hub? We can separate out groups of people, but also entire conurbations, solve traffic problems and master demographic challenges in favour of work-life and ecology.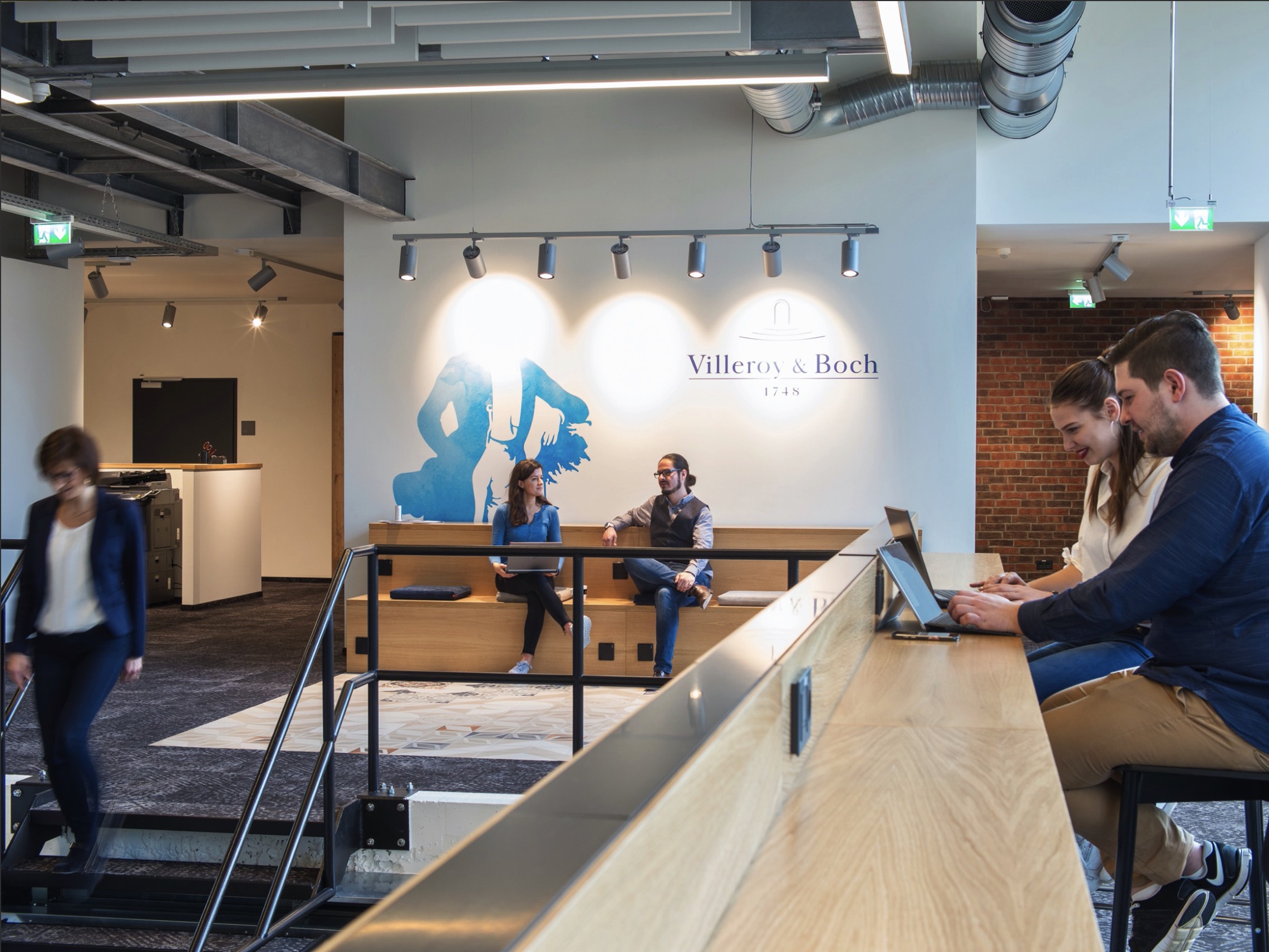 In October 2019 (well before Corona) we launched spaces4future.de, an initiative designed to drive precisely these ideas forward. I would go so far as to say that we will be able to bring about long-needed structural changes.
Areas which are clear and easy to understand are becoming more important
Key for me are areas within the organisation which are clear and easy to understand, as well as extremely flexible. This is not a new trend, but one which is being spurred on by the current situation. Let me give you a few examples: a wall or floor covering is no longer just a design element, but can also provide a clear sense of direction: where can I find which area? Or how far does the social distancing radius extend around my workplace? In short, I can enter a room and immediately find my way around.
Currently, the transparent protective hygiene panels we know from supermarket checkouts, are in great demand. But what happens when we no longer need them in "healthy times"? I consider flexible solutions which think one step further to be more in keeping with the times; the protective panel can easily be converted into a whiteboard, for instance. The Mobeti label follows exactly this idea, for instance.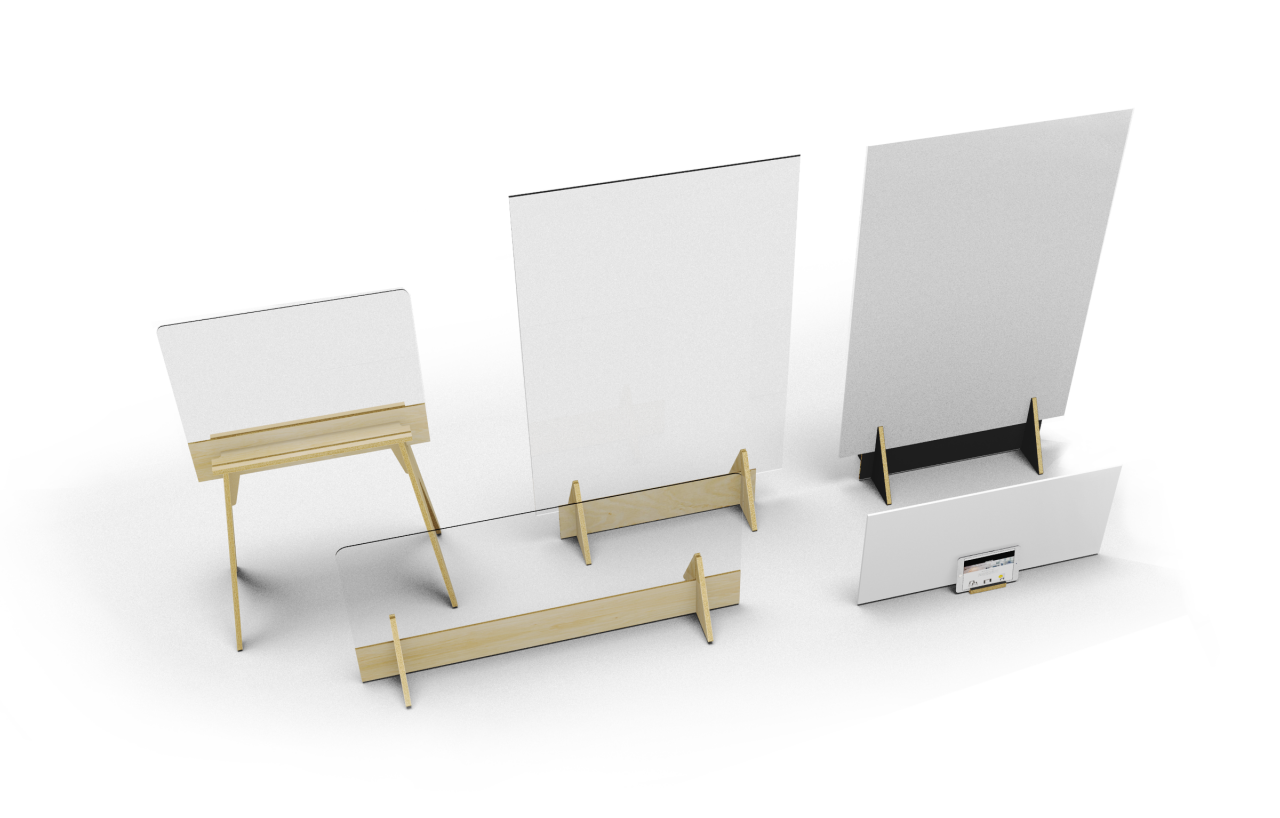 The level of digitalisation will increase
We should fundamentally ask ourselves the question as to what the correct layout is: open vs. closed, defined space allocation per workstation, and whether non-territorial concepts are suitable for me, for instance. In this context, the "open space as magic bullet" is another blanket approach that I do not agree with.
The requirements for this are too difficult: virtual collaboration increases when more staff are working from home. For this we need spatial and technical solutions to maintain quality and acoustics, especially in open structures. We are also currently experiencing a massive increase in the level of digitalisation, with the result being less storage space. One consequence could be the size of tables used; from smaller tables for increasingly temporary work, up to larger tables due to the need for oversized screens, as well as the use of partitions for separation. Gestures and voice command software may increase in the medium term in order to reduce virus transmission via keyboards, mouse devices and door handles. This will also have an impact on office concepts.
From a property management perspective, the "office" asset class will change. The building of new and converted structures, as well as the consideration of the aforementioned assumptions, will lead to offices and office districts becoming more diverse, with monofunctional office complexes dying out.
One thing is certain: the future of work has never been more exciting and challenging. While looking forward to this, I also treat the responsibility that comes with it with respect. On that note: happy working!"
Sven Iserloth & Bernd Fels, managing directors if5
if5 Design, Hanover, May 2020
Editing: Jonas Demel