An office landscape made for movies and series
Form4 Architecture created the design for Netflix to exude warm modernism at a human scale. Two buildings, totaling 22.390 square meters, are connected by a slender bridge located mid-air allowing for a free flow from building to building. The interior design blurs the distinction between work and social areas. Several types of distinct spaces were created through the use of dividers, furniture groupings, and architectural elements. Warm colors and varied textures impart a residential vibe. The overall design creates a relaxed and collaborative workspace.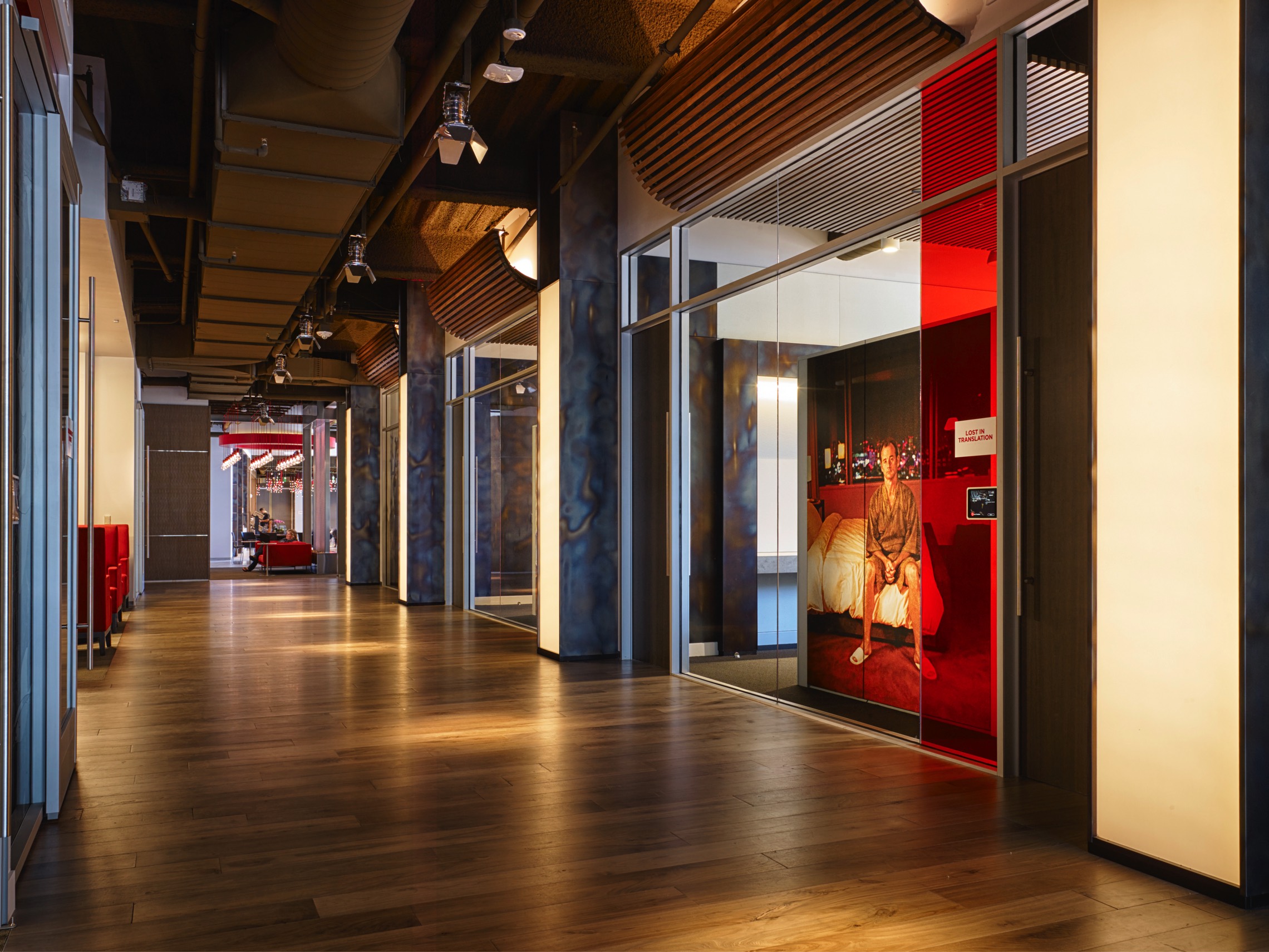 The architecture tastefully showcases what building technology can do to convey beauty in the world of tectonics. Layering, extrusion, and interlocking of volumes are three prime design techniques adopted to let natural light reveal the architecture to its full form. The buildings are designed to be delicate and genteel, with a seamless relationship to light and nature. The tripartite façade has the imaginative interplay of aluminum fins, deep overhangs, and silver metal panels. The punched openings carved against the terracotta colored pre-cast panels ingeniously intertwine with the modern curtain wall system.
The interiors throughout focus on the movement and connection of collaborative spaces. The double- height lobby attracts visitors with glowing light and an array of natural materials, from stone floors to wood ceilings, to hand-flamed steel panels. At the center is the first-floor cafeteria, the main social space, which offers several seating options, including communal tables made of rough-hewn wood planks and more-intimate booths. Various ceiling textures—wooden slats, glowing white acoustical fabric, and hanging red lights—delineate different gathering spaces. The cafeteria pours out into a secure landscaped courtyard between the buildings.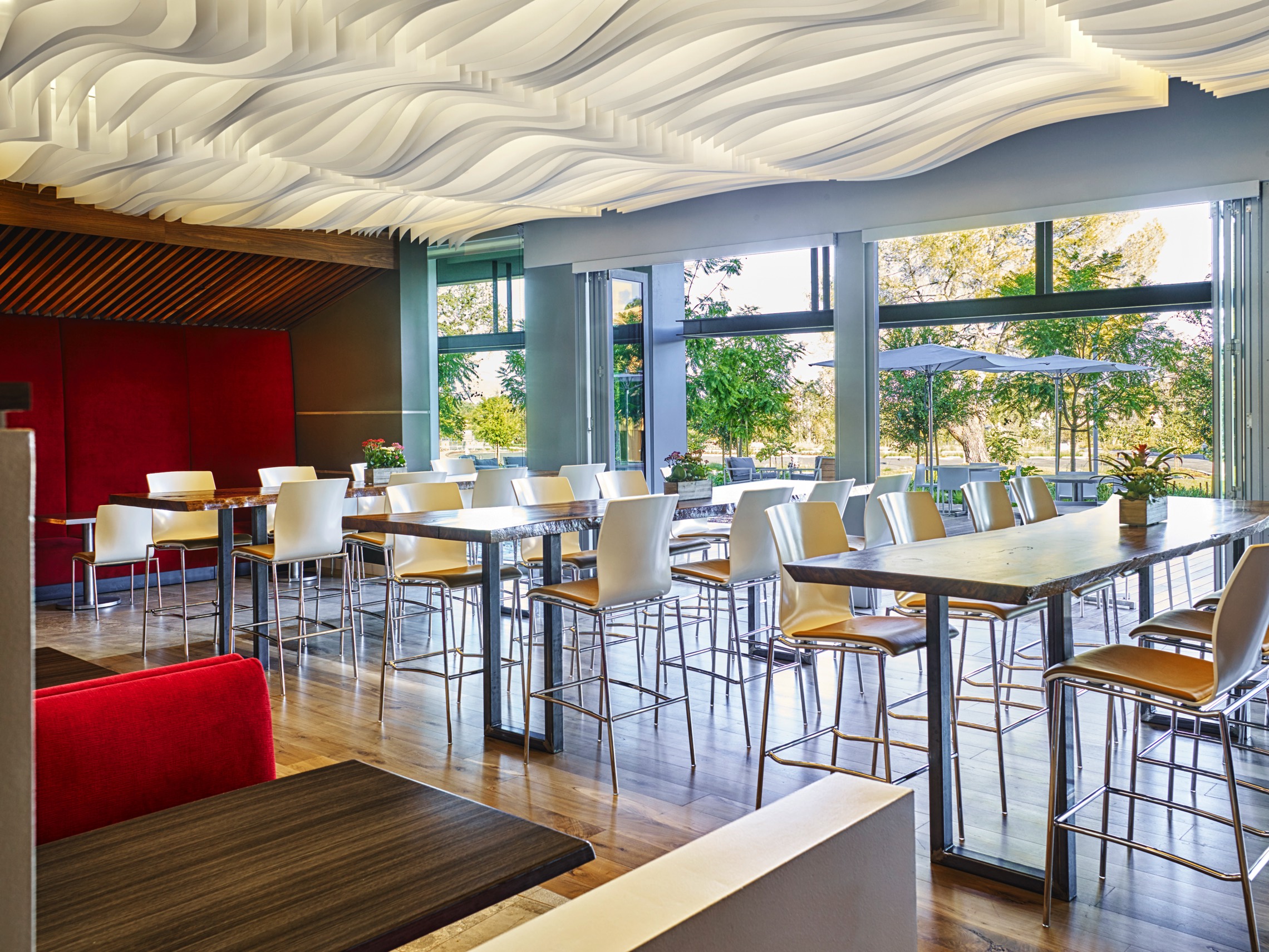 Workspaces are open and light filled with a series of small meeting rooms playfully named after popular movies. Supergraphics on the glass walls carry on the specific movie theme while artfully lending some visual privacy to the fish-bowl rooms. A primary palette of blue, yellow, and red activates the space, contrasting well with natural wood accents.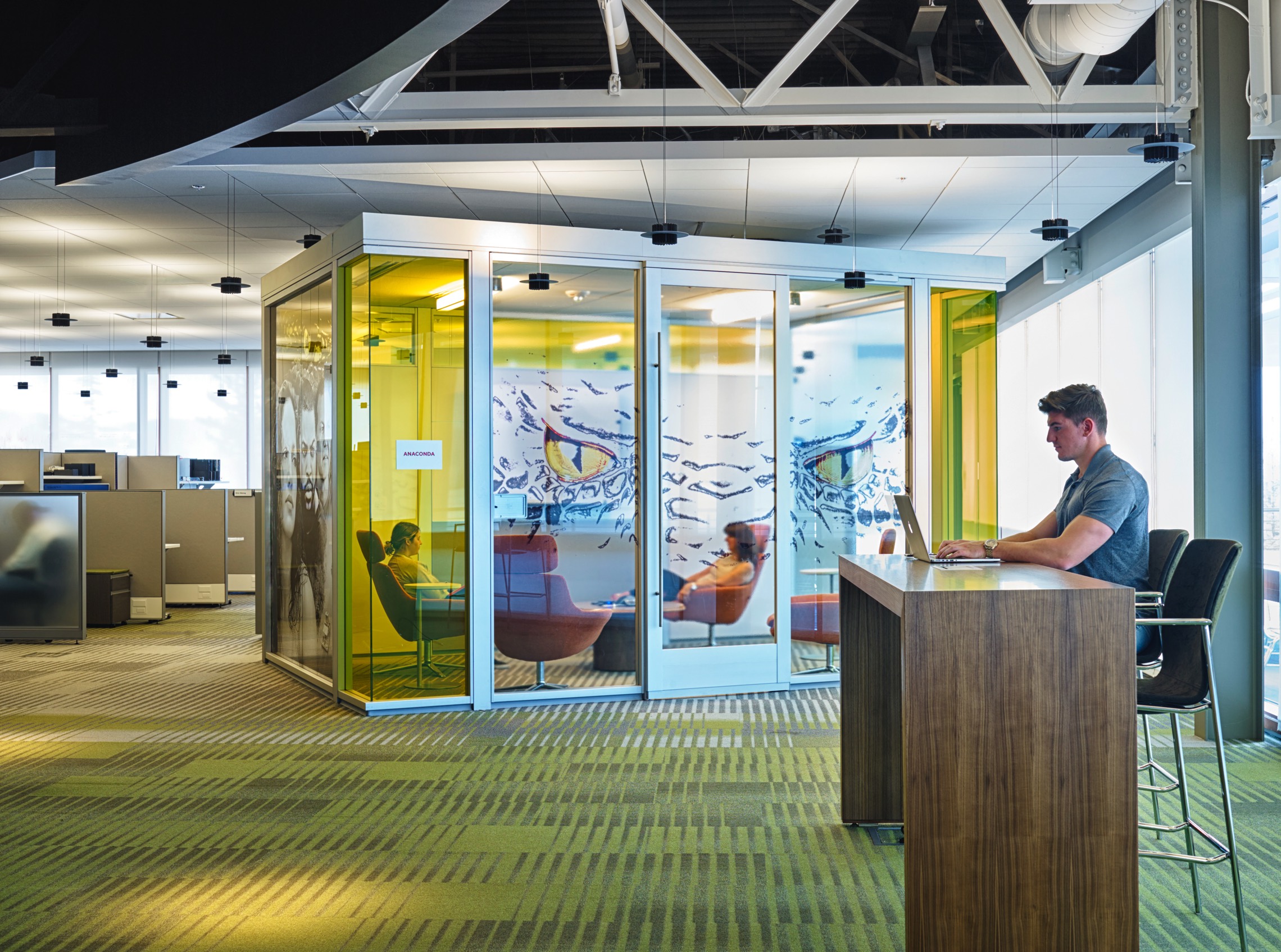 Individual sanctuaries are designed for different effect. Glowing light benches are surrounded by wood-slat walls for a meditative retreat. A raised gathering space dubbed the "coliseum" sports threetiers of curved upholstered banquettes surrounding an inner circle; the discussion leader stands in the middle to make eye contact with the group. Natural materials come together in a casual conference space with one wall lined in stone and another in wood slats wrapping from wall to ceiling.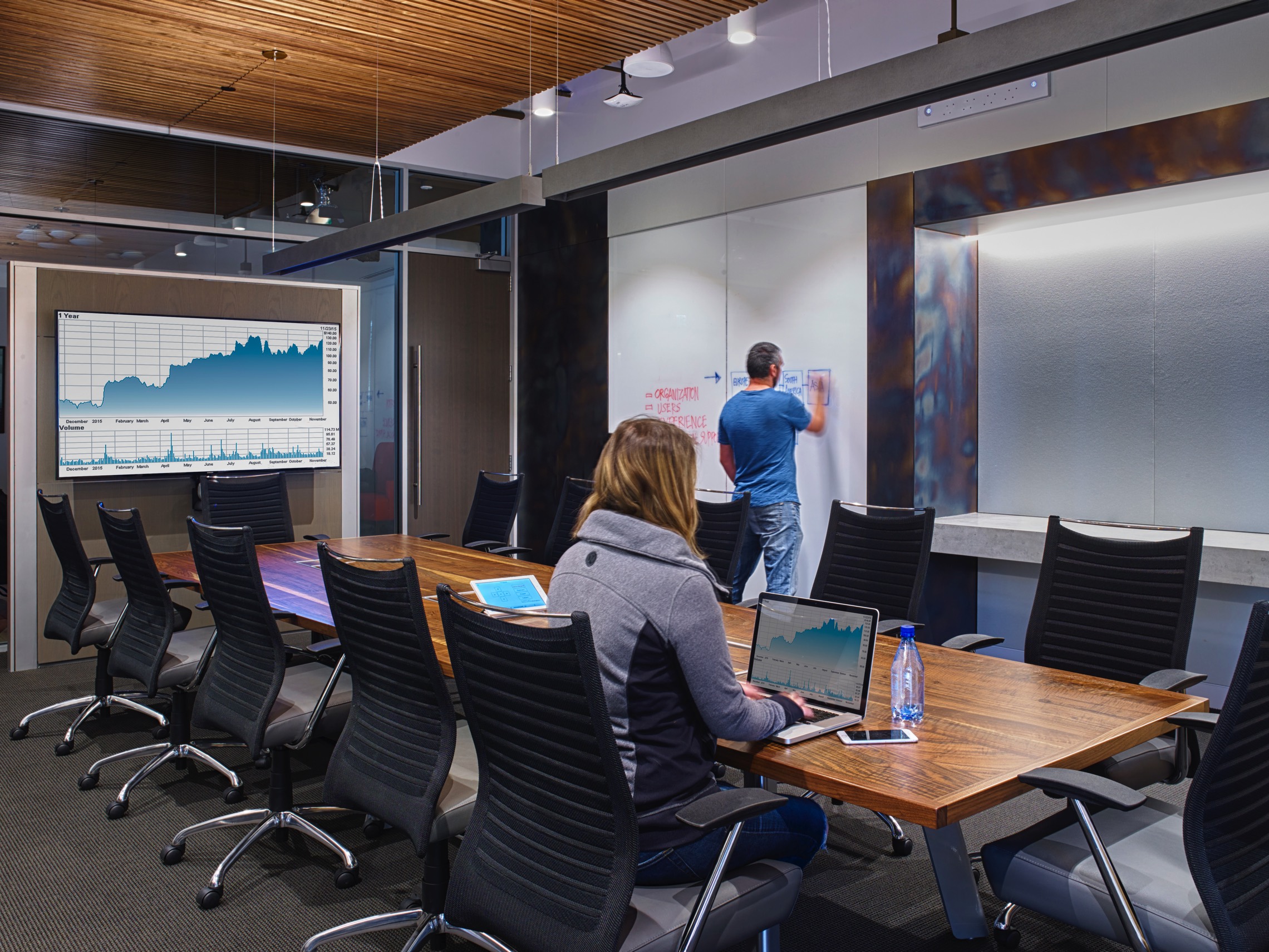 The garden defines the general experience of this project. Mature redwood trees ranging from 40 feet to 100 feet in height planted along a linear garden add to the bucolic character of the complex. They confer spatial majesty through their sheer size, with the architecture of the campus being a benevolent complement to its natural message.
This project showcases modernism's latent capacity to convey warmth and to engage building occupants and daily visitors in an experience full of profound emotional meaning.