The multifaceted office behind the can
Dthree Studio worked closely with global giant, Red Bull to create an impressive and memorable London Headquarters for the brand and its people to thrive in. The new HQ had to reflect the brand and portray not just the iconic energy drink, but the ethos of Red Bull as a whole. It was important that the multifaceted company behind the can was not just seen but felt but everyone who entered the space.
As part of the design process the entire Dthree project team spent a significant amount of time in the Red Bull office, working across different parts of the building to observe and understand first-hand the genuine Red Bull feeling.
Red Bull didn't necessarily want the whole space to be branded; it wasn't about shouting about the fact that Red Bull had landed in the area. Instead, it was all about their presence being spread by word of mouth. The challenge of this led to some clever and creative design features that really imprint the Red Bull brand on the subconscious.
One subtle nod to the brand in particular is by way of a specially-designed bleacher that wraps around the corner space of the events room – the side edge of which is at the exact same 12.7-degree angle as the Red Bull rhombus.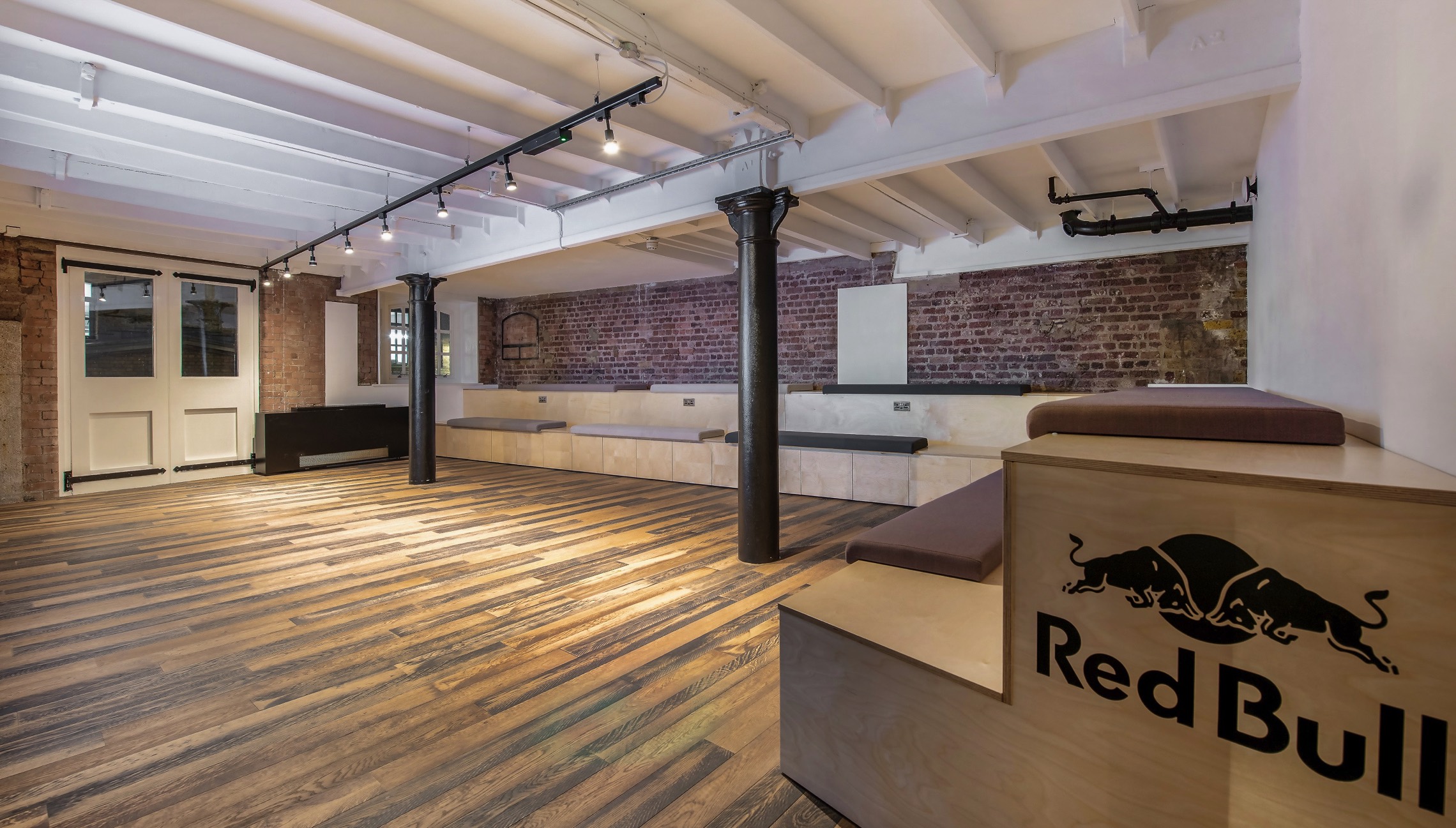 The use of creative and interesting textures throughout also reflect the iconic brand whilst modernising & elevating the existing Grade I listed building.
As the various strings of Red Bull's bow had never been in one building before, let alone across two working floors, it was vital that the space accommodated to the different nuances within the teams and provided flexibility throughout. The new design offers a variety of spaces which are suitable for anything from individual and collaborative workspaces, team presentations and conferences through to live recordings, artist performances and sporting events.
The result has been a workspace that is immeasurably more flexible than the office Red Bull had before, whilst reflecting the ethos and energy of the Red Bull brand. With this approach, Dthree and Red Bull have created as close to an office space with wings that you'll find.