The weisenburger Group encompasses a number of strong companies in the construction and real-estate industry, including weisenburger projekt GmbH and weisenburger bau GmbH. At its new location on Ludwig-Erhard-Allee in Karlsruhe, the view is of City Park Ost, in the realisation of which weisenburger bau GmbH played a major role with numerous residential buildings.
Managing Director Nicolai Weisenburger successfully persuaded star architect Tadao Andō to plan the new corporate headquarters for the Group. The Pritzker Prize winner sets the highest standards for the use of concrete, which is the dominant building material in his works. This was an opportunity therefore for the weisenburger Group to impressively demonstrate its own capability as regards the precision and surface quality of the load-bearing walls, columns and exposed concrete ceilings. The result is a structure without dimensional tolerances in the supporting structure, which is designed with the horizontal formwork typical of Tadao Andō and visible formwork anchor holes. The construction process was overseen by architectural firm archis from Karlsruhe.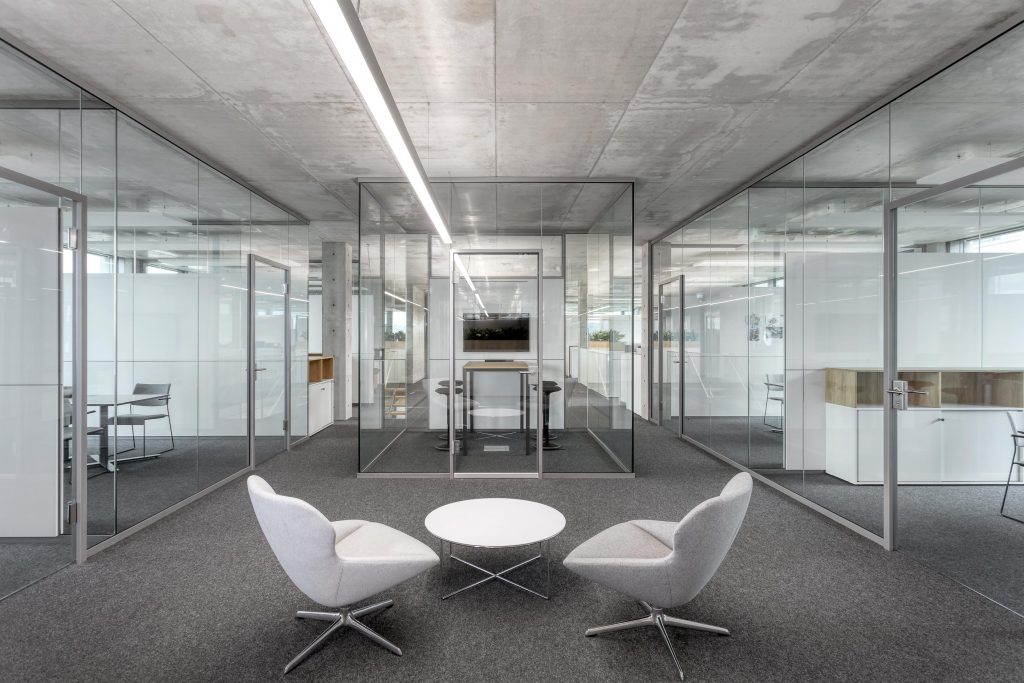 When it came to planning and designing the office environment, the contract was awarded to feco-feederle, which was able to deploy its entire office furniture and feco system partition wall range in the creation of an agile, sustainable working landscape.
With the fecoplan all-glass construction it is possible to separate areas for concentrated work, co-creation, meeting and communication from the open office landscape and at the same time to show the high-quality exposed concrete ceilings throughout. For this purpose, the intermediate office walls are also designed as skylight walls without vertical upright profiles and with non-bearing wall shells. The panels are covered with magnetic laminate to enable construction plans to be hung up on them.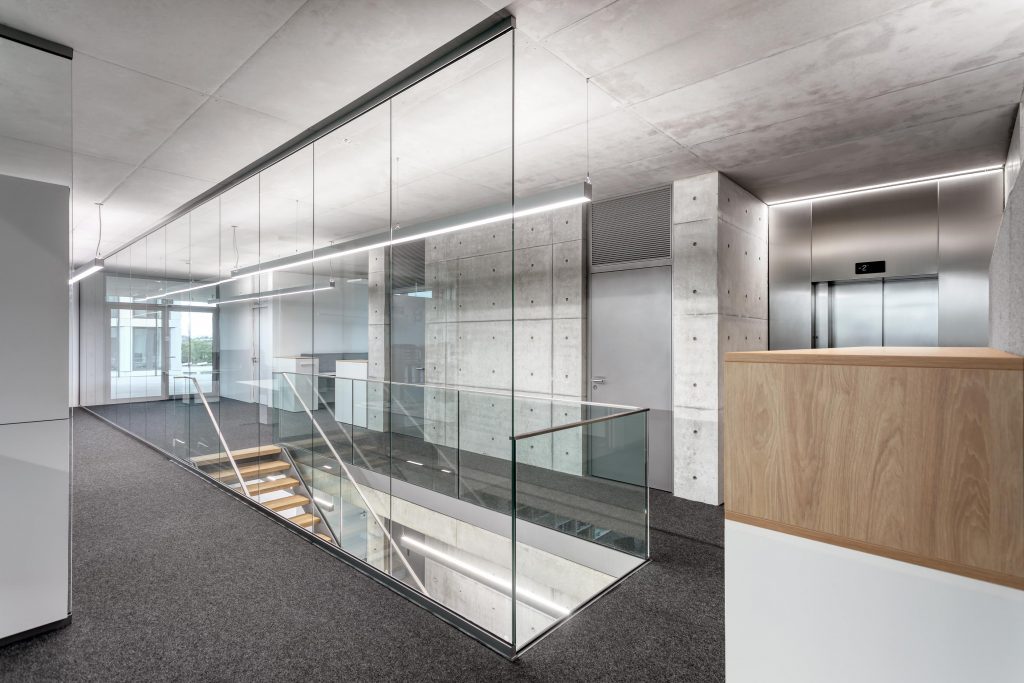 When it came to furnishings, height-adjustable desks from ophelis were chosen as ergonomic standing workstations. Sideboards with just one folder height allow for orderly cable management along the floor-deep glass exterior facade and are barely perceptible from the outside. In the office landscape, the oak-veneered plant units serve as vital, biophilic eye-catchers on the storage space furniture. Vitra Alcove sofas allow for spontaneous exchange in the open office landscape without disturbing colleagues in the team area thanks to the sound-absorbing, padded boundaries. The conference rooms on the first floor are predominantly furnished with Brunner furniture.
With its new corporate headquarters, weisenburger has not only created 600 new attractive jobs in Karlsruhe, but also realised an architectural work of international standard that it can use to showcase its own high construction quality and help it become an attractive employer for the highly sought-after talents in the construction industry.
Planning: Tadao Andō, Japan | archis, Karlsruhe
System partition walls and office furniture: feco, Karlsruhe
Photos: feco, Nikolay Kazakov