Workplace design in times of Covid 19
Surely none of us could have imagined at the beginning of the year how comprehensively our lives would change in a matter of weeks. The pandemic has made deep incisions into our collective daily life and it has long since been clear that we won't see the like of those Christmas parties in far-off December again for some time to come. Similarly, our working life won't be the same again for some considerable time yet. The question now is: how will workplace design change to adapt to the current and post-Corona world, and which of those changes will stand the test of time? We put these questions to a number of the most prominent designers and interior designers in Germany and worldwide. We're now publishing their answers to these questions in our series "Workplace design in times of Corona".
How the pandemic is changing the way we think about work
A great deal has changed recently. Face masks in all enclosed spaces and on public transport are not the only reminder of this. Something else that has changed in the wake of the pandemic is that our need for safety has taken on a new dimension.
Whether consciously or unconsciously, this inner need now permeates all areas of life, including our work and offices. But how do we deal with it in the long term? What sustainable solutions are there to make us feel safe and comfortable in the office again? Is a return to normality even possible?
The new role of the office
Before examining what the office will look like after the pandemic, another much more fundamental question needs to be answered: Why do we (still) need to come to the office at all? Even before the lockdown, rapid technological progress meant that some were already questioning whether the office was needed. However, faced with the constant risk of infection, for many it has now become an issue of fundamental importance.
Most people agree: What we miss most when working at home is being together with others. Video conferences initially bridged this gap, but they are not suitable as a permanent solution.
Especially when there are complex problems to be solved or new ideas to be developed, what we lack in the seclusion of the home office is the interpersonal component of direct cooperation. The fact that companies so far have been able to tackle problems and develop ideas surprisingly well even in this exceptional situation is due to the fact that the basis was already in place for this cooperation, namely a social bond with our colleagues, created in numerous physical encounters.
In the future, therefore, the office will primarily be a place of encounter that we choose quite deliberately. We will come here to meet other people, exchange ideas and work together in spaces that inspire creativity, agility and innovation. This will also be reflected in the workspace design.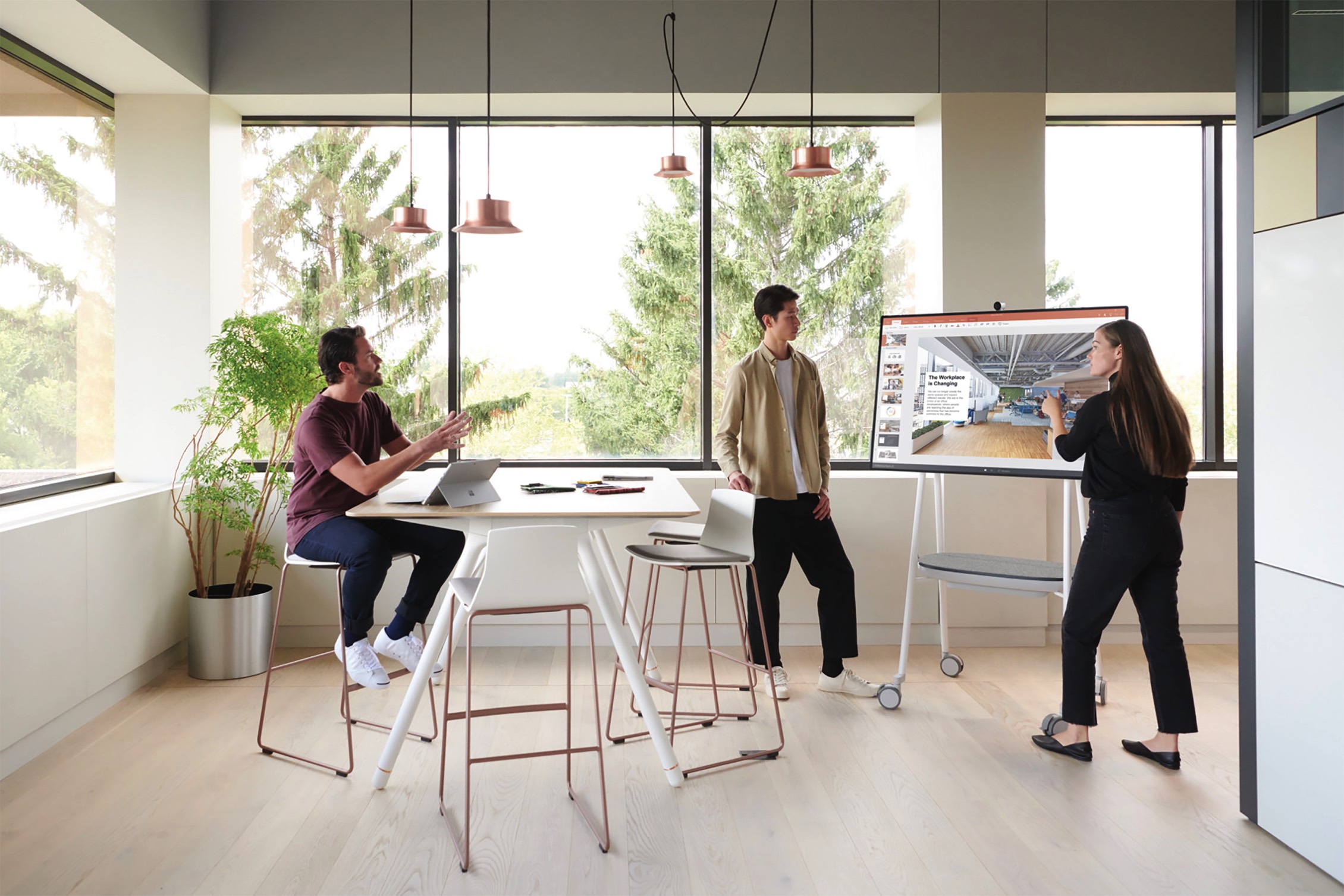 New routines in daily (working) life
Just as in our private lives, social contacts are indispensable for us in our professional lives as well. In order to protect users and employees from infections and diseases, the priority now is on health protection in public and communal areas. New processes have already been established with this aim in mind. Some of them will remain part of our daily routine beyond the acute phase of the pandemic
due to our heightened awareness of the invisible risks associated with contact with others. Distance and hygiene not only improve actual health safety, but also psychological safety. And there are consequences to failing to address them adequately, since only those who feel safe also feel comfortable and work efficiently.
So it is not only from a health point of view that it is necessary and sensible for offices to adapt to these changing needs and the associated routines. The office of the future will probably continue to be characterised by hand sanitisers in both entrance areas and sanitary facilities, as well as by a reduced number of meeting rooms and desk workplaces. The visibility of cleaning personnel will also be higher in order to consciously signal safety and cleanliness.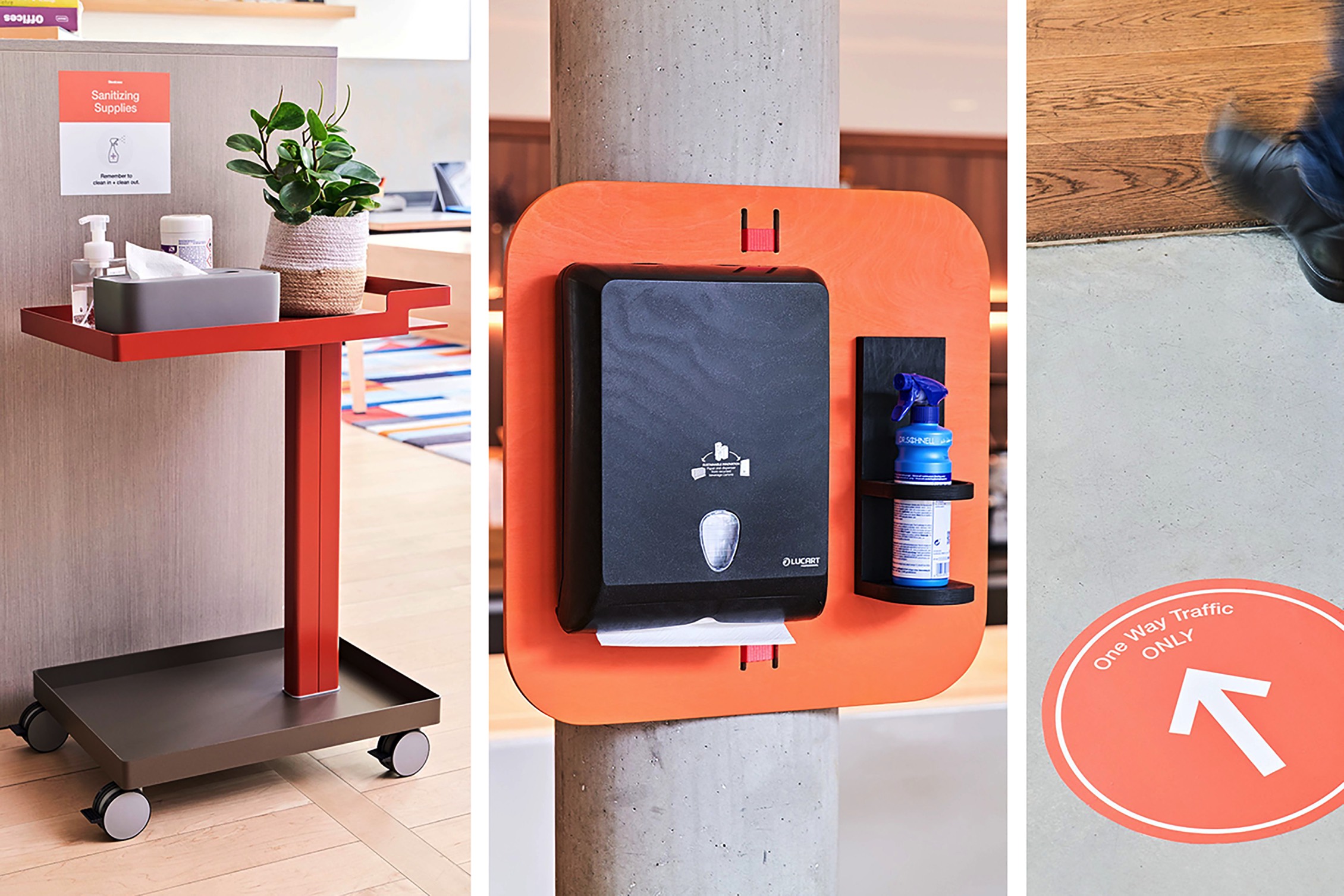 Old workplaces, new layouts
For many of us, the return to the office was associated with a great degree of uncertainty. Suddenly plexiglass panes separated us from each other and barrier tapes used to prescribe the way to the toilets.
Temporarily we can certainly tolerate such provisional solutions, but in all honesty don't truly feel comfortable with them. They therefore cannot be a permanent solution. The challenge consequently is to design working environments that are both safe and attractive in the medium and long term. This does not require new offices, but rather new principles.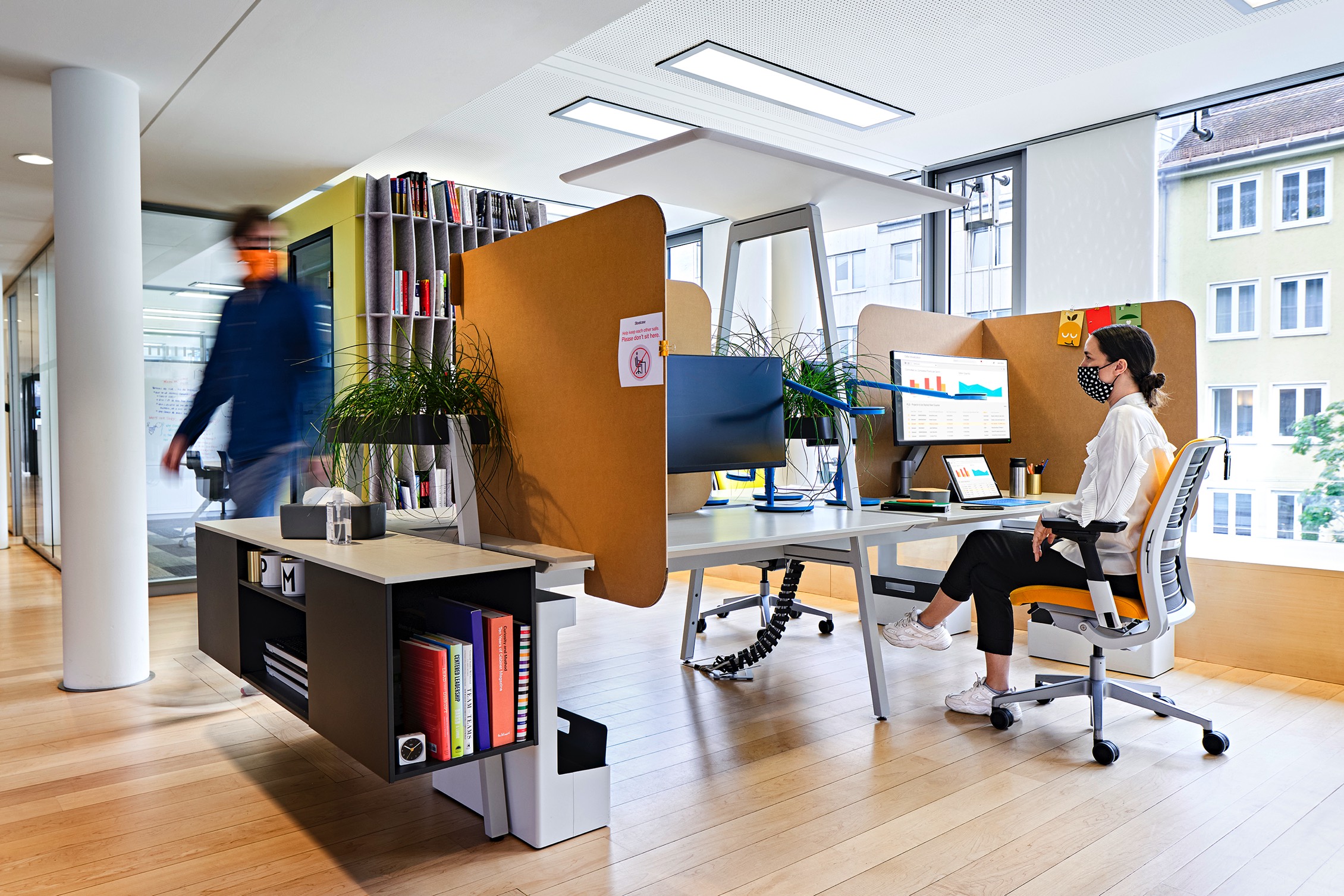 The new normal
Just as the attacks of 11 September permanently changed aviation security measures, our experiences with COVID-19 will also leave their mark on our everyday lives. The effect has been (and in some cases still is) too deep for us to simply return to the normality we knew before the pandemic.
Above all, the crisis has taught us to repeatedly question which encounters really need to take place face to face. Where face-to-face contact is unnecessary, technology opens up new virtual spaces of encounter. This is especially true in professional contexts.
It is up to us now to shift the focus from post-pandemic to people-centred solutions. Especially in the office, human interaction remains an essential factor, both for the innovativeness and culture of a company. New office layouts that support new routines, behaviour and forms of communication are one answer to this.
feco-feederle GmbH, Karlsruhe, November 2020