How will we work in the future? We have been dealing with the subject of New Work and office environments of the future for years, not just since the advent of Corona. With this in mind, we would like to present a current project that not only shows what the modern office of the future may look like, but also offers the opportunity to experience "New Work" live!
Business Campus Management GmbH is part of the DV Real Estate Group in Regensburg and takes care of the development, leasing and management of premium commercial locations. The question "What will the office of the future look like?" is also a key issue for the Business Campus, in order to continue to be able to offer suitable building and space solutions to its tenants.
From idea to concept
"Together with the management team of Business Campus München : Garching we initially gave some thought to the kind of demands which would be placed on the office space of the future," says Christian Jesse, Managing Director of office4you Büroeinrichtungen GmbH. "We had various different aspects to take into consideration: How do we create an attractive space where people feel at home? What is specifically needed for this? What kind of working environment do knowledge workers want after Corona? And how can motivation and productivity be promoted in the process?
Working on this basis, the office4you team developed an integrated concept: From the design and colour scheme to the specific choice of furniture and the integration of a modern room booking system.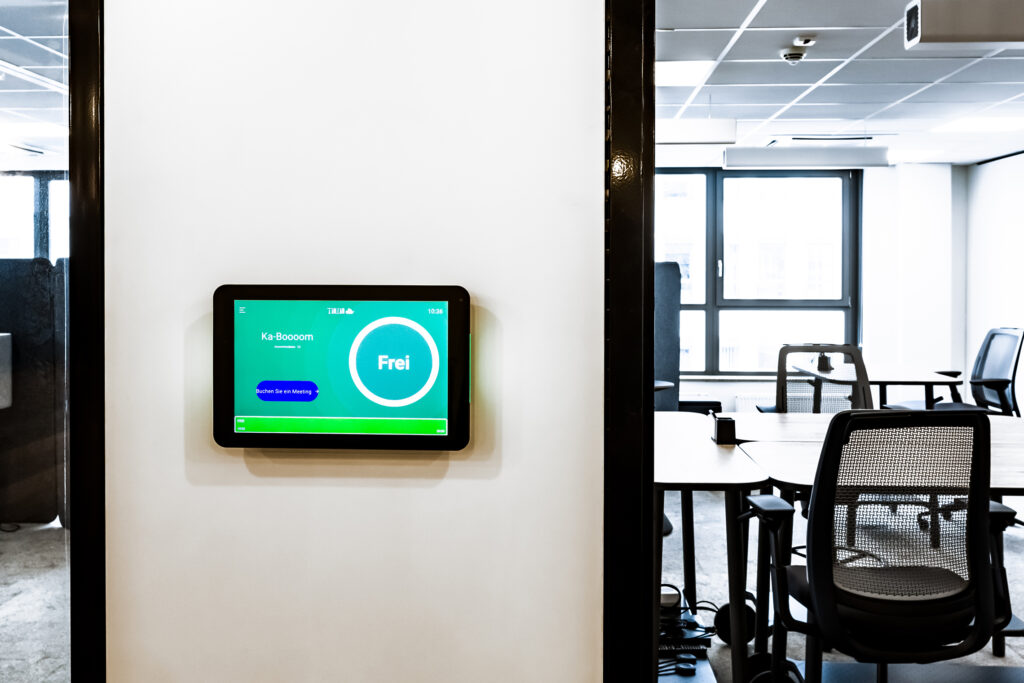 The Business Campus HUB – an innovative place for a new working culture!
The main focus in designing the Business Campus HUB is on "Activity Based Working". The strategy here was to create a wide range of working zones to best support the particular activities, as well as agile forms of working.
Spanning an area of 700 square metres, the Business Campus HUB offers countless opportunities to work in an agile, networked, creative and collaborative way.
"We didn't want to show a classic showroom here – but to make "New Work" a tangible experience! That's why companies based at the location can join us to test the office of the future live together with their staff. In this way they can find out what works well for them and where there may be potential for change. This gives our Business Campus HUB a kind of laboratory character," says Lars Dücker, Managing Director of Business Campus Management GmbH, describing the concept in more detail.
From interactive training rooms and workshop spaces to hybrid meeting solutions for meetings or video calls and think tanks for retreats, the HUB showcases all possible varieties of modern office work. All rooms are equipped with state-of-the-art technology. Individual details such as digital whiteboards, huge rollable TV screens, video conference steles and Wi-Fi 6 for fast wireless connections, provide the basis for agile working.
Advertisement

The clever room booking system makes it possible to already access the preferred workplace or training room from home and to make flexible reservations at short notice. Since Corona, these systems have come to play an even greater role in a hybrid environment.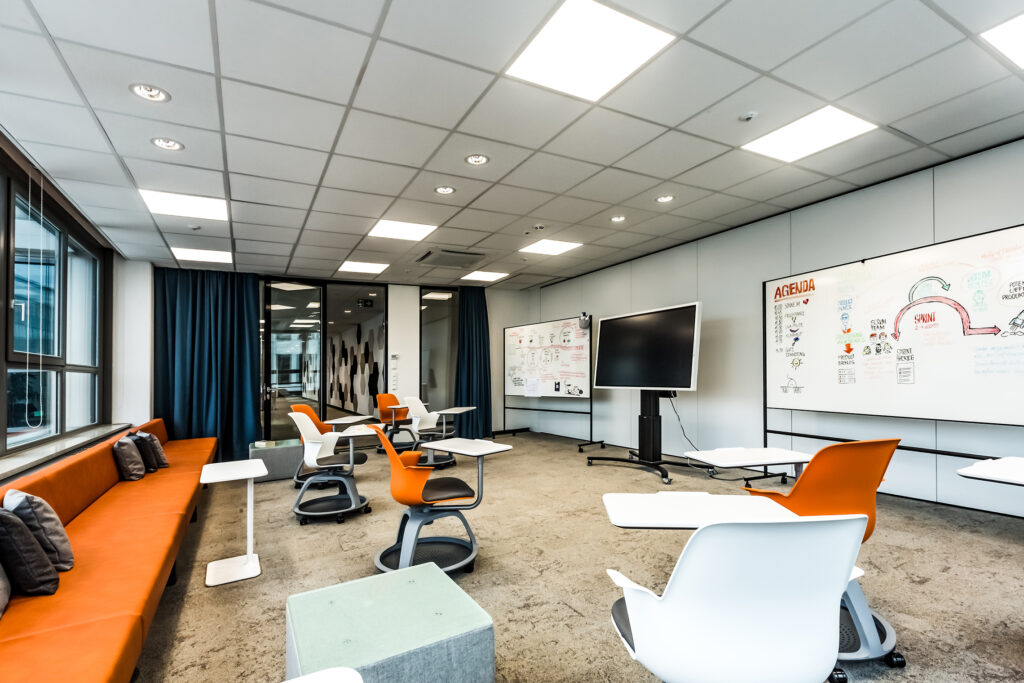 What else makes the space special?
A spacious work café with a grandstand and chair lift is an inviting atmosphere for an after-work beer, casual chats, or even larger formal events. Adjustable workplaces with ergonomic stand-sit solutions or desk bikes for more physical activity, support health and well-being. A quiet "living room" and cosy lounges promote creative exchange. Stylish telephone booths provide space for private chats or focused work. Untreated matured timber panelling provides a warm, homely ambience with a high feel-good factor.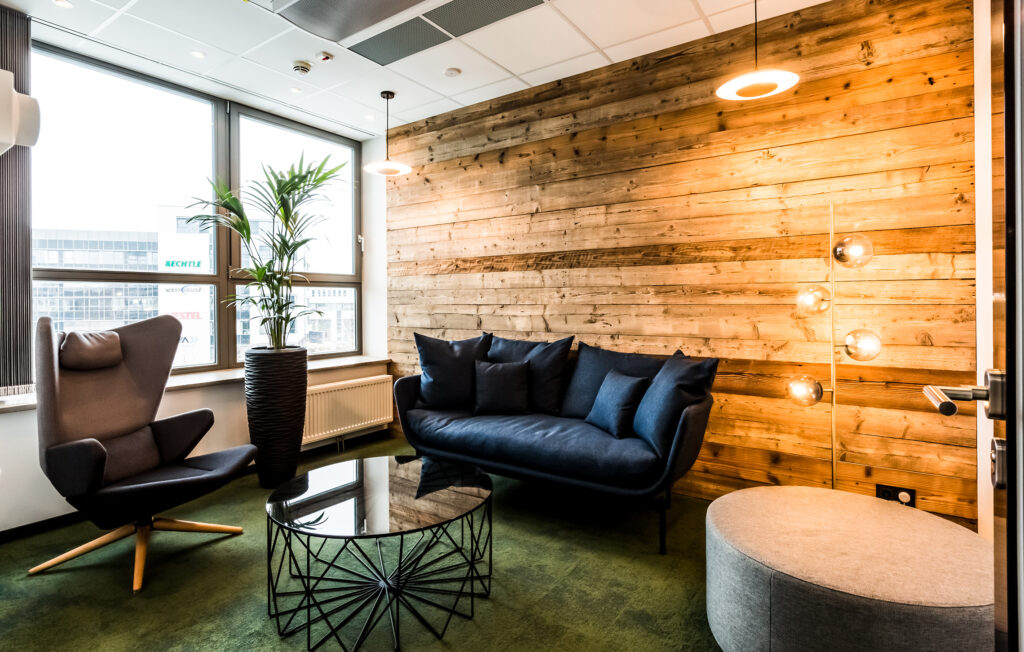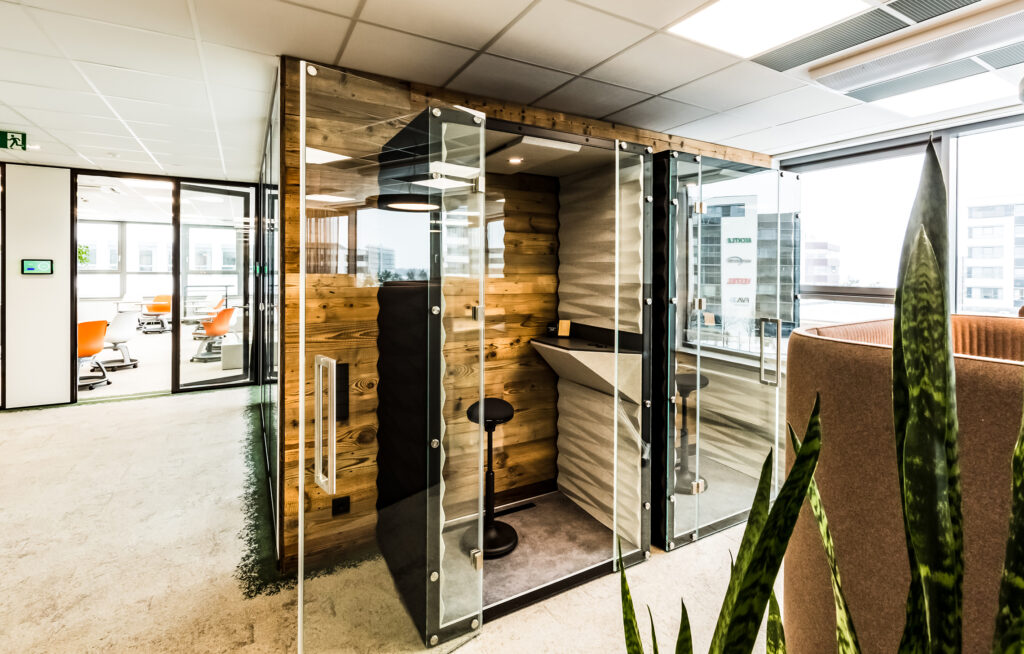 Christian Jesse took us to the construction site during the development phase and gave us some fascinating insights into the room design concept. You can find out more in the video.
If you would like to experience what the New Work concept looks like live, just get in touch with us!
Photographer: Mike Müller / SamPlay
Copyright: office4you Büroeinrichtungen GmbH
Related Links: